TANG PRIZE
/
Disrespecting nature, animals may spur another pandemic: Jane Goodall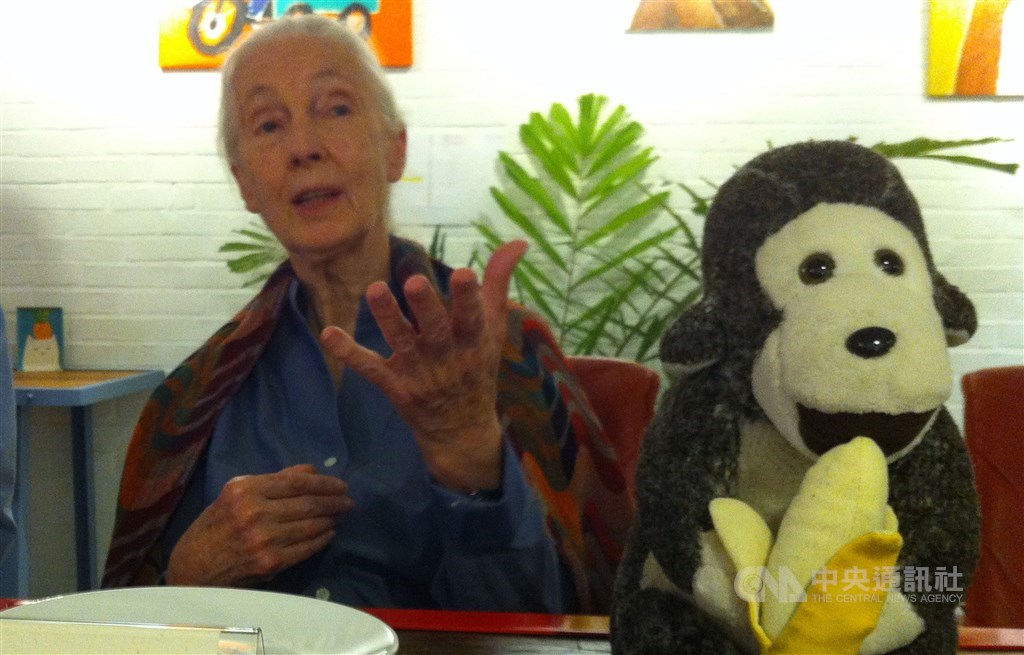 Taipei, June 18 (CNA) Jane Goodall, British primatologist and the laureate of the 2020 Tang Prize in sustainable development, warned Thursday that if humans continue to disrespect nature and animals, another pandemic like COVID-19 may emerge.
"Everybody must realize that the fact that this pandemic struck us is our own fault. It's because we have disrespected the natural world, and we've disrespected animals," Goodall said during a virtual press event, after the Tang Prize Foundation's announcement of her award.
Animals are individuals with personalities, minds and emotions, therefore, they should not be treated as objects for human consumption and other "terrible things," Goodall said, when asked about her thoughts on the COVID-19 pandemic and how mankind can move forward.
"And if we don't start respecting these animals, then there will be another pandemic," Goodall said. "This one (COVID-19) was predicted for years."
She said people should also learn to interact with nature in a different way, to do away with practices such as cutting down trees and polluting the ocean, in an effort to mitigate climate change. The media also has an important role to play, Goodall said, adding that the current trend of "doom and gloom" reporting makes people lose hope.
"The media needs to put out all the good things that are going on -- and there's a lot -- during the pandemic," she said. "For example, we saw communities coming together, helping each other in a very inspiring way."
Goodall also had a message for young people, advising them to think about what they would really like to do and work hard towards that goal.
She said that when she was 10 years old, everyone laughed when she said she wanted to go live with wild animals in Africa and write books, but her mother encouraged her to work extremely hard and take advantage of every opportunity to achieve her dreams.
On the 2020 Tang Prize award, Goodall said it was exciting and "a huge honor."
"I've looked at the people who've been awarded it before, and so therefore, I feel very proud and humble, and it's very exciting," said the renowned primatologist, who has established the Jane Goodall Institute in more than 30 countries, including Taiwan.
Goodall, who has visited Taiwan 18 times, said her ties to the country were already very strong, even before the Tang Prize.
"It was the first Asian country I ever came to," she said. "I have so many friends there. I've had such amazing experiences there that this (Tang Prize) wouldn't make it stronger. But it will be one added wonder to my relationship with you."
The Tang Prize is a biennial award established in 2012 by Taiwanese entrepreneur Samuel Yin (尹衍樑) to honor people who have made prominent contributions in four categories -- sustainable development, biopharmaceutical science, sinology, and rule of law.
Goodall, the 2020 winner in sustainable development, will receive a cash award of NT$40 million (US$1.35 million), a NT$10 million research grant, a gold medal, and a certificate.
View All