'Living national treasure' Liao Chih-te dies at age 86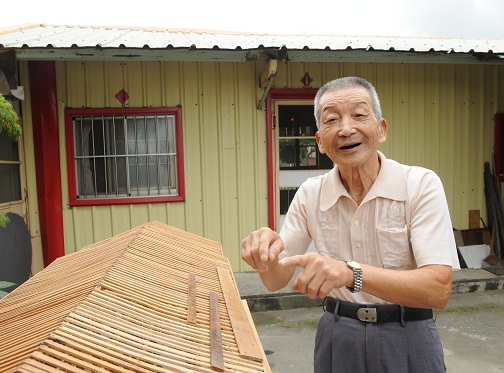 Taipei, July 9 (CNA) Taiwanese carpentry master Liao Chih-te (廖枝德) died on Wednesday in southern Taiwan at the age of 86 after a period of illness, the Tainan City Cultural Affairs Bureau said Thursday.
Liao, a skilled carpenter of traditional Taiwanese architecture, died of cardiopulmonary failure caused by lung infection, the Tainan Municipal Administration of Cultural Heritage said in a statement.
Liao had just been named a "living national treasure," or a national-level preserver of timber framing (or "big woodworking") techniques in November last year.
He specialized in designing and constructing traditional Taiwanese rural houses, as well as temples. His buildings are mostly made of wood and bamboo and are seen mainly in Tainan's Houbi and Dongshan districts.
Culture Minister Hung Meng-chi (洪孟啟) mourned the death of Liao on Thursday and asked that Taiwan's Bureau of Cultural Heritage speed up preservation of the artist's skills.
Shy Gwo-long (施國隆) head of the bureau, touted Liao as a diligent and thrifty artist, saying he would always collect discarded wood and reuse them in his works.
Beginning in May, an exhibition at the Taichung Cultural and Creative Industries Park has been featuring works or models of works by Liao and three other "living national treasures."
Shy invited people to visit the exhibition, which will last until July 26, to remember the great master.
(By Christie Chen) ENDITEM/cs