Taiwan aims to attract 150,000 foreign students by 2020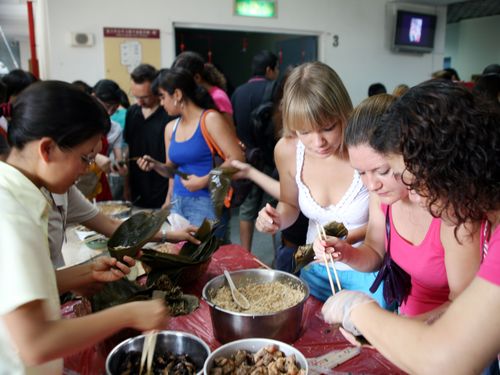 Taipei, Jan. 9 (CNA) The government hopes to increase the number of foreign students studying in Taiwan from 78,000 last year to 150,000 by 2020, President Ma Ying-jeou said Thursday.
Having more foreign students on Taiwan campuses is linked to "an important election campaign promise of mine six years ago," said the president, referring to his "Ten Thousand Galloping Horses" project that encourages Taiwan's youngsters to travel overseas to broaden their life experiences while welcoming those from other countries to "make friends with our young in Taiwan."
Pleased that his campaign promise had been delivered, Ma said since he took office in 2008, Taiwan has signed work-and-vacation agreements with nine countries, enabling hundreds of young Taiwanese to travel and work in other countries such as Canada and Australia.
The other seven countries that have entered into such agreements with Taiwan are Korea, Japan, New Zealand, Germany, Ireland, Great Britain and Belgium.
In the meantime, he pointed out, foreign students coming to Taiwan to further their studies have also increased substantively, from 30,000 in early 2008 to 78,000 in 2013, up 2.6 times. Of those, mainland Chinese students have grown from 823 to more than 24,000 -- a whopping 30-fold growth, he added.
"Out target is to attract even more foreign students to our campuses, so that by 2020, we will have 150,000 of them that will account for 10 percent of the total college and university student population," he told a group of Taiwanese youths and faculty and students of a United States university.
He also touched on the topic of Taiwanese students studying in the U.S. -- whose number now stands only at 25,000, "just half the number when I pursued my graduate studies there over 30 years ago."
Ma said he would like to see more Taiwanese young people seek higher degrees in the U.S., which he said will strengthen cultural and educational exchanges between the two countries and will be instrumental to Taiwan's national development.
The guests he met at the Presidential Office include 33 Taiwanese youths trained as "civilian ambassadors" and 14 Taiwan studies students of Houston-based University of St. Thomas led by Professor Hans Stockton.