Chinese balloon undercuts bid to rebuild trust with U.S.: Expert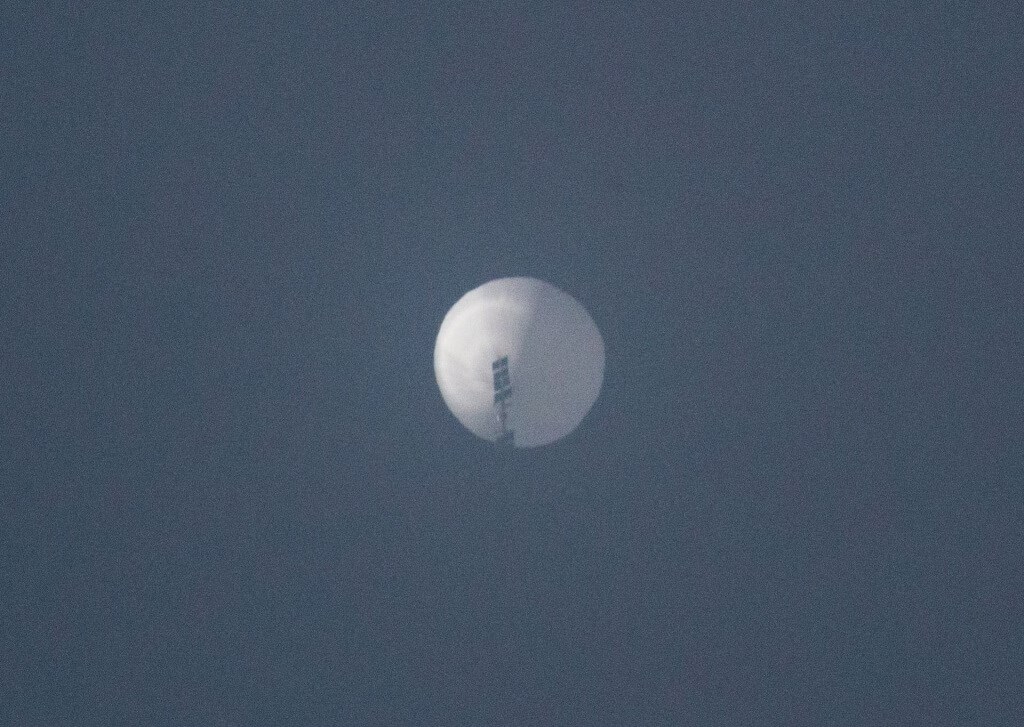 Taipei, Feb. 4 (CNA) China's deployment of an alleged surveillance balloon in the United States' airspace could prolong the strained relations between Beijing and Washington, a Taiwanese foreign relations expert said Saturday.
Lu Yeh-chung (盧業中), chairman of the Department of Diplomacy at National Chengchi University, told CNA that the incident exposed a serious lack of trust between the U.S. and Chinese governments and would extend the already intense competition between the two countries for a while longer.
The U.S. military said on Friday (Washington time) that a Chinese surveillance balloon had been floating over the continental U.S. for a few days "at an altitude well above commercial air traffic."
U.S. Secretary of State Antony Blinken later denounced the Chinese act as "a clear violation of U.S. sovereignty and international law" and decided to postpone his planned Feb. 5-6 trip to Beijing, where he was reportedly scheduled to meet with Chinese leader Xi Jinping (習近平).
China's foreign ministry countered that the balloon was a Chinese civilian airship used mainly for meteorological research and that it had "deviated far from its planned course" because of "force majeure," referring to forces beyond China's control, including strong winds.
Lu described Blinken's decision to defer his planned trip as understandable and appropriate, saying that China might have attempted more aggressive acts if the U.S. had not responded to the incident.
The Chinese were probably seeking to "gauge the U.S.' reaction" to its use of the spy balloon, Lu said, arguing that Beijing could have employed other more advanced technologies to achieve its surveillance goals.
If Beijing had wanted to keep communications with Washington open and smooth, it would have tried to prevent such an incident before Blinken's visit, Lu said.
"The basic rule of building up mutual trust is to avoid accidents," he said.
Given those circumstances, Lu suggested that preparatory talks for Blinken's Beijing trip between Washington and Beijing might have gone astray as the two sides continued to be divided on several major issues.
According to senior State Department officials, the U.S. government had engaged intensively with its Chinese counterpart to prepare for Blinken's trip, after Xi and U.S. President Joe Biden met in Indonesia last November.
They noted during a background briefing Friday (Washington time) that the balloon incident "would have significantly narrowed the agenda that we would have been able to address."
Taiwan's Ministry of Foreign Affairs on Saturday also weighed in on the matter, calling on China to "immediately stop acts of aggression against other countries."
Taiwan has seen Chinese balloons in its airspace in recent years, though their purpose was not always clear.
Meteorologist Cheng Ming-dean (鄭明典) told local media Saturday that the Central Weather Bureau (CWB), which he heads, has detected two suspicious airships similar to the Chinese surveillance balloon spotted in the U.S. over the past two years.
One appeared over Taipei in September 2021 and the other in March 2022, Cheng said, but he was unsure of the balloons' purposes and origins.
Meanwhile, the Ministry of National Defense responded in February 2022 to media reports of a number of Chinese balloons drifting over northern Taiwan at an altitude of 2.7-3 kilometers by saying they were used for meteorological research.
According to the U.S. National Weather Service and Reuters, a weather balloon can rise up to 30.5 km while high-altitude balloons for spying or military purposes usually operate at 24.4-36.6 km.