Taiwan not seeking conflict escalation but will defend sovereignty: Tsai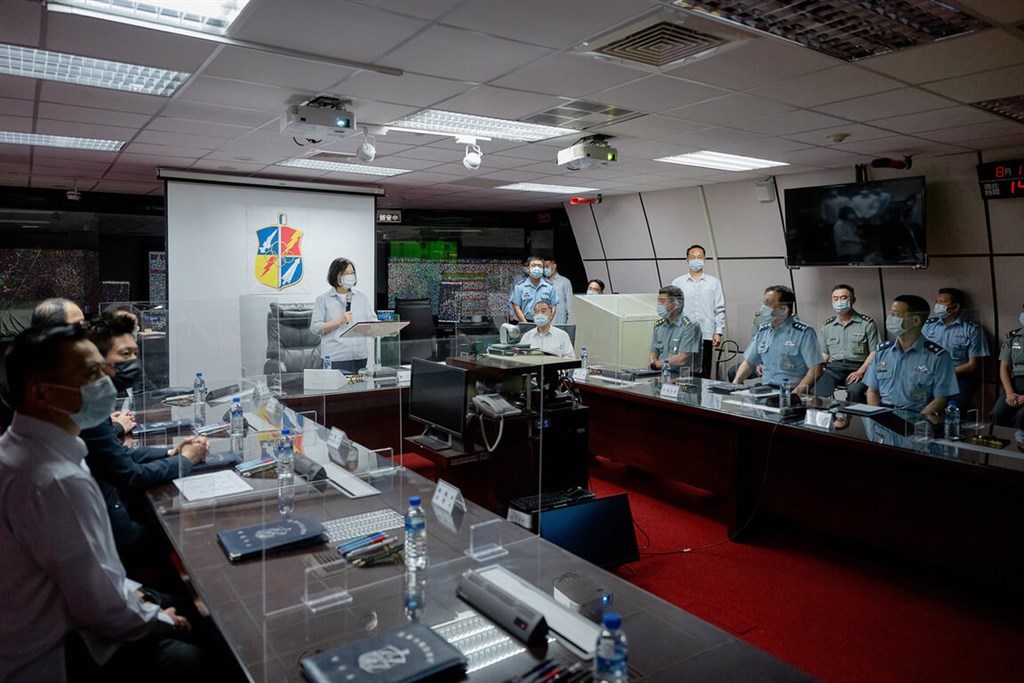 Taipei, Aug. 11 (CNA) The military threat posed by China remains high, and while Taiwan does not seek to escalate that danger or provoke disputes, it will resolutely defend its sovereignty and national security, President Tsai Ing-wen (蔡英文) said Thursday.
Tsai made the remarks during a visit to the ROC Air Force Combatant Command, where she received a military briefing and spoke by video link to members of the Air Defense and Missile Command and the Air Force posted around Taiwan, according to a Presidential Office press release.
During her speech, Tsai thanked the Air Force on behalf of the Taiwanese people for its round-the-clock protection of the nation's skies during China's recent live-fire military drills around the island.
She said that while the military threat posed by China remains high, Taiwan "will not escalate" the conflict and "will not provoke disputes."
Nevertheless, "we will resolutely defend our sovereignty and our national security and hold the line of defense for democracy and freedom," she said.
The mission of the armed forces, Tsai said, is to "prepare for war but not seek it, to respond to war (if it breaks out) and not retreat from it."
Although the military's burden has become even greater amid the recent "provocations" by China, the Taiwanese people are united in their support of the armed forces, she said.
Tensions between Taiwan and China have soared recently to their highest level in decades, as China has been conducting live-fire and other military exercises around Taiwan, following a visit to Taipei by U.S. House of Representatives Speaker Nancy Pelosi last week.
Taiwan's Ministry of Defense reported that as of 5 p.m. Thursday, it had detected 21 Chinese warplanes and six Chinese Navy vessels operating in various parts of the Taiwan Strait.
Eleven of the aircraft -- six Sukhoi SU-30 fighter jets, four Shenyang J-11 fighter jets and a Xi'an JH-7 fighter bomber -- had crossed the median line of Taiwan Strait, the ministry said, adding that it was monitoring the situation with combat air patrols, naval vessels and land-based missile systems.
Update
FEATURE/Taiwan braces for sustained Chinese pressure
Aug. 18: 51 Chinese warplanes, six warships spotted near Taiwan: MND
Aug. 18: 90% of people in Taiwan opposed to Chinese drills: Survey
Aug. 18: Chinese warship detected near Taiwan missile testing site: Navy
Aug. 18: U.S. trade talks can help counter China 'coercion': Cabinet official
Aug. 17: 50% of Taiwanese believe U.S. could help if China attacks: poll
Aug. 16: China using U.S. lawmakers' visit as excuse for latest drill: Taiwan
Aug. 16: China 'overreacting' to peaceful visits to Taiwan: U.S. official
Aug. 15: U.S. senator praises Taiwan for restraint amid Beijing coercions
Related News
Aug. 11: Taiwan's allies to condemn China at U.N.: SVG prime minister
Aug. 11: Lithuania shares G7 concern over Taiwan Strait stability: visiting official
Aug. 11: Chinese white paper limits room for Taiwan post-unification: expert
Aug. 11: Government to spend NT$200 million on marketing food amid China bans
Aug. 10: MAC slams 'wishful thinking' and 'lies' in China's Taiwan white paper
Aug. 9: 45 warplanes, 10 warships spotted near Taiwan as PLA drills continue
Aug. 9: Taiwan's diplomatic ties stable amid possible China retaliation: FM
Source: Ministry of Foreign Affairs
Aug. 8: Chinese drills aligned with plans for taking Taiwan by force: Expert
Aug. 7: Taiwan to hold live-fire artillery drills to test combat readiness
Aug. 6: U.S., Japan, Australia urge China to stop military drills
Aug. 6: Defense ministry says China simulating attack on Taiwan
Aug. 5: China's drills a 'new normal' aimed at changing status quo: Experts
Aug. 4: President Tsai calls China's live-fire drills 'irresponsible act'
Aug. 4: China fires 11 Dongfeng ballistic missiles into waters off Taiwan: MND
Aug. 4: China cannot stop world leaders from visiting Taiwan: Pelosi
Aug. 3: China's military exercises aimed at blockading Taiwan: defense ministry
Aug. 3: China imposes new trade restrictions on Taiwan as Pelosi visits
Aug. 2: Visit to honor 'unwavering' U.S. commitment to Taiwan: Pelosi