Taiwan's Hong Kong office left with 1 staffer as others forced to return home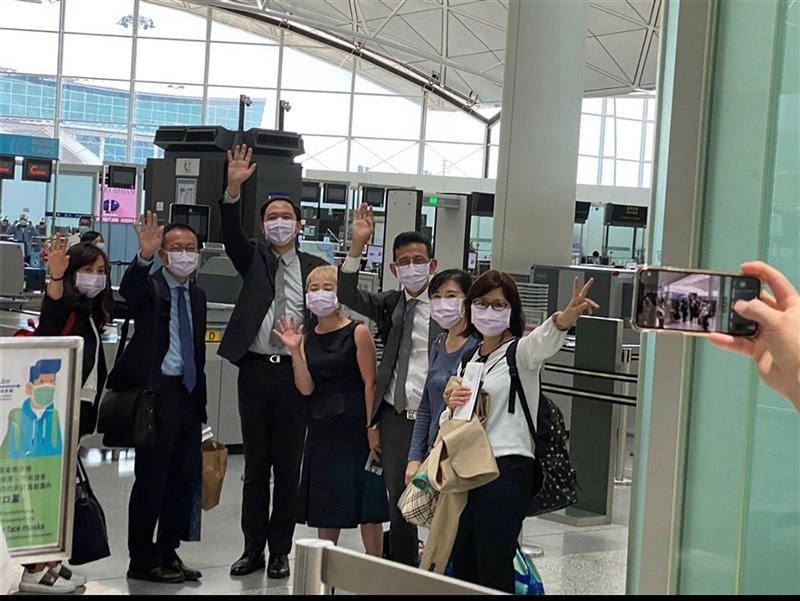 Taipei, June 20 (CNA) All except one of the eight remaining staff members at the Taipei Economic and Cultural Office (TECO) in Hong Kong were forced to return to Taipei on Sunday, after they failed to obtain visa extensions, sources told CNA.
With the return of the seven staffers Sunday and four others last year for the same reason, TECO-Hong Kong has been left with just one attache -- head of its commercial department Ni Bo-Chia (倪伯嘉) -- according to the sources.
Ni's visa is due to expire late next month, however, which means he too may be forced to return to Taiwan, leaving the Hong Kong office without any staff, the sources indicated.
The seven employees who returned Sunday had been sent to the Hong Kong office from Taiwan's Mainland Affairs Council (MAC), Ministry of Foreign Affairs, Ministry of Culture, Ministry of Education, and National Immigration Agency, the sources said.
They were among the last eight remaining staff members at TECO-Hong Kong, after its Acting Director-General Kao Ming-tsun (高銘村) and three other officials were denied visa extensions last year and had to return home.
In a Facebook post Sunday, the MAC confirmed that seven staffers from TECO-Hong Kong had arrived in Taiwan at 3:30 p.m., but it did not give any details.
Earlier in the day, the MAC had issued a statement, saying that China and the Hong Kong government had set "unreasonable political conditions" for visa extension applications by the TECO-Hong Kong staff.
Adjustments will have to be made to maintain the basic operations of TECO- Hong Kong, the MAC said, adding that its Minister Chiu Tai-san (邱太三) would give more details at a press conference Monday.
TECO-Hong Kong, administered by the MAC, represents Taiwan's interests in the Chinese special administrative region.
It was established in July 2011, when Taipei-Beijing relations were relatively warmer under Taiwan's then-Kuomintang government, replacing Chung Hwa Travel Service that had been carrying out similar functions for more than four decades.
In 2018, however, Hong Kong refused to issue a visa to TECO's new head, Lu Chang-shui (盧長水) amid worsening ties between Taipei and Beijing, preventing him from assuming the post.
Two years later, Kao and three other employees ran into the same problem, reportedly because they refused to sign an affidavit recognizing Beijing's "One China" principle.
According to sources, the Hong Kong government made a similar request earlier this month to the remaining TECO staff, whose visas were about to expire, asking that they sign the affidavit or leave before June 21.
In recent weeks, Hong Kong and Macao have both closed their offices in Taipei, as the Hong Kong government berated Taiwan for supporting "people who sabotage Hong Kong's prosperity and stability."
In explaining the closure of its Taipei office, the Macao government said Taiwan did not renew the visa of the office staff, a statement that the MAC denied.