World leaders urged to address Hong Kong issue ahead of G20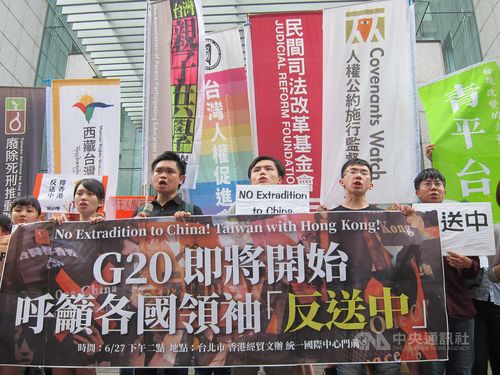 Taipei, June 27 (CNA) Several civic groups and Taiwan-based Hong Kong students on Thursday called on world leaders heading to the G20 Summit in Japan to address Hong Kong's controversial extradition bill, calling for it to be withdrawn.
"If the bill is passed, it definitely will not just affect Hong Kong residents, but also people from various countries who transit through or visit Hong Kong," Taiwan Association for Human Rights Secretary-General Chiu E-ling (邱伊翎) said at a press conference outside the Hong Kong Economic, Trade and Cultural Office (HKETCO) in Taipei.
"Anyone could face the risk of being extradited to China," she said.
Although the G20 Summit set to start Friday in Osaka, Japan, is an economic forum and China has publicly warned against any discussion of Hong Kong issues at the meeting, the extradition bill is an issue that requires the attention of global leaders because it could affect their own nationals, Chiu said.
"We urge world leaders at the summit to express an opinion on the extradition bill and join in our opposition to its passage," she said, adding that economic negotiations should not occur at the expense of human rights.
Members of several other civic groups also attended the press conference to support Hong Kong's anti-extradition bill movement.
Among them were Reporters Without Borders Emeritus Board Member Wuer Kaixi, Taiwan Citizen Front Founder Lai Chung-chiang (賴中強), Economic Democracy Union research fellow Chiang Min-yen (江旻諺) and many others.
They urged the international community to pressure the Hong Kong government into responding to protesters' five demands: withdrawing the bill, the resignation of Hong Kong Chief Executive Carrie Lam (林鄭月娥), no prosecutions of protesters, stop labeling the protests "riots" and holding police officers who fired rubber bullets at protesters accountable.
They also called for the establishment of an independent investigative committee to look into alleged police brutality against protesters.
The extradition bill has raised concerns that it could threaten the human rights of Hong Kong residents, as it will allow the Hong Kong authorities to extradite criminal suspects not just to Taiwan and Macau, but also China.
Public outcry over the extradition bill reached a new high following the handling of protesters earlier this month by Hong Kong police, with tear gas, pepper spray and rubber bullets fired to disperse demonstrators.
The Hong Kong government caved in to public pressure and indefinitely suspended the bill's legislative process on June 15, but protesters criticized the move as a "delaying tactic" and demanded the bill be withdrawn permanently.
At the Taipei press conference, Chiu also demanded an explanation from HKETCO, saying that information she found on Wikipedia listed the office as a financial backer of the pro-unification Concentric Patriotism Association (CPA) of the Republic of China.
"A few days ago, some CPA members went to the schools of Taiwan-based Hong Kong students who have protested against the bill, demanding they leave the schools and cursing them," Chiu said, adding that such actions represent a threat to the students' right to education.
In response, the HKETCO said Thursday it will forward the groups' demands to the Hong Kong government. However, it said it did not have a record of those it gives financial support and needed to look into the alleged funding of the CPA.