Tiananmen Square victim sees no closure in absence of accountability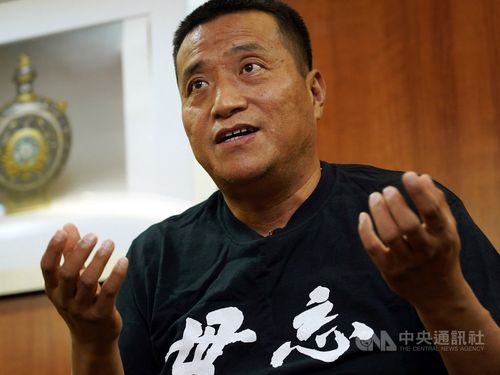 Taipei, June 4 (CNA) One of the survivors of the 1989 Tiananmen Square massacre in Beijing said in the lead up the 30th anniversary of the incident that there can be no closure for him and the other victims until the historical facts are made clear and the perpetrators are held responsible.
The war-like massacre of student protesters and other civilians by China's military forces must not be forgotten, said Fang Zheng (方政), who lost his legs after they were crushed by an army tank during the bloody crackdown on thousands of protesters in Tiananmen Square on June 4, 1989.
"Even the Chinese Communist authorities have admitted that it is a historical scar on China," said Fang, who lives in California and was visiting Taipei in May to attend events leading up the 30th anniversary of the massacre that is also known as the June Fourth Incident.
"There can be no closure yet," he told CNA in an exclusive interview. "The incident cannot be tossed on the ash heap of history."
Closure will come only when the truth is revealed, the perpetrators are held responsible and the victims are compensated as they deserve, said Fang, who was 22 years old and had just graduated from Beijing Sport University when the incident occurred.
On the morning of June 4, 1989, when China unleashed its People's Liberation Army on protesters who were calling for democracy and political reforms, Fang managed to push a female student out of the way of an advancing tank but it ran over him, crushing his legs.
He told CNA that 30 years later, the massacre still persists as Chinese Communist authorities have continued to persecute the victims of the incident and people connected to them.
While it will be difficult now to pinpoint who were culpable in the June Fourth Incident, as some 200,000 soldiers were mobilized, the decision makers and their successors should be held accountable, Fang said.
"Even though some of them have since died, their roles in the incident should be examined," he said. "As to those who are still alive and enjoying power, they should take responsibility."
Among them, Fang said, are retired President Deng Xiaoping (鄧小平); former Premier Li Peng (李鵬), who was in office at the time of the incident; Jiang Zemin (江澤民), general secretary of the Communist Party of China at the time; former President Hu Jintau (胡錦濤); and current President Xi Jinping (習近平).
Fang is one of the many witnesses and survivors of the Tiananmen Square Incident who gathered in Taipei ahead of the 30th anniversary to tell their stories and participate in a series of commemorative events.