Rushing replacement of fuel motorcycles puts strain on country's finance: MOEA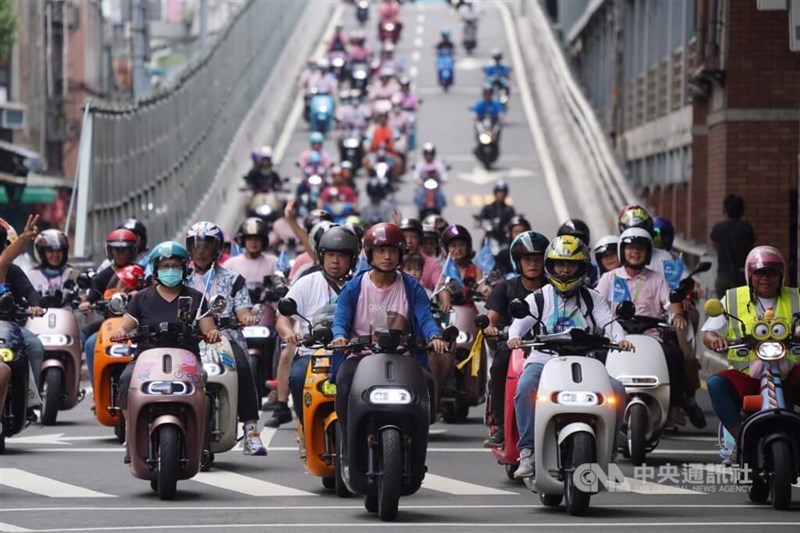 Taipei, Sept. 23 (CNA) The Ministry of Economic Affairs (MOEA) said Friday that a proposal to electrify all motorcycles in Taiwan by 2030 could prove a strain on the public purse.
The MOEA's statement comes after independent presidential contender Terry Gou (郭台銘) told reporters in New Taipei's Sanchong District on late Wednesday that Taiwan should make effort to replace all combustion-engine motorcycles with electric ones by 2030.
Gou was visiting the Sanchong night market when he pointed out to the reporters the sound of many two-wheeled motor vehicles whooshing by.
"Taiwan has a population of 23 million, and they have a total of over 15 million motorcycles and scooters -- less than 10 percent of them are electric," Gou said.
Gou proposed that the government cover all of the costs for their electrification to speed up the complete replacement by 2030 and assist in the installation of battery exchanging and charging stations "to the extent that their number exceeds that of convenience stores."
Gou also cited the benefits of a motorcycle industry upgrade and the lowering of the amount of particulate matter generated by combustion-engine vehicles.
In response to Gou's proposal, the ministry released a statement on Friday, indicating that the government has been pursuing a "practical and orderly" motorcycle-electrifying policy that takes into consideration at the same time consumer rights, a "just transition" of motorcycle factories and maintenance and repair service providers, and the upgrade of the industry.
A total replacement of the fuel two-wheeled vehicles with electric ones on the market means a total ban on the sale of fuel scooters and motorcycles, which would result in great social impact, MOEA said.
Of all 15 million motorcycles, there are about 14 million fuel ones, meaning about 2 million would have to be replaced a year by 2030, the ministry explained, adding that about 20,000 energy-supplementing stations would have to be installed a year, and the welfare of about 21,000 motorcycles maintenance and repair service providers would need to be taken care of.
If, as Gou proposed, the costs are to be completely absorbed by the government, it would have to earmark a total of NT$1.27 trillion -- about NT$180 billion a year -- for the policy in the remaining seven years by 2030, the ministry stressed.
The ministry said Gou's proposal would put a financial strain on the government budget and crowd out other planned expenditures.
The current parallel platform of subsidizing electric motorcycles and aiding the transition of fuel motorcycle maintenance and repair service providers is the way to minimize social impact and avoid the possible financial overstretch, according to MOEA, adding it would continue exchanging views with the stakeholders to better energy transition policies.