Foreign firms in Taiwan increase 'contingency' plans amid geopolitical tensions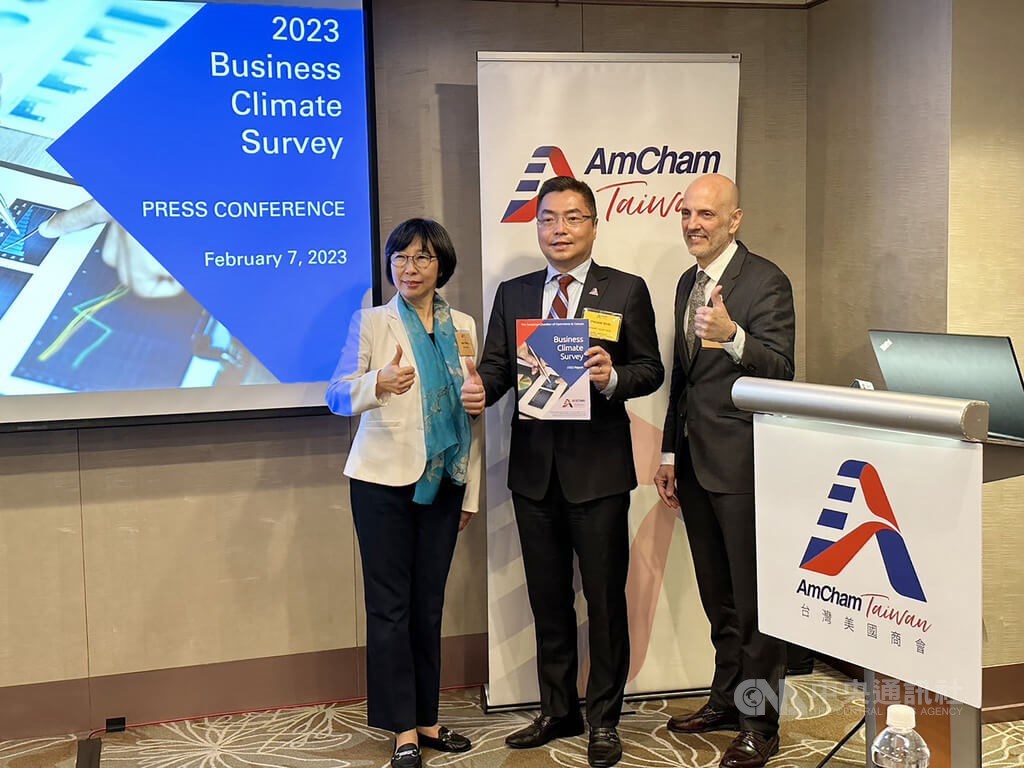 Taipei, Feb. 7 (CNA) International companies with operations in Taiwan are increasingly developing "contingency" plans amid tensions between Taipei and Beijing, Andrew Wylegala, outgoing president of the American Chamber of Commerce (AmCham) in Taiwan, told a press conference Tuesday.
"There are indications that companies are indeed concerned, and redoubling contingency plan efforts," Wylegala said while addressing media questions on the topic, adding such concerns have increased since mid-2022.
"We're trying to be helpful as a chamber, by putting our members in touch with specialists in that field," he said. "It is an unsettled environment, and we would expect firms here on the ground to prudently look forward."
Relations between Taipei and Beijing have been strained since President Tsai Ing-wen (蔡英文) of the independence-leaning Democratic Progressive Party took power in 2016.
A brief visit to Taiwan by then United States House Speaker Nancy Pelosi last August also prompted the Chinese government to conduct days of military drills around Taiwan and suspend Taiwanese agricultural and food imports.
Wylegala's comments are in line with AmCham's latest "Business Climate Survey" launched at Tuesday's press event, in which 47 percent of companies surveyed reported having revised or planning to revise "business continuity plans to address the new geopolitical climate."
Nevertheless, Wylegala stressed that AmCham is not aware of any member companies that have pulled out operations from Taiwan due to security concerns.
According to the survey, companies have called for an increased focus on national security and trade relations with the U.S. and China, with 55 percent of 214 respondents saying Taiwan's government should prioritize cross-strait relations.
At the same time, political uncertainty was viewed as the biggest factor deterring further investment in Taiwan among respondents, followed by bureaucracy and market stagnation, the survey, which was conducted between Nov. 15 and Dec. 16, 2022, indicated.
AmCham Chairman Vincent Shih (施立成) said while its members did not appear to be highly concerned over cross-strait tensions, nor see such tensions as an immediate threat, they called for a "stable climate to prosper."
Looking forward, Shih said AmCham members "remain confident in Taiwan's economy and their commitment to invest [in Taiwan] is very solid" despite geopolitical issues and headwinds projected for the global economy in 2023.
According to the survey, nearly 71 percent of companies surveyed expressed some level of confidence in Taiwan's economy over the next 12 months, while 79 percent said they were confident about Taiwan's economic growth over the next three years.
At the same time, 88 percent of respondents said they were either maintaining or expanding investment in Taiwan in 2023, with planned investment covering the areas of staff development and expansion, as well as marketing and sales, among others, the survey showed.
Wylegala observed that Taiwan remains "relatively well positioned" in terms of its economy compared to other countries with projected negative economic growth for 2023.
According to Taiwan's government data, the country's economy growth decreased to 2.43 percent in 2022, after achieving growth of 6.53 percent in 2021.
For 2023, the Taiwan Institute of Economic Research at the end of January forecast economic growth of 2.58 percent.
Established in 1951, AmCham in Taiwan is a non-profit and apolitical group providing services to roughly 570 American and international member companies with operations in Taiwan.