Hon Hai 2021 net profit third highest on record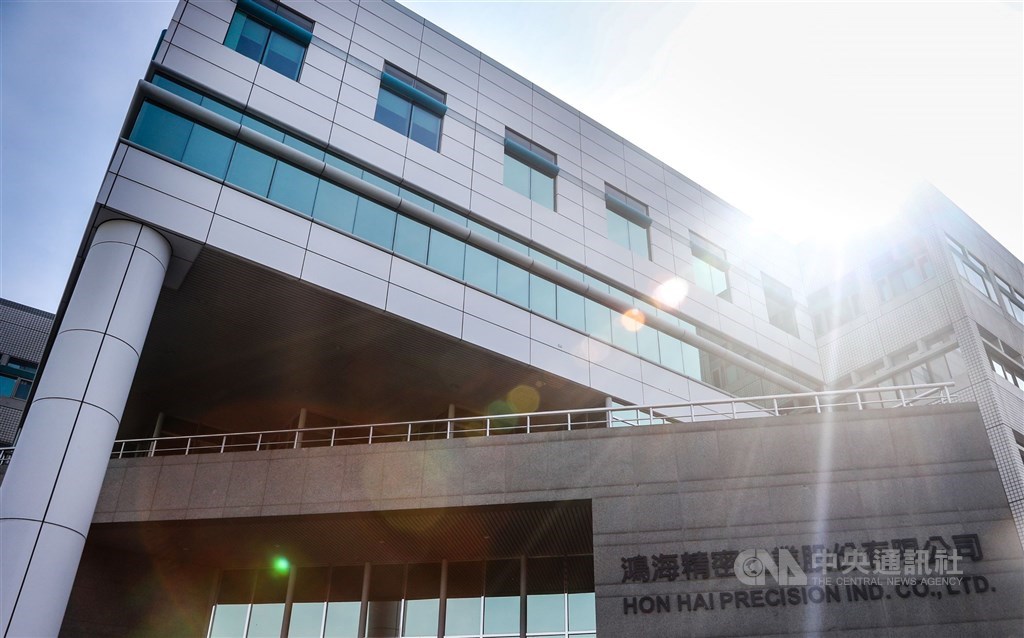 Taipei, March 16 (CNA) Hon Hai Technology Group reported Wednesday that its 2021 net profit after tax rose by 37 percent year-on-year to NT$139.32 billion (US$4.87 billion), its third-highest total on record.
In a statement, the group, known as Foxconn globally, said earnings per share (EPS) grew to a 14-year-high of NT$10.05, a significant increase on 2020's NT$7.34.
Consolidated revenue for the whole of 2021 edged up by 12 percent on an annual basis to NT$5.99 trillion, a record high, with a gross margin of 6.04 percent, up slightly from 5.65 percent in 2020.
In the fourth quarter of 2021, Hon Hai saw consolidated revenue grow by 34 percent from the previous quarter to NT$1.89 trillion, its second-highest quarterly total, while its net profit surged to NT$44.395 billion, a quarterly increase of 20 percent.
Speaking at an online investors' conference on Wednesday, Hon Hai Chairman Liu Young-way (劉揚偉) predicted that the group's performance in the first quarter of 2022 was likely to be the firm's best in a decade, while its annual sales could be on par with 2021.
He forecast that the sales of electronic components and cloud-based products would climb by 15 percent and 5-10 percent year-on-year, respectively, with sales of computers and smart home appliances expected to remain stable.
In 2021, Hon Hai's capital expenses totaled NT$92.3 billion, a significant increase on the previous year's NT$65.5 billion, he said, adding that capital expenditure in 2022 was expected to continue to grow.
Liu pointed to the global COVID-19 situation, inflationary pressure, and international politics as potentially influential variables, although he said the question of raw materials shortages could clear up in the second half of the year.
With Hon Hai focused on computing & telecommunications, electric vehicles (EV), semiconductors, software, globalization, and ESG, the group hopes to cultivate solid returns by broadening its EV client base, expanding semiconductor production, and building a metaverse platform to respond to the newest trends, Liu said.
Liu added that Hon Hai's main business strategy for this year would be to accelerate the commercial production of EVs.
Hon Hai is planning to roll out two EV prototypes in 2022 and start mass-producing an electric pickup truck in Ohio in the second half of the year, he said.
The previously unveiled prototype Model C will be available to consumers in 2023, according to Liu, who said this would provide a revenue boost to the company next year.
Liu said Hon Hai was planning to create a supply chain for lithium iron phosphate (LFP) battery cells, a key component of the drivetrains for its electric buses, in Kaohsiung, while it will cooperate with local companies to manufacture batteries for EVs in Indonesia, Mexico, and Thailand.
Foreseeing a global EV market scale valued at US$600 billion in 2025, he said Hon Hai was eyeing a 5 percent market share by that time and had ambitions of manufacturing 500,000-750,000 compact EVs per year.
Liu said the group was aiming to build EV production bases at home and abroad, including in North America, Thailand, Indonesia, India, Mexico, and the Middle East, on the "build, operate and localize" model to provide services from software and cloud-based technology to components.
He added that Hon Hai would strengthen its product portfolio to increase its gross margin.