CORONAVIRUS
/
Pricing, availability remain uncertain as masks return to open market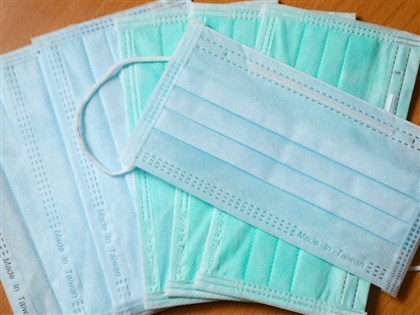 Taipei, May 31 (CNA) Surgical face masks will return to the open market Monday as the government relaxes its requisitioning program, but questions remain around their pricing and availability after a months-long backlog of orders, industry sources told CNA this week.
In response to the nation's first COVID-19 cases in January, Taiwan's government requisitioned domestic mask production on Jan. 31, before launching a rationing system through the National Health Insurance program on Feb. 6.
In the months since then, it has ramped up daily production capacity from 1.88 million to around 20 million masks, allowing the Ministry of Economic Affairs (MOEA) to announce this week that the requisition order will be relaxed from June 1.
Under the policy, the government will continue to receive 8 million masks per day, while lifting sale and export restrictions on the remaining 60 percent of capacity.
On Wednesday, Economics Minister Shen Jong-chin (沈榮津) said he expected the masks to be sold at under NT$5 (US$0.17) each, though he later said the figure was only intended "for reference."
Retailers, however, have held off on announcing prices or even confirming when they will have stocks of masks.
Of the seven national retailers that spoke with CNA this week, only the cosmetics chain Poya confirmed that an initial order of 10,000 masks will go on sale before June 6.
Others, including Watson's, COSMED, Simple Mart and Carrefour, all said they are either waiting to see consumer demand or at different stages of the ordering process with domestic manufacturers.
Of Taiwan's major convenience store chains, Uni-President (which operates 7-ELEVEN in Taiwan) said it will continue offering government-rationed masks, while FamilyMart said it will also sell a range of non-medical grade masks.
Several manufacturers told CNA they are still playing catch-up after being unable to fulfill their orders in recent months.
Motex Group, a Taipei-based manufacturer that produces around 700,000 masks per day, said that aside from those requisitioned by the government, it will likely export around 70 percent of its production.
In addition to an initial round of orders going out in June, the company said it had received orders for 200 million masks from the United States and around 20 million masks from Europe and Japan.
The Changhua-based company CSD, which will retain around 410,000 of the 750,000 units it produces daily, said its masks will be available through a number of traditional and online retailers.
Taiwan Comfort Champ Manufacturing, which is located in Taoyuan, said around 100,000 of its daily production of 250,000 masks will be delivered to the government, while the remainder will go to filling the large backlog of orders it has accumulated.
On the question of pricing, a spokesperson for Motex noted that raw material prices have increased in recent months, while labor costs are also expected to rise when the government ends its deployment of soldiers to mask production factories.
Packaging costs will also be affected as manufacturers switch from the paper envelopes currently used by the government, the companies said.
With that in mind, the companies indicated retail prices for masks will likely range from NT$7-12 each.
View All