Taiwan states position on TPP in talks with U.S. officials (update)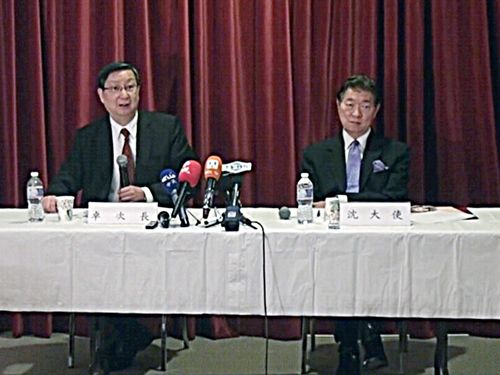 Taipei, April 5 (CNA) Taiwanese officials on Friday expressed the country's hope of becoming a "constructive partner" in the Untied States' efforts to promote regional economic integration during a round of bilateral talks over Taiwan-U.S. trade.
Vice Economics Minister Cho Shih-chao said that the Taiwanese officials briefed their U.S. counterparts on reforms undertaken by Taiwan in its bid to join the U.S.-led Trans-Pacific Partnership (TPP) free trade bloc.
U.S. negotiators responded by telling Taiwanese officials that the focus of TPP-related efforts at this stage should be completing the first round of negotiations with countries already in talks, Cho told reporters after the eighth round of meetings under the U.S.-Taiwan Trade and Investment Framework Agreement (TIFA).
As expected, the U.S. side brought up Taiwan's ban on U.S. pork imports containing the leanness-enhancing drug ractopamine, to which Taiwan's representatives reiterated their position that pork imports with ractopamine should be seen as a separate issue from beef imports containing the drug.
Taiwan lifted its ban on U.S. beef with the drug in July 2012, paving the way for the resumption of the TIFA talks in March 2013 after a five-year hiatus.
During the latest talks in Washington, U.S. representatives reportedly pushed on the export of beef offal to Taiwan, a matter that Taiwan's Council of Agriculture and Ministry of Health and Welfare have set up a task force to evaluate.
According to a press release issued by the Ministry of Economic Affairs Saturday, U.S. officials gave the first "positive response" to Taiwan's long-standing request to allow U.S. imports of dancing-doll orchids with potting media.
The ministry said it was optimistic that U.S.-bound dancing-doll orchid sales could begin by the end of this year at the earliest.
Meanwhile Deputy Economics Minister Duh Tyzz-jiun said Saturday that Taiwan remains committed to joining the second round of TPP talks, the 12 members of which account for at least one-third of Taiwan's trade.
He said South Korea, the island's main trade rival, has been targeting to join the trade bloc.
(By Jay Chen, Huang Chiao-wen and James Lee)ENDITEM/WH