P. LEAGUE+ & T1 LEAGUE
/
Jeremy Lin eyes EASL, P.LEAGUE+ titles with New Taipei Kings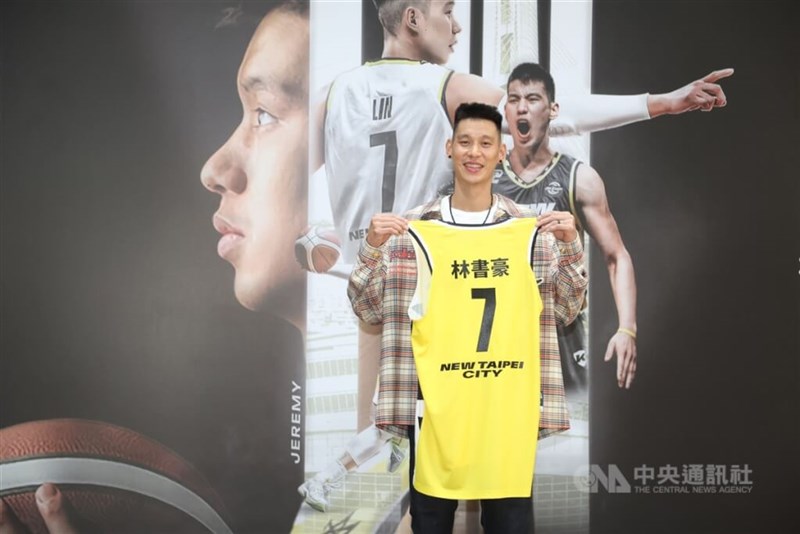 Taipei, Sept. 19 (CNA) Former NBA player Jeremy Lin (林書豪) said Tuesday his goals with the New Taipei Kings in the upcoming 2023-24 season are to dominate the East Asia Super League (EASL) and the P.LEAGUE+ (PLG).
"I've liked to set goals for myself since childhood. No matter how big they are, I always work hard to accomplish them step by step," said Lin at a press conference for his signing with the Kings held at New Taipei's Xinzhuang Gymnasium.
Lin said he will work for the Kings to win the EASL title, finish first in the PLG regular season and be crowned league champions, goals he discussed with the Kings head coach Ryan Marchand.
In the new season, Jeremy Lin will wear his trademark No. 7 jersey after receiving a nod from Kings' veteran player Lin Li-jen (林立仁).
Lin's addition to the Kings also means that he can finally team up with his younger brother Joseph Lin (林書緯), a long term dream that feels "unreal" even five days after announcing his intention to sign for the Kings on Sept. 14.
"We have talked about playing on the same team for some 30 years, and now it has come true. It felt really unreal to see him around all the time during the workout this morning," the 35-year-old veteran guard said.
Jeremy Lin joked that his parents might be the ones who are the happiest because now they "don't have to worry [about who to cheer for]."
According to the Kings, Jeremy Lin signed a two-year contract with the New Taipei team, the second year being the player's option. The salary was not made public.
James Mao (毛加恩), Kings general manager, said he would have liked to sign Jeremy Lin to a one-plus-10-year contract if possible, believing he can bring the team to another level.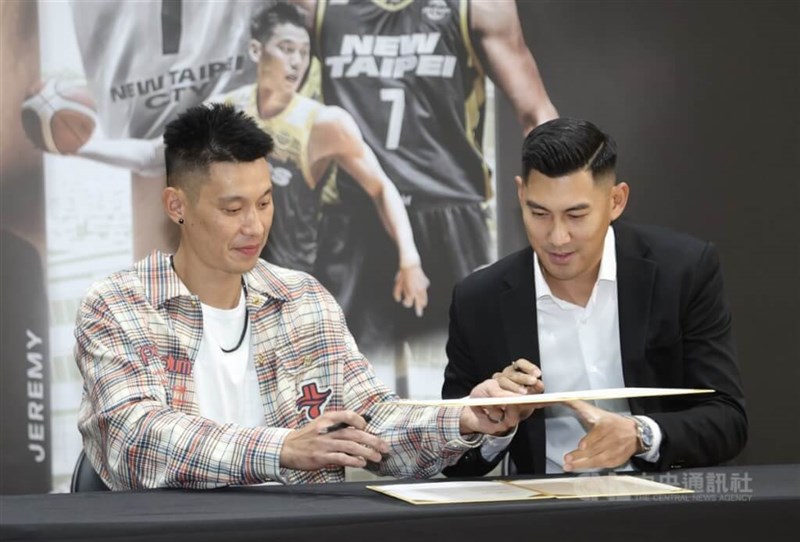 Once referred to as "the greatest foreign player in Taiwan" by Joseph Lin, Jeremy Lin showcased how much gas he had left in the tank by breathing new life into the Kaohsiung 17LIVE Steelers in the first half of this year.
Whereas the Steelers were rock bottom with a 2-17 record before signing Lin, the team won 15 of its next 20 games for a league-leading run following Jeremy Lin's debut before it lost to the Formosa Taishin Dreamers (now Formosa Dreamers) on May 14 to miss the playoffs by one win.
In that span, Jeremy Lin nailed three triple-doubles in a row -- including a 50-point super triple-double -- en route to finishing last season with 26.3 points, 8.5 rebounds and 8.9 assists per game.

His impact on both ends of the floor is further illuminated by Taoyuan Pauian Pilots data analyst Ko Huan-wei (柯煥為), who in a recent GMProduction YouTube video discussed a few advanced metrics to demonstrate Lin's greatness.
Defensively, for example, Oscar Kao (高國豪), the Hinchu Jko Lioneers' three-time PLG All-Defensive First Team player, saved 7.5 points for his team per 100 possessions to be ranked second among the league's guards, but Jeremy Lin led the PLG with 21.3 points.
Meanwhile, Jeremy Lin easily led the league in terms of penetration and drawing fouls, Ko pointed out.
Jeremy Lin dribbled and blew by defenders 6.5 times and drew 10.8 fouls per 48 minutes, while the runners-up in those two stats - his new teammate Lee Kai-yan (李凱諺) and Formosa Taishin Dreamers' player Lin Chun-chi (林俊吉) - passed defenders 3.7 times and drew 5.7 fouls every 48 minutes, last season.
View All