Taiwan finishes last in women's East Asian Football Championship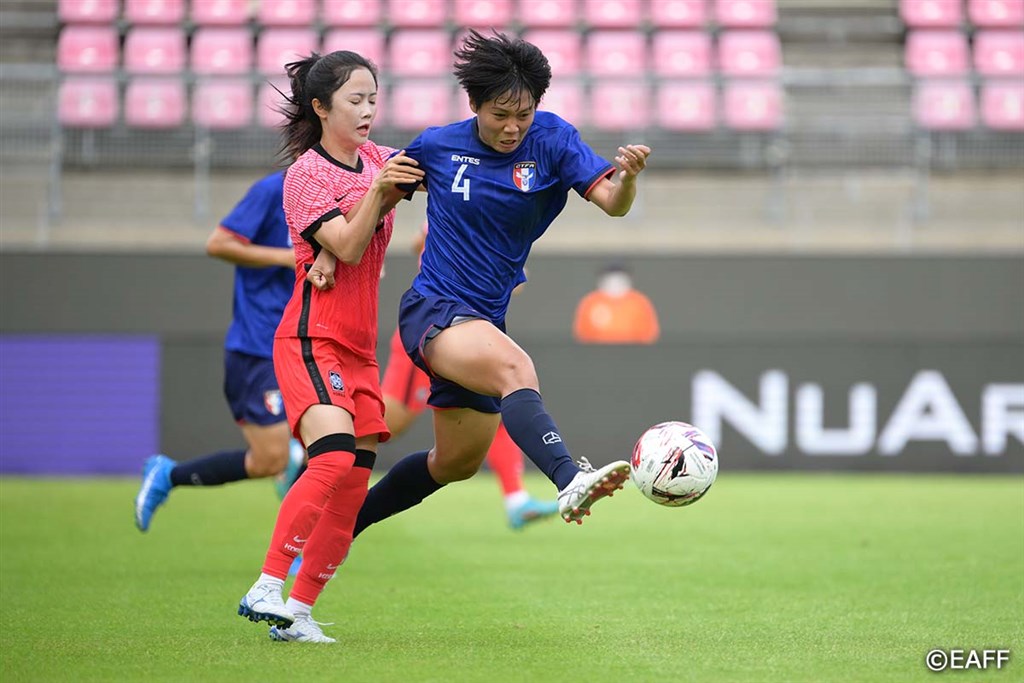 Taipei, July 26 (CNA) Taiwan's women's national soccer team suffered a 4-0 defeat to South Korea in its final match of the 2022 EAFF E-1 Football Championship on Tuesday, finishing last in the four-team tournament held in Japan.
Competing under the name "Chinese Taipei," Taiwan defended well for the first third of the match at Kashima Soccer Stadium in Ibaraki Prefecture, until an own goal by defender Chang Chi-lan (張季蘭) in the 35th minute.
Chang stuck her left foot out to prevent South Korean midfielder Lee Min-a from getting a shot on goal, inadvertently volleying a cross from South Korean defender Jang Sel-gi into her own net.
From there, Taiwan's defense quickly crumbled, conceding a second goal just three minutes later when South Korean forward Kang Chae-rim sent a right-footed shot into the bottom left-hand corner.
In the 40th minute, Lee outstepped Taiwan defender Su Sin-yun (蘇芯芸) in Taiwan's penalty area to strike a blistering right-foot kick that sped past the outstretched hands of Taiwan goalkeeper Cheng Ssu-yu (程思瑜), bringing the score to 3-0.
After half time, Taiwan regrouped and defended better for most of the second half.
However, in the 90th minute, South Korea found another opening, this time with a header by forward Ko Min-jung just before the final whistle, to win the match 4-0.
After the game, Taiwan's head coach Yen Shih-kai (顏士凱) said the South Korean team were very tough competitors and that it was an experience Taiwan can learn from.
"It also put our team to the test on how to keep up physically and remain focused when facing such a strong team. It is something that we need to keep working on," Yen said.
Taiwan's team lost all its three games at the tournament, including losing to China 2-0 on July 20, and Japan 4-1 on July 23.
The 2022 edition of the women's EAFF E-1 Football Championship kicked off July 19, and features Taiwan, China, Japan and South Korea competing in a single round-robin format until July 27.