Taiwan javelin thrower fails to medal at World Athletics Championships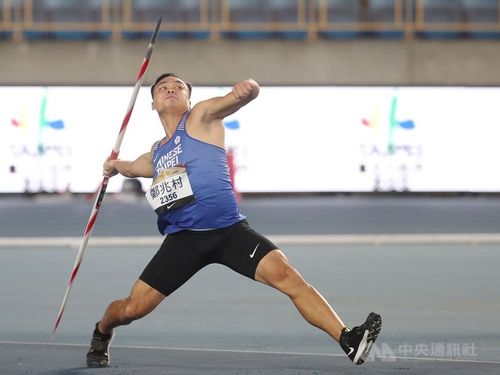 Taipei, Oct. 7 (CNA) Taiwanese javelin thrower Cheng Chao-tsun (鄭兆村), the Asian record holder, failed to medal at the IAAF World Athletics Championships in Qatar Sunday.
Cheng, the men's javelin record holder in Asia since 2017 with a 91.36-meter throw, was the only Asian athlete to qualify for the event's finals at the World Athletics Championships with a throw of 83.40 meters.
In the finals, however, he seemed not to be in form, as he threw 74.74, 77.51 and 77.99 meters in his three tries, finishing in 10th place.
In August, Cheng won a silver medal at the IAAF Diamond League's Weltklasse Zürich event with a throw of 89.05 meters, his best performance of the 2019 season and the second-best of his career. Earlier in the month, he snagged gold at the Muller Grand Prix in Birmingham, throwing 87.75 meters.
Cheng's 10th place finish in Qatar, though below expectations, was the best performance by a Taiwanese competitor at the Championships. He is only the second Taiwanese in 36 years to make it to the finals of an event at the IAAF World Athletics Championship, after Lee Mu-tsai (李木財) competed in the men's long jump in 1983 and finished 13th.
The men's javelin event at the Championships this year was filled with upsets, including the weak performance of the two top 2016 Olympic medalists, Thomas Röhler of Germany and Julius Yego of Kenya. The former failed to qualify for the final, while the latter's three attempts in the final were all ruled as fouls.
The IAAF World Athletics Championships is held biennially by the International Association of Athletics Federations (IAAF). This year, the competition was held in Doha, Qatar from Sept. 27 to Oct. 6.