Taiwan Olympic committee head thanks voters for rejecting name change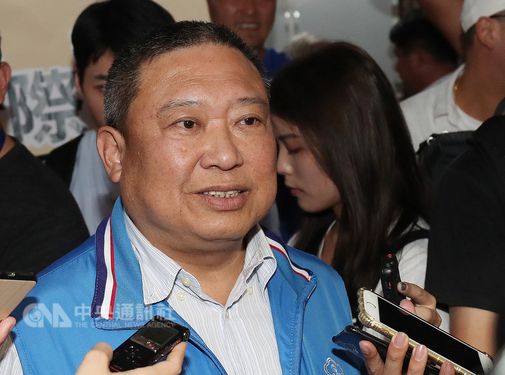 Taipei, Nov. 25 (CNA) Taiwan's Olympic committee head expressed gratitude Sunday over a referendum vote a day earlier that said Taiwan should continue to compete in future international sports events, including the 2020 Tokyo Olympics, under the name "Chinese Taipei," which it currently uses, rather than "Taiwan."
Lin Hong-dow (林鴻道), president of the Chinese Taipei Olympic Committee (CTOC), said that if the referendum had passed, Taiwan would have risked losing its Olympic membership, preventing its athletes from competing in Olympic-related events.
The referendum was voted down by a roughly 5.77 million to 4.76 million, a 55-45 percent margin.
Lin said that rejecting the referendum was a tough call because he understands why its initiators would want the name "Chinese Taipei" changed to "Taiwan."
But he pointed out that it is the CTOC's duty to safeguard the rights of Taiwanese athletes competing in Olympic-related events and the name-change would be a violation of an agreement it made with the International Olympic Committee (IOC).
The IOC has repeatedly made it clear that the name "Chinese Taipei" cannot be changed because it was determined in the Lausanne agreement between the IOC and the CTOC in 1981.
Lin said although Taiwanese athletes compete under the Chinese Taipei name, they are actually representing Taiwan, and the referendum could pose a risk to them in their future participation, which would be unfair to the athletes.
He also disclosed that retired Taiwanese taekwondo Olympic gold medalist Chu Mu-yen (朱木炎) and Olympian retired taekwondo athlete Ann Chen (陳怡安), who are currently attending the Olympic Council of Asia (OCA) in Tokyo, had informed IOC President Thomas Bach of the latest result.
In response, Bach extended an IOC invitation for Chinese Taipei to compete in the 2020 Tokyo Olympics, according to Lin.
In a video clip released by the OCA Sunday after hearing the referendum result, Bach congratulated the decision, saying that it is an example of what athletes can achieve when they raise their voices.
"Thank you for standing up for your interest and your rights to participate in the Olympics, I hope that for all athletes in Chinese Taipei this is an encouragement," he added.
Meanwhile, Yang Jong-her (楊忠和), a former sports affairs council head and one of the initiators of the name-change campaign, told local media that he will continue to push for the name-change.
He also alleged that athletes who voiced their objection toward the referendum were being "used" by the CTOC, and insisted that the CTOC has been misleading the public by saying if the referendum had passed, Taiwanese athletes would have been deprived of the right to compete in international sporting events, which he claimed is not true.