Taiwanese baseball player hopeful of starting lineup spot in Japan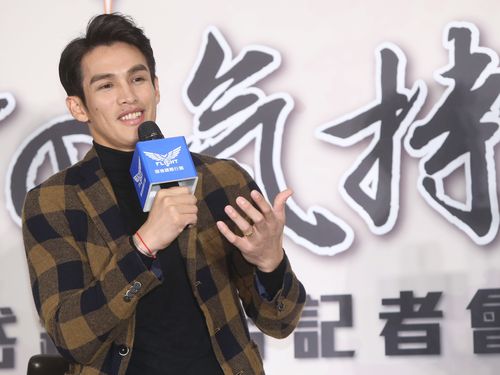 Taipei, Nov. 19 (CNA) Taiwanese baseball star Yoh Daikan (陽岱鋼), who plays for the Yomiuri Giants in the Nippon Professional Baseball (NPB) said Monday that he will give his all to earn a spot in the starting lineup next season.
"It's been tough this year," Yoh said during a homecoming press event in Taipei after the end of his second season with the Giants.
The outfielder fractured his left hand in a game against Japan's Chunichi Dragons in early April and remained on the injured list for a month and a half before returning to the team's active roster.
But many times, Yoh was only available off the bench and did not see much action in the second half of the season. He eventually finished the 2018 season with a 0.245 batting average, 10 homeruns, and 37 RBIs in the 87 games he played for the Giants.
The Giants finished third in the Central League standing this year, winning 67 games and 71 losses, behind league champions Hiroshima Toyo Carp, which took 82 wins 59 losses, and Tokyo Yakult Swallows 75-66.
"Sure I was depressed at first, but there was nothing I could do," Yoh said upon learning about the seriousness of his injury after he was struck by a pitch.
Baseball players get injured very often and it's not something we can hide from, he said.
(Yoh Daikan (陽岱鋼))
"We just have to deal with it and try to keep our spirits up," Yoh said while thanking his family for the support he received after the injury.
Known as Yang Tai-kang in Taiwan, Yoh played for the Nippon Ham Fighters in the NPB as an outfielder for 11 years before he declared himself a free agent in November 2016.
He joined the Giants in December 2016 under a five-year-contract.
The four-time Golden Glove Award winner also had a lackluster season last year, spent the first few months recovering from injuries before joining the lineup mid-season in June.
"I lost the starting lineup, and so it's up to me to get it back," Yoh said.
Asked to rate his performance for the season, the Taiwanese said he will only do so when the time comes.
According to Yoh, players in Japan only talk about their end-of-season performance when they are about to retire.
"I'm not about to do that yet," he said, adding that he has a few years to go and will try to enjoy every moment of the game as long as possible.