TANG PRIZE
/
Taiwan should allow for options to achieve net zero emissions: Sachs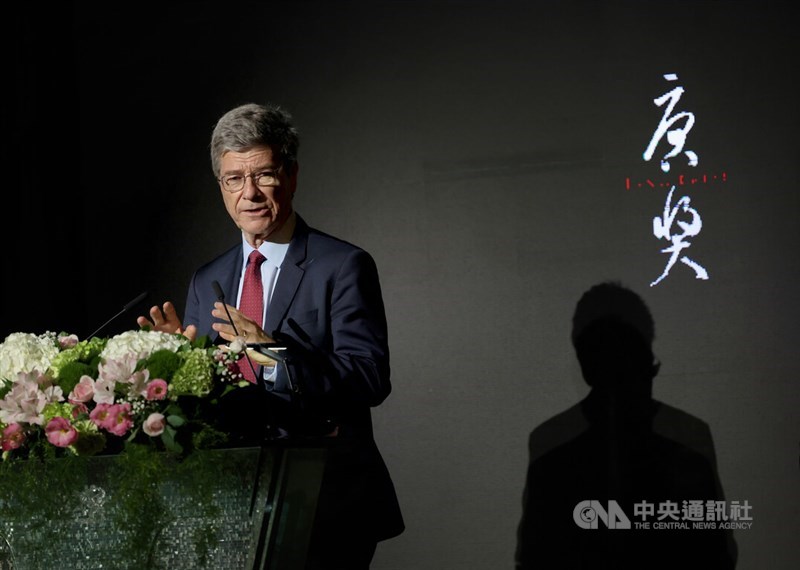 Taipei, Aug. 2 (CNA) Taiwan should develop a clear energy plan that goes beyond its goal of 20 percent renewables in its energy mix and reduces its current heavy reliance on fossil fuels, Jeffrey Sachs, winner of this year's Tang Prize in Sustainable Development, said Wednesday.
During his lecture in Taipei as the Tang Prize laureate, the renowned American economist highlighted the alarming rate at which the temperature has risen due to global warming, exacerbated by El Nino.
The world has already seen 1.2 degrees Celsius of warming compared with pre-industrial levels, which could further rise to an "anomaly" of 1.4 degrees Celsius due to the "huge, hot year" that people have witnessed, Sachs said.
Humans are "impinging on every ecosystem, on the oceans, on the land, and, of course, on the climate," Sachs said.
"It's not just climate change. It's the destruction of every major biome in the world, and every major fishery in the world, because of the scale of the world economy," measured at US$100 trillion or more per year.
That has further driven home the urgent need for a zero carbon energy system by mid-century, but Taiwan has "no plans at all" except for a "50-30-20" policy goal, which amounts to little more than a "statement," Sachs contended.
Sachs was referring to guidelines issued by the government of President Tsai Ing-wen (蔡英文) in April 2017 that it would pursue an energy mix of 50 percent natural gas, 30 percent coal, and 20 percent renewable energy by 2025, while eliminating nuclear power.
June 7: Taiwan's energy transition efforts 'far behind schedule': AmCham
May 16: Taiwan's third offshore wind farm officially inaugurated
Taiwan still has not laid out any plans to back up that energy structure and should do so by introducing secnarios with and without nuclear power, which are key to achieving net-zero emissions by 2050, said Sachs, the former director of the Earth Institute at Columbia University.
What Taiwan's government is working toward is an 80 percent fossil fuel system, which "makes no sense" when taking into account its goal to attain carbon neutrality by 2050, Sachs said.
In a post-lecture question-and-answer session, he said failure to come up with an alternative "emergency policy" to phase out nuclear energy could have tangible economic consequences.
In five to 10 yeas, Sachs said, "Taiwan's own export products could become terribly damaged by the fact that it is a fossil fuel based economy still, because the world is moving to decarbonization."
During the speech, Sachs also recounted how the world set its course on sustainable development by adopting the Sustainable Development Goals (SDGs) in 2015, and how a lack of cooperation within and among nations has resulted in the failure to attain those goals.
July 20: Public willing to pay more for power to mitigate climate disaster risk
May 29: Legislation mandating rooftop solar panels passes Legislature
Sachs also highlighted the importance of dialogue as the key to cooperation and the achievement of sustainable development, especially in-depth and substantive exchanges among the great powers and major world regions, which he said is essential to keeping the peace.
The economist touched upon recent engagements between Ukrainian and Russian forces in the Black Sea, in which U.S.-led NATO played a role by providing Ukraine with intelligence, citing this as an example of a hot war between nuclear powers jeopardizing sustainability.
During the question-and-answer session, Sachs was asked to elaborate his views on the war in Ukraine.
He argued that the U.S. intervened in Ukraine's bid to engage in peace negotiations with Russia, which Sachs said caused the war in Ukraine to rage on.
The war could have been prevented, Sachs argued, if the U.S. had not pushed for NATO's eastward enlargement and making Ukraine a NATO aspirant despite Russian opposition, warning that U.S. intervention in the war will make Ukraine the "Afghanistan of Europe."
Also during the Q&A session, Sachs was asked to comment on how Taiwan can resume dialogue with China and how the U.S. and China can avoid starting a war over Tawan.
"The goal should be to reduce tensions and the talk of conflict of any kind," Sachs said. "I believe that the United States can play the main role by taking a step backward. And that is by not being so present in this issue, to lower the temperature."
Citing then-U.S. House Speaker Nancy Pelosi's visit to Taiwan in August last year as an example, Sachs said that was a "terrible step" by the U.S. and represented a "lack of respect" for China.
As a U.S. citizen, Sachs said, he wanted his government to not provoke more conflicts and to be prudent and respectful, including "being respectful to the People's Republic of China, which ultimately is respectful to Taiwan."
Sachs was awarded the Tang Prize in Sustainable Development for contributions that have brought about a more specific and targeted approach to sustainable development and for his role in helping create the SDGs and the Paris Agreement on Climate Change.
Related News
Aug. 2: Tang Prize laureate lauds vaccines, slams anti-vax activism
Aug. 2: Tang Prize laureate in Sinology calls for greater cultural understanding
Aug. 2: Tang Prize laureate calls for actions to 'regenerate democracy'
View All