#METOO
/
More high-profile figures accused as Taiwan's #MeToo movement spreads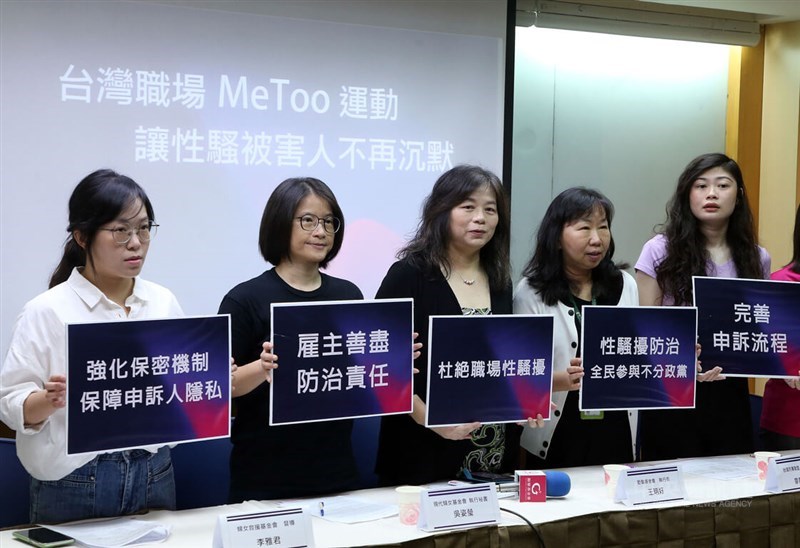 Taipei, June 9 (CNA) More individuals continued to come forward with their stories of being sexually harassed in the past as Taiwan's #MeToo movement gains traction after allegations were made against high-profile figures in the political, academic and cultural arenas.
In a social media post Thursday evening, Lucifer Chu (朱學恒), an author, translator and internet celebrity known for his passion for fantasy literature, offered an apology to Taipei city councilor Chung Pei-chun (鍾沛君) and the society after Chung accused him of sexual harassment.
"I did make mistakes and will face all the consequences," said Chu, who made his name starting in his 20s translating several series of fantasy novels into Chinese, including The Hobbit, The Lord of the Rings, and Star Wars: The Thrawn Trilogy.
Chu also changed the name of his YouTube channel, suggesting that he will suspend his activities in the public sphere indefinitely starting immediately.
Earlier Thursday, Chung alleged that Chu forcibly hugged her and kissed her twice at a dinner gathering last August after their friends left.
A few days later, at the request of Chung, her boyfriend and her attorney, Chu agreed to sign a letter to apologize for what he did to her and to promise he would stay away from her hereafter, but the letter Chu actually signed left out the parts about his misconduct, according to Chung's social media post.
Chung said she decided to follow the footsteps of many individuals with less influence and visibility in public discourse than her, to speak out because she wishes to be a "fighter" for herself and for those who need courage to move on, rather than a "victim."
Prominent film critic
In another case, Lan Tsu-wei (藍祖蔚), a prominent film critic, was accused of engaging in sexual harassment over the years when he served at different media organizations. The allegation was made by Rick Chu (朱立熙), a veteran media worker, on Wednesday.
Lan has served as chairman of the Taiwan Film and Audiovisual Institute (TFAI), a foundation set up by the Ministry of Culture (MOC), since it was established in 2020.
Chu said he made the allegation for only one reason that the MOC should not spend taxpayers' money on a "recidivist sexual harassment offender."
Lan initially vowed on Thursday to take legal actions against anyone who spreads the "false accusation" about him, but TFAI revealed on Friday that he had resigned that day.
In a social media post Friday evening, Lan said that he didn't wish to engage in further defense for himself, nor did he want to become a "political pawn."
A group of KMT lawmakers early Friday called on the MOC to temporarily suspend Lan from his TFAI position and to launch investigations into the allegations.
As of Friday evening, no accuser has come forward in Lan's case.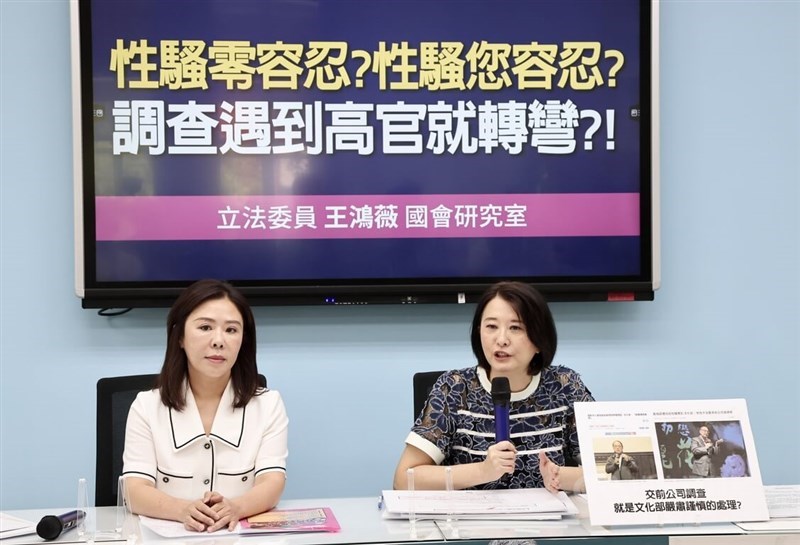 Former diplomat
Meanwhile, Jerry Liu (劉仕傑), a former diplomat and political worker, was accused of sexual assault that involved forced touching and kissing in his car a few years back when he worked at the Ministry of Foreign Affairs, according to the accuser's social media post on Thursday.
Liu in 2019 resigned from public service to run two unsuccessful bids for Taipei city councilor elections in 2018 and 2020, respectively representing the Social Democratic Party and the New Power Party (NPP).
Although Liu was not affiliated with the NPP when he committed the misconduct, the party will refer him to the discipline committee to find out whether he had any such misbehavior after he joined the party, NPP Secretary-General Lee Chao-li (李兆立) said Friday.
While Liu did not respond to the allegation publicly, NPP spokeswoman Yu Chia-chien (余佳蒨) confirmed Liu had quit the party that day and the investigation into Liu's alleged misconduct will go ahead despite his not being an NPP member.
Retired academic from Academia Sinica
Separately, Wu Nai-teh (吳乃德), a retired academic from Academia Sinica renowned for his work on democratization and transitional justice, on Friday offered an apology to a woman named Miss Huang, who had described his sexual misconduct towards her 13 years ago when she was a college student.
Although the experience she encountered in 2010 involved relatively minor harm, she still wanted to write about it as a medium to speak to others and her past self, after she read so many #MeToo articles, Huang said in her social media post on Sunday.
In her post, Huang said she still has nightmares about what happened to her on that day in Wu's car that involved forced hand kissing.
Huang said she told a senior student, who is in the same field as Wu, immediately after she returned to her dormitory, and was told she should just let go of it. After that, she got a call from Wu, who said he was sorry and shouldn't have done what he did to her, according to her post.
In a statement on Friday, Wu said he sincerely apologized to Miss Huang for what he did 13 years ago and the torment she has endured over the past 13 years.
"I hope that my apology can provide some healing for her trauma," Wu said.
Wu said he is resigning from the board of the Taiwan Association for Truth and Reconciliation, an organization he established in 2007 that focuses on transitional justice, and will no longer participate in public affairs because he has lost the trust of the society.
"Over the years, I have had the privilege of working with friends, both known and unknown, who are involved in public affairs. At the same time, I deeply regret that I have failed to live up to their expectations. This sense of regret will accompany me forever," Wu said.
Related News
June 7: Tsai pledges reforms amid wave of #MeToo cases in Taiwanese politics
June 6: National policy adviser quits after sexual harassment accusation
June 6: KMT lawmaker ordered to pay NT$80,000 over sexual harassment
June 4: KMT pledges to probe sexual harassment allegation against its lawmaker
June 3: Tsai apologizes for DPP's mishandling of sexual misconduct complaints
June 2: DPP's Lai outlines new rules to combat sexual harassment
June 1: DPP deputy secretary-general resigns over sexual harassment case
June 7: Man sues Wang Dan over alleged sexual assault
June 3: TV writer accuses exiled Chinese poet Bei Ling of sexual assault
June 2: Chinese dissident Wang Dan denies sexual harassment accusation by Taiwanese man
View All