Taiwan ranks as 4th happiest country in Asia: report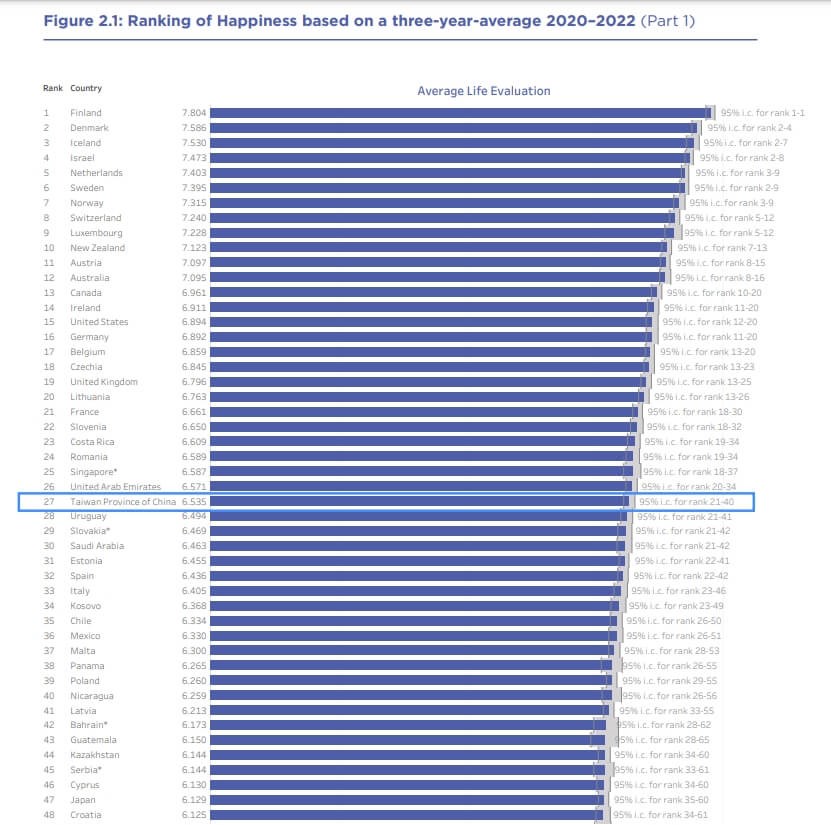 Taipei, March 21 (CNA) Taiwan was ranked as the fourth happiest country in Asia and 27th happiest in the world, according to the 2023 World Happiness Report released by the United Nations Sustainable Development Solutions Network on Monday.
The latest report compiled data from surveys conducted in more than 150 countries and territories to measure happiness based on average evaluations over a three-year period. It used six factors -- social support, income, health, freedom, generosity and absence of corruption -- to evaluate the differences among peoples' happiness levels in different parts of the world.
In Asia, Taiwan only trailed Israel (No. 4 globally), Singapore (No. 25) and United Arab Amirates (No. 26) in 2023. In the previous report, Taiwan also took the fourth spot in Asia after Bahrain, United Arab Amirates and Saudi Arabia, while ranking No. 1 among the countries in East Asia.
Worldwide, Taiwan ranked No. 27, down one notch from a year earlier.
Finland, with a population of 5.5 million and which boasts a comprehensive welfare system and a high degree of equality and a high level of trust in the government by its people, ranked as the No. 1 happiness country in the world for the sixth consecutive year in the 2023 report, ahead of Denmark, Iceland, Israel, the Netherlands, Sweden, Norway, Switzerland, Luxembourg and New Zealand.
According to the report, the Nordic country and its neighbors Denmark, Iceland, Sweden and Norway all scored well because they "all have high ranks for both happiness and equality."
In addition, "the Nordic countries merit special attention in light of their generally high levels of both personal and institutional trust," the report said.
The United States, meanwhile, ranked as the 15th happiness country in the world in the 2023 report, while China and Hong Kong took the 64th and 82nd place, respectively.
Despite an invasion by Russia, Ukraine saw its happiness ranking rising to No. 92 in 2023, from No. 98 a year earlier. Russia took the 70th place in the report.
"Despite the magnitude of suffering and damage in Ukraine, life evaluations in September 2022 remained higher than in the aftermath of the 2014 annexation (of Crimea), supported now by a stronger sense of common purpose, benevolence and trust in the Ukrainian leadership," the report said.
War-torn Afghanistan remained at the bottom of the 2023 report, and it has become the unhappiest nation since 2020, when U.S. troops began withdrawing from the country.