CORONAVIRUS
/
Taiwan records lowest number of domestic COVID-19 cases in 321 days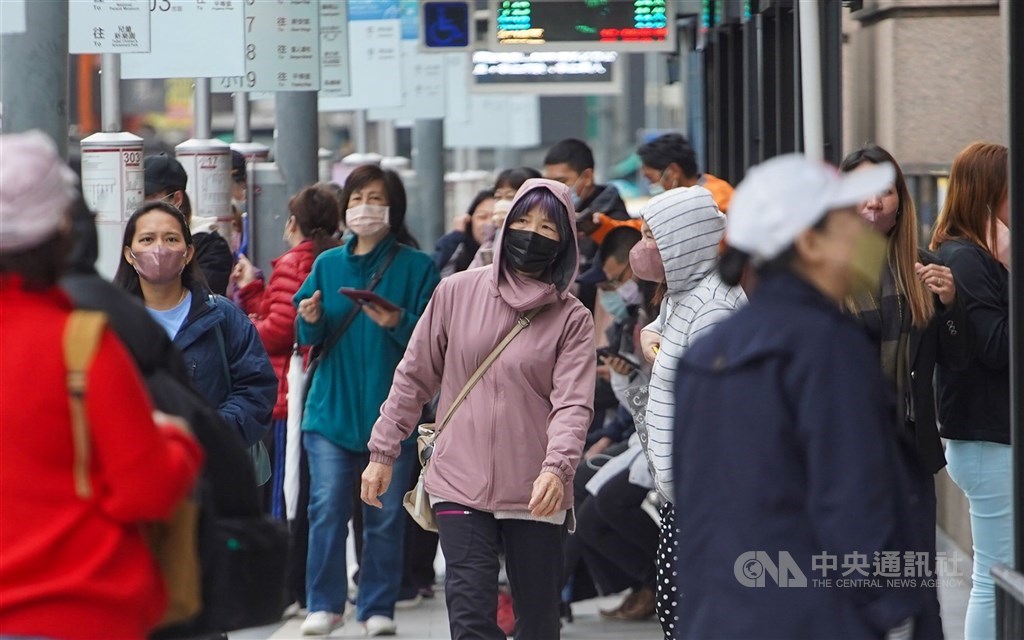 Taipei March 13 (CNA) Taiwan's Central Epidemic Command Center (CECC) reported 6,435 new domestic COVID-19 cases on Monday, the lowest number recorded in 321 days since the 6,295 cases on April 26 last year.
On top of the 6,435 cases reported, Taiwan also added 142 imported cases and 37 deaths.
The case number on Monday represented a 7.1-percent drop from the same day a week earlier, which was 6,928 cases, according to the CECC.
The pandemic is steadily declining in Taiwan, CECC spokesperson Lo Yi-chun (羅一鈞) reiterated Monday.
Lo said cases are projected to continue dropping before new reporting and quarantine policies come into force on March 20.
As to how high-risk individuals will receive diagnoses and prescriptions after March 20, Lo assured the public that government-funded medication will continue to be available.
If anyone categorized as high-risk returns a positive COVID-19 test result, doctors can prescribe free of charge medication such as paxlovid, which will be available at medical facilities approved by the CECC.
Lo also announced that virtual diagnoses will no longer be available for those who test positive for COVID-19 in metropolitan areas from March 20.
CECC statistics indicate that the nation has over 200 days of COVID-19 anti-viral drugs, with 374,000 paxlovid doses still available alongside 81,000 doses of molnupiravir.
Meanwhile, Taiwan recorded 59,351 COVID-19 vaccinations between March 10 and 12.
According to the CECC, to date 94 percent of people in Taiwan have received one dose of a COVID-19 vaccine, while 89 percent have gotten two shots.
Third inoculation shot coverage currently stands at 76.5 percent, with the fourth additional jab at 23.8 percent, the CECC said.
Related News
March 6: Mask-wearing persists despite lifting of Taiwan's on-campus mandate
March 4: Taiwan loosens COVID-19 control measures on international cruises
March 3: Taiwan to purchase more monkeypox vaccine doses: CDC
March 1: Taiwan records first two local monkeypox cases
Feb. 23: New COVID vaccination campaign planned in March, annual jab from 2024
Feb. 20: Taiwan to stop COVID-19 rapid test kits to overseas arrivals 
Recent cases
March 12: Taiwan reports 9,093 new COVID-19 cases, 39 deaths
March 11: Taiwan reports 8,618 new COVID-19 cases, 48 deaths
March 10: Taiwan reports 9,098 new COVID-19 cases, 54 deaths
March 9: Taiwan reports 9,584 new COVID-19 cases, 49 deaths
March 8: Taiwan reports 11,060 new COVID-19 cases, 40 deaths
March 7: Taiwan reports 11,038 new COVID-19 cases, 34 deaths
March 6: Taiwan reports 7,080 new COVID-19 cases, 45 deaths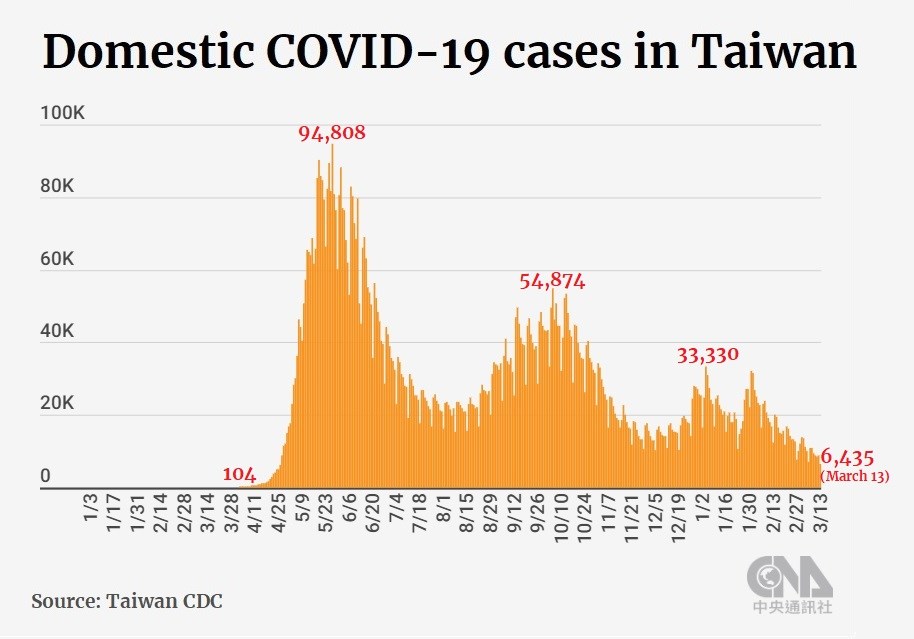 Latest COVID-19 rules
● Taiwan to loosen COVID-19 protocols for migrant worker entry
● Taiwan's eased indoor mask mandate takes effect Feb. 20
● COVID-19 testing for overseas arrivals dropped from Feb. 7 (2023)
● Revised protocol for hospital visits from Dec. 10

● Taiwan to stop paying COVID medical fees for certain foreign nationals
● Taiwan to remove weekly arrival cap on Dec. 10
● Taiwan cuts COVID isolation to 5 days, lifts workplace vaccine mandates (Nov. 14)
● Taiwan to further ease border rules for China, Hong Kong, Macau residents
View All