CORONAVIRUS
/
Taiwan reports 11,060 new COVID-19 cases, 40 deaths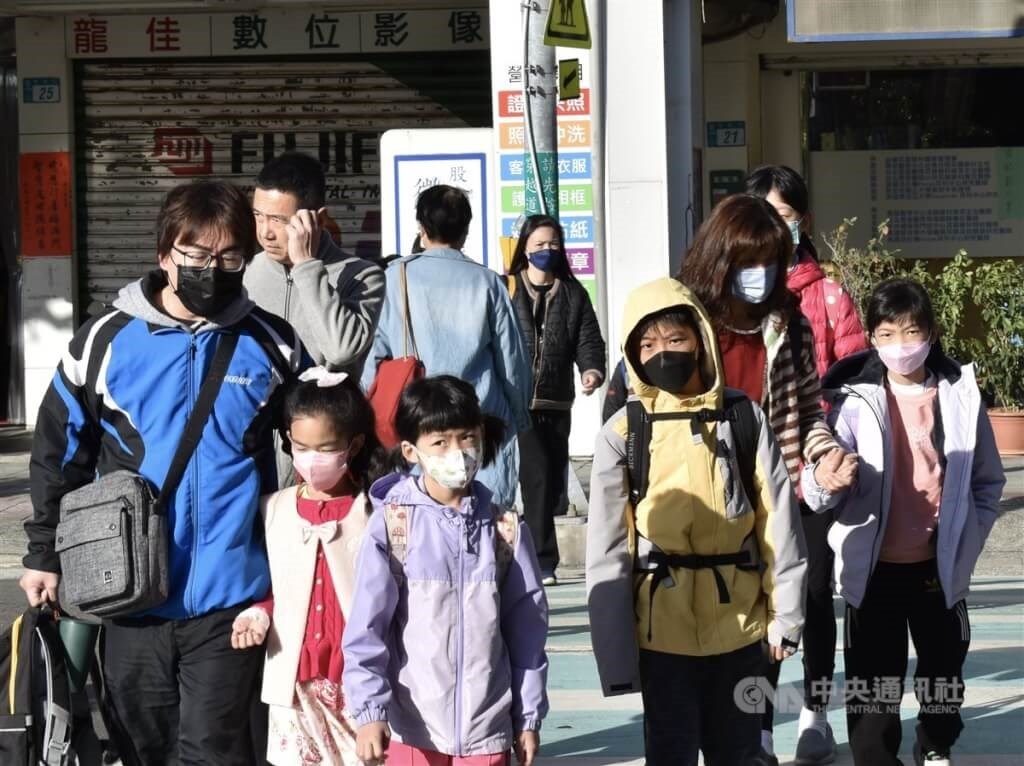 Taipei, March 8 (CNA) Taiwan's Central Epidemic Command Center (CECC) reported 11,060 new cases of COVID-19 and 40 deaths from the disease on Wednesday.
Among the new infections, 10,876 were domestic, which represented a 9.3 percent drop from the same day a week earlier, according to the CECC.
CECC spokesperson Lo Yi-chun (羅一鈞) said COVID-19 cases were expected to remain flat at around 10,000 per day for the foreseeable future.
If this trend holds, it will allow for the continued easing of COVID-19 control policies, such as possibly lifting the quarantine for people with mild infections, Lo said in a call with reporters.
To date, Taiwan has recorded 10,134,211 COVID-19 infections and 18,322 deaths from the disease since the pandemic began in early 2020.
The CECC announced on Feb. 23 that it would stop releasing more detailed daily information on new COVID-19 cases and deaths.
Related News
March 6: Mask-wearing persists despite lifting of Taiwan's on-campus mandate
March 4: Taiwan loosens COVID-19 control measures on international cruises
March 3: Taiwan to purchase more monkeypox vaccine doses: CDC
March 1: Taiwan records first two local monkeypox cases
Feb. 23: New COVID vaccination campaign planned in March, annual jab from 2024
Feb. 20: Taiwan to stop COVID-19 rapid test kits to overseas arrivals
Recent cases
March 7: Taiwan reports 11,038 new COVID-19 cases, 34 deaths
March 6: Taiwan reports 7,080 new COVID-19 cases, 45 deaths
March 5: Taiwan reports 10,307 new COVID-19 cases, 60 deaths
March 4: Taiwan reports 11,397 new COVID-19 cases, 71 deaths
March 3: Taiwan reports 13,813 new COVID-19 cases, 62 deaths
March 2: Taiwan reports 12,032 new COVID-19 cases, 43 deaths
March 1: Taiwan reports 12,212 new COVID cases; isolation rules to ease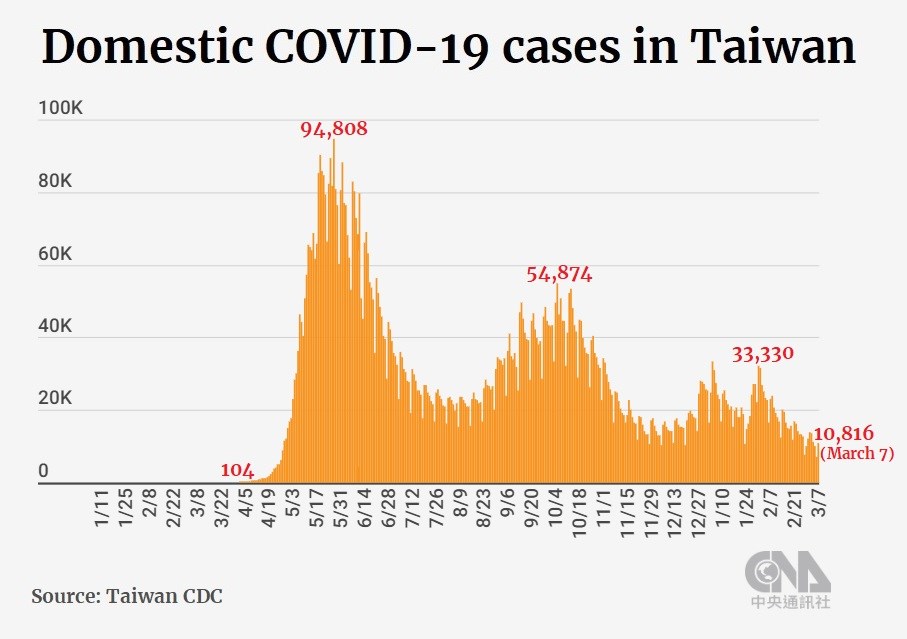 Latest COVID-19 rules
● Taiwan's eased indoor mask mandate takes effect Feb. 20
● COVID-19 testing for overseas arrivals dropped from Feb. 7 (2023)
● Revised protocol for hospital visits from Dec. 10

● Taiwan to stop paying COVID medical fees for certain foreign nationals
● Taiwan to remove weekly arrival cap on Dec. 10
● Taiwan cuts COVID isolation to 5 days, lifts workplace vaccine mandates (Nov. 14)
● Taiwan to further ease border rules for China, Hong Kong, Macau residents
View All