CORONAVIRUS
/
Taiwan reports 11,397 new COVID-19 cases, 71 deaths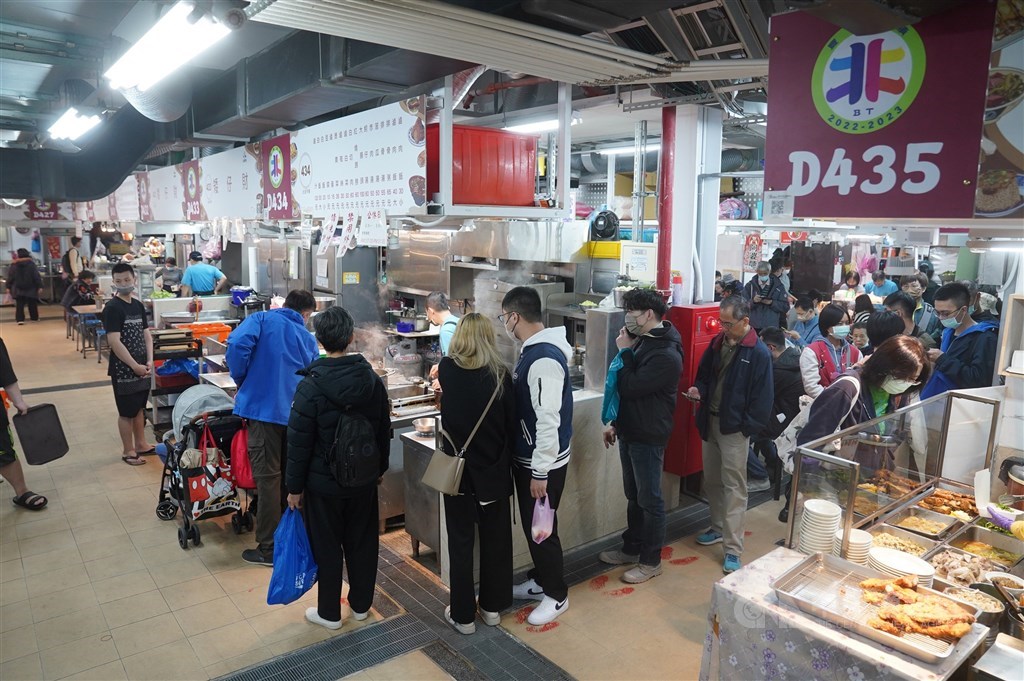 Taipei, March 4 (CNA) Taiwan's Central Epidemic Command Center (CECC) reported 11,397 new cases of COVID-19 and 71 deaths from the disease on Saturday.
Among the new infections, 11,164 were domestic, which represented a decline of 15.9 percent from the same day a week earlier, according to the CECC.
As the new cases reported on Friday and Saturday were lower than the daily figures before the four-day 228 Peace Memorial Day holiday, which ended on Tuesday, the increased movement of holiday makers in Taiwan has not affected the slowing spread of COVID-19, CECC spokesperson Lo Yi-chun (羅一鈞) told reporters.
The CECC will next closely monitor whether there is a rise in new infections among children and high school students after the mask mandate is further relaxed in schools on March 6, Lo said.
The relaxed mask mandate in schools is not expected to have an impact on the COVID-19 situation in Taiwan, as the number of new cases has dropped to a much lower level after a high of 33,871 reported on Jan. 4 in the current wave of infections, according to Lo.
Update on mpox cases 
Lo, who serves as a deputy director-general of the Centers for Disease Control, updated reporters on the first two patients with locally transmitted monkeypox (mpox) reported in Taiwan on Wednesday.
The two patients, both male, are still in hospital quarantine and their symptoms have improved, said Lo, adding that none of the people listed as their close contacts have contracted mpox.
The viral disease can be transmitted from one person to another by close contact with lesions, body fluids, respiratory droplets and contaminated materials such as bedding, according to the World Health Organization.
Related News
March 4: Taiwan loosens COVID-19 control measures on international cruises
March 3: Taiwan to purchase more monkeypox vaccine doses: CDC
March 2: CECC mulls downgrading classification of COVID-19 by May
March 1: Taiwan records first two local monkeypox cases
Feb. 23: New COVID vaccination campaign planned in March, annual jab from 2024
Feb. 20: Taiwan to stop COVID-19 rapid test kits to overseas arrivals
Recent cases
March 3: Taiwan reports 13,813 new COVID-19 cases, 62 deaths
March 2: Taiwan reports 12,032 new COVID-19 cases, 43 deaths
March 1: Taiwan reports 12,212 new COVID cases; isolation rules to ease
Feb. 28: Taiwan reports 10,120 new COVID cases; mask rules to be reviewed in April
Feb. 27: Taiwan sees under 10,000 new COVID-19 cases for first time in over 300 days
Feb. 26: Taiwan reports 13,090 new COVID-19 cases, 46 deaths
Feb. 25: Taiwan surpasses 10 million COVID-19 case threshold
Feb. 24: Taiwan reports 13,440 new COVID-19 cases, 56 deaths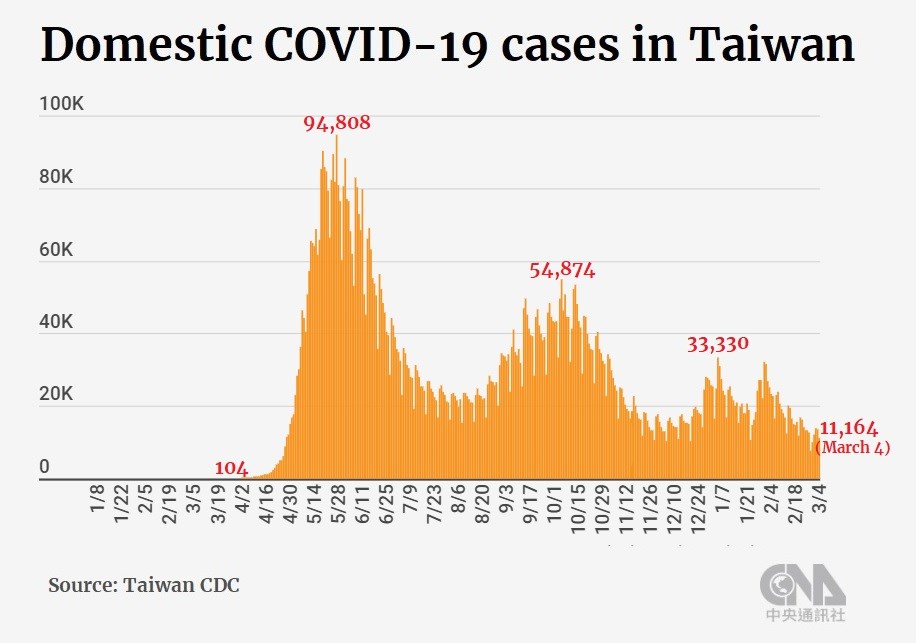 Latest COVID-19 rules
● Taiwan's eased indoor mask mandate takes effect Feb. 20
● COVID-19 testing for overseas arrivals dropped from Feb. 7 (2023)
● Revised protocol for hospital visits from Dec. 10

● Taiwan to stop paying COVID medical fees for certain foreign nationals
● Taiwan to remove weekly arrival cap on Dec. 10
● Taiwan cuts COVID isolation to 5 days, lifts workplace vaccine mandates (Nov. 14)
● Taiwan to further ease border rules for China, Hong Kong, Macau residents
View All