Tropical Storm Nalgae could bring downpours to Taiwan from Sunday: CWB
Taipei, Oct. 28 (CNA) Tropical Storm Nalgae, currently in waters east of the Philippines, could bring heavy rainfall to northern and eastern areas of Taiwan as well as the Hengchun Peninsula in southernmost Taiwan from Sunday to Wednesday, the Central Weather Bureau (CWB) said Friday.
According to a bureau forecast that day, Nalgae is expected to move westward over Luzon island in the Philippines between Saturday and Sunday, and then turn northward towards Taiwan.
The path Nalgae takes is largely dependent on its speed. If the storm moves slower than expected it is more likely to track west and approach Taiwan or move into the South China Sea, it explained.
The storm is expected to be closest to Taiwan between next Tuesday and Wednesday, the CWB added.
As of 2 p.m. Friday, Nalgae was located 650 kilometers east-southeast of Manila, moving in a west-northwesterly direction at 23 kilometers per hour, according to the CWB.
According to the bureau, the storm has a radius of 120 km and is carrying maximum sustained winds of 83 kph with gusts of up to 108 kph.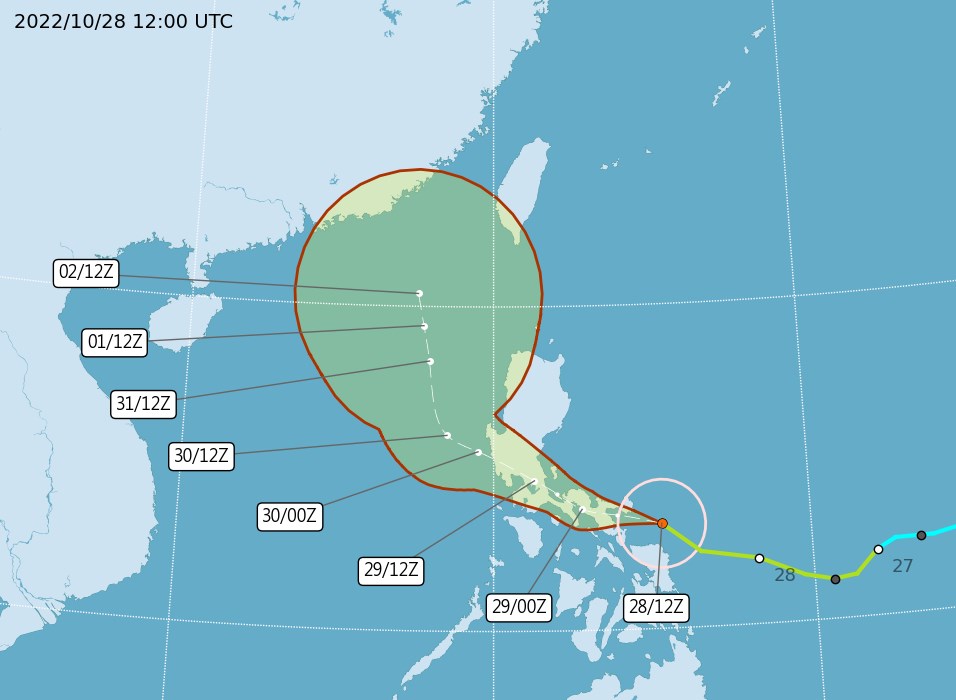 Wu Der-rong (吳德榮), an adjunct associate professor of atmospheric sciences at National Central University, added that Nalgae could continue to strengthen before approaching Taiwan and even develop into a typhoon, but it remains too early to say with any degree of certainty, including whether a sea warning will be issued.
The earlier Nalgae turns north, the more of a threat it becomes due to the torrential rainfall it will bring from the windward side, while the later it turns north, the smaller but more sustained impact it could have on Taiwan, he said.
In a precautionary move, Taipingshan National Forest Recreation Area in northeastern Taiwan on Friday announced it will be temporarily closed from noon Saturday to Monday.