CORONAVIRUS
/
Total number of COVID-19 cases in Taiwan exceeds 6 million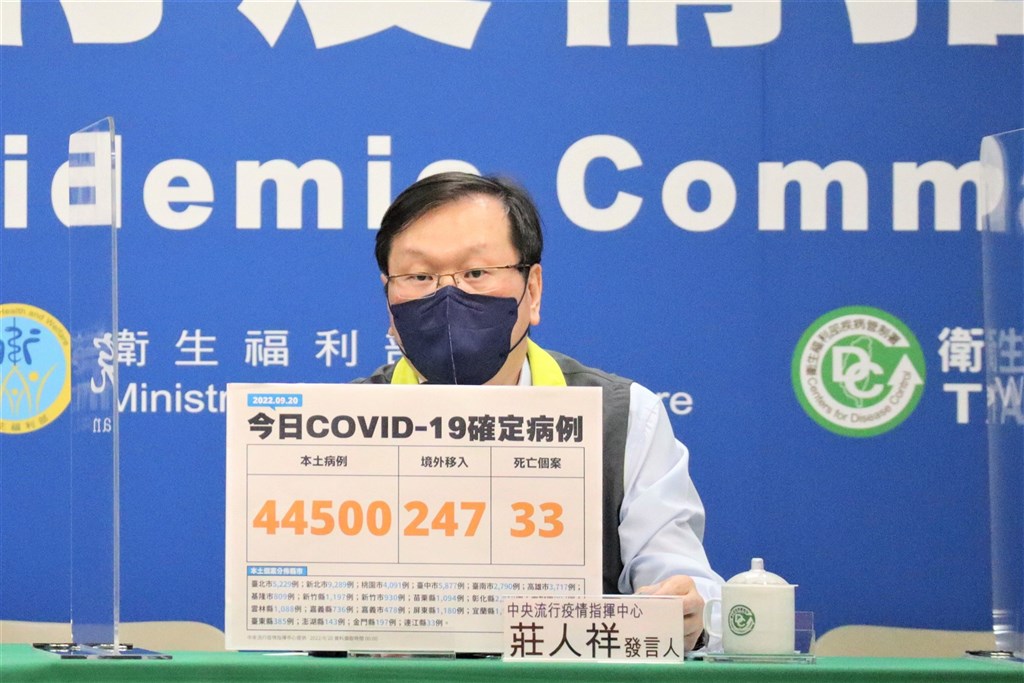 Taipei, Sept. 20 (CNA) Taiwan reported 33 deaths from COVID-19 and 44,747 new infections on Tuesday, which pushed the total number of cases in the country since the start of the pandemic past 6 million, according to the Central Epidemic Command Center (CECC).
The majority of the 6,043,539 cases were domestic, as only 32,665 were classified as imported, CECC data indicated.
On Tuesday, the 33 reported deaths were among people in their 60s to 90s, and all but four had underlying health issues such as cancer and diabetes, the CECC said.
Eighteen of them were unvaccinated against COVID-19, while four had received one dose of a COVID-19 vaccine, three had gotten two shots, and eight had received three doses, according to Lo Yi-chun (羅一鈞), deputy director-general of the Centers for Disease Control, who urged people to get at least one shot.
8 removed deaths
Meanwhile, Lo said that eight COVID-19 deaths that were recorded June 10 to Sept. 1 have been removed from the death toll, as the cause of death was revised in four cases, and in the other cases, the hospitals at which they were treated had erroneously reported their deaths.
In the case of the first four, their cause of death ranged from pneumonia to heart failure, and COVID-19 was an indirect factor, he said.
With the revisions, the total number of COVID-19 deaths in Taiwan since the start of the pandemic stood at 10,604, as of Tuesday.
Regional breakdown
Among the new cases reported Tuesday, New Taipei had the highest number, with 9,289, followed by Taichung with 5,877, Taipei 5,229, Taoyuan 4,091, Kaohsiung 3,717, and Tainan 2,790, the CECC said in a statement.
Changhua County reported 2,310 new cases, Hsinchu County 1,197, Pingtung County 1,180, Yilan County 1,176, Miaoli County 1,094, Yunlin County 1,088, Nantou County 993, and Hsinchu City 930.
Keelung had 809 cases, Hualien County 758, Chiayi County 736, Chiayi City 478, Taitung County 385, Kinmen County 197, Penghu County 143, and the Matsu Islands 33, according to the CECC.
Related news
Sept. 19: Taiwan's latest COVID-19 wave forecast to peak in late September
Sept. 19: Taipei, Kaohsiung to roll out second-generation Moderna vaccine Sept. 24
Recent cases
Sept. 19: Taiwan reports 28,210 new COVID-19 cases, 31 deaths
Sept. 18: Taiwan reports 39,569 new COVID-19 cases, 39 deaths
Sept. 17: Taiwan reports 39,628 new COVID-19 cases, 40 deaths
Sept. 16: Taiwan reports 41,430 new COVID-19 cases, 46 deaths
Sept. 15: Taiwan reports 45,470 new COVID-19 cases, 57 deaths
View All