Taiwan issues sea warning for Typhoon Muifa
Taipei, Sept. 11 (CNA) The Central Weather Bureau (CWB) issued a sea warning for Typhoon Muifa on Sunday and warned it could bring showers to northern and northeastern regions of Taiwan.
As of 11 a.m. Sunday, the typhoon was located 370 kilometers east-northeast of Eluanbi, the southernmost tip of Taiwan, moving in a north-northwesterly direction at 8 kilometers per hour, according to the CWB.
It was carrying maximum sustained winds of 144 kph with gusts of up to 180 kph and had a radius of 150 km, the bureau said.
The typhoon was moving northward at a slow pace on Sunday and is expected to move even slower on Monday and Tuesday, when it will come closest to Taiwan, before moving away on Wednesday, CWB meteorologist Wu Wan-hua (伍婉華) said.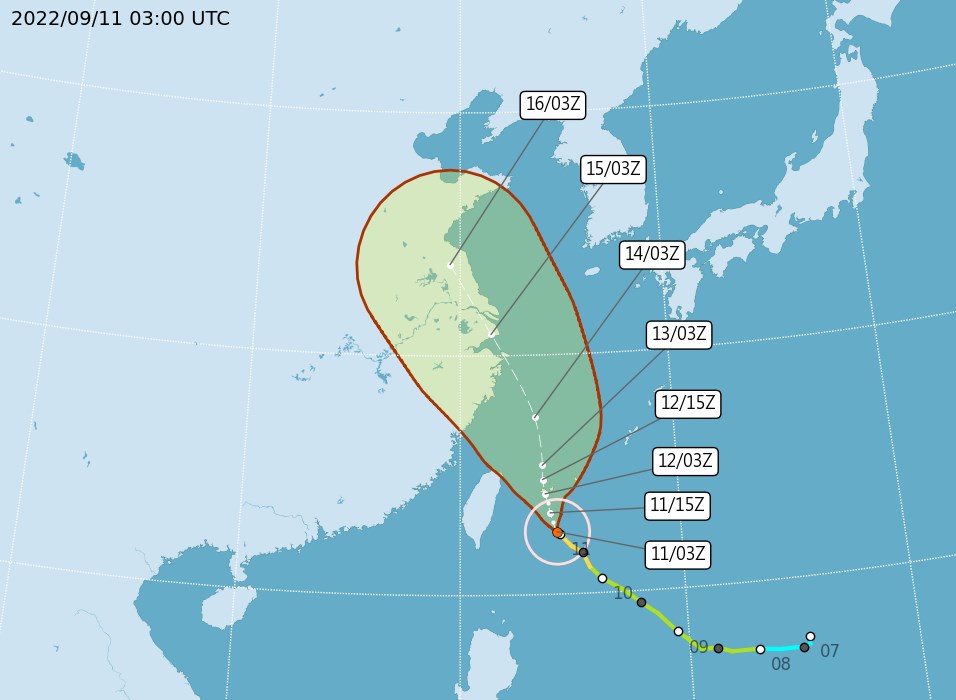 Meanwhile, stronger gusts could be seen in areas from Hsinchu in northern Taiwan to Kaohsiung in the south and coastal areas of eastern Taiwan as well as the outlying island of Penghu, the CWB said.
It also warned of long waves in Keelung, the northern coastal area, and the eastern part of the country, including Green and Orchid islands, as well as the Hengchun Peninsula and the outlying Matsu islands.
From Sunday to Tuesday, the periphery of Muifa will bring heavy rain to mountainous areas of northern and northeastern Taiwan, and the northern coastal areas including Keelung, while there is also a chance of afternoon showers in the east and southeast, the bureau said.
The rainfall would likely ease on Wednesday when the typhoon is expected to move away from Taiwan.
Meanwhile, cloudy to sunny skies are forecast for central and southern Taiwan on Sunday, with brief and isolated thundershowers in the afternoon, according to the bureau.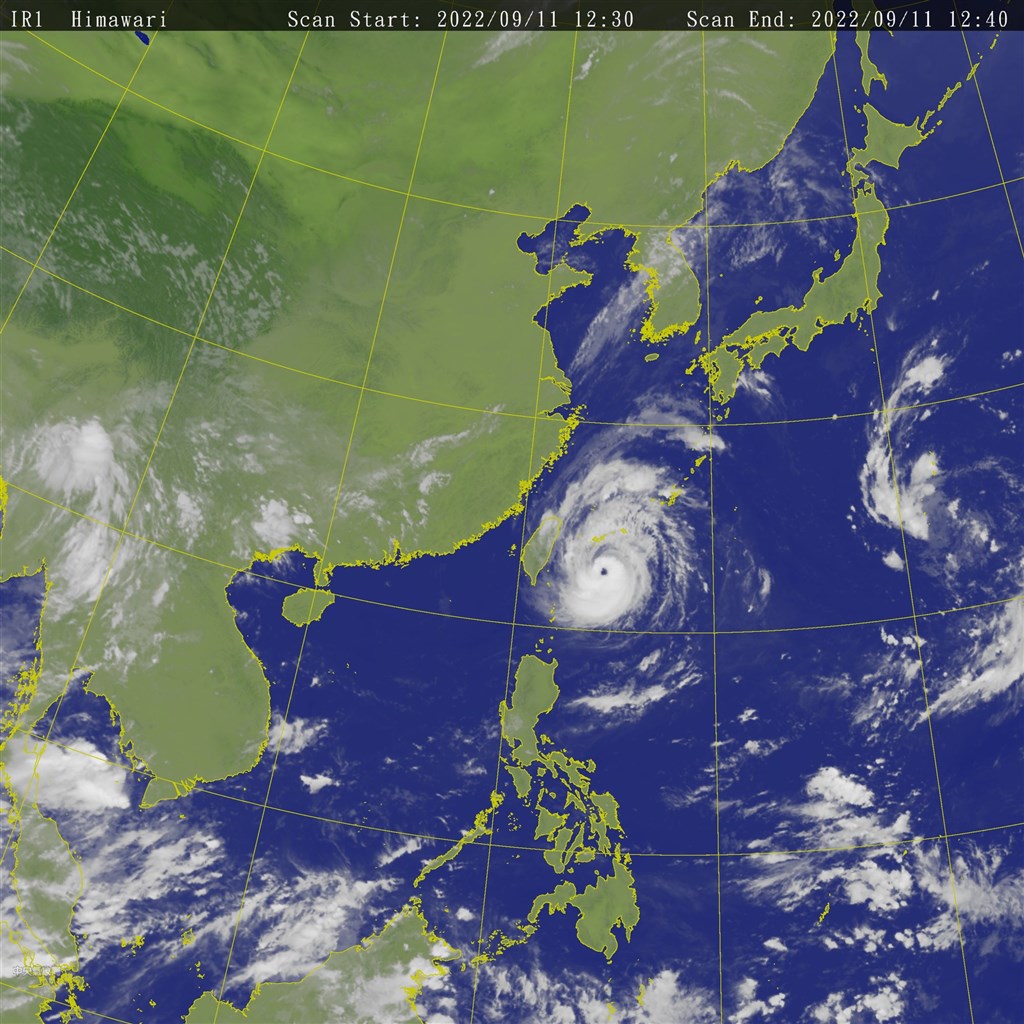 In terms of temperature, the rain will bring slightly cooler temperatures with daytime highs expected to range between 28 and 29 degrees Celsius in northern and northeastern parts of Taiwan, while the rest of the island can expect highs of 32-33 degrees, it said.
Due to the approach of Typhoon Muifa, ferry operators between Green Island and Taitung's Fugang Fishery Harbor in eastern Taiwan have transported an estimated 5,000 passengers back to Taitung Sunday morning and announced suspension of services on the route for the afternoon.
The Maritime Port Bureau said that almost all ferries from Taiwan to outlying islands will be canceled on Monday, with the exception of several ferries, such as Budai-Magong and Kaohsiung-Magong services.
It forecast extremely heavy rain for New Taipei and heavy rain for Taipei, Keelung, Taoyuan and Yilan on Sunday.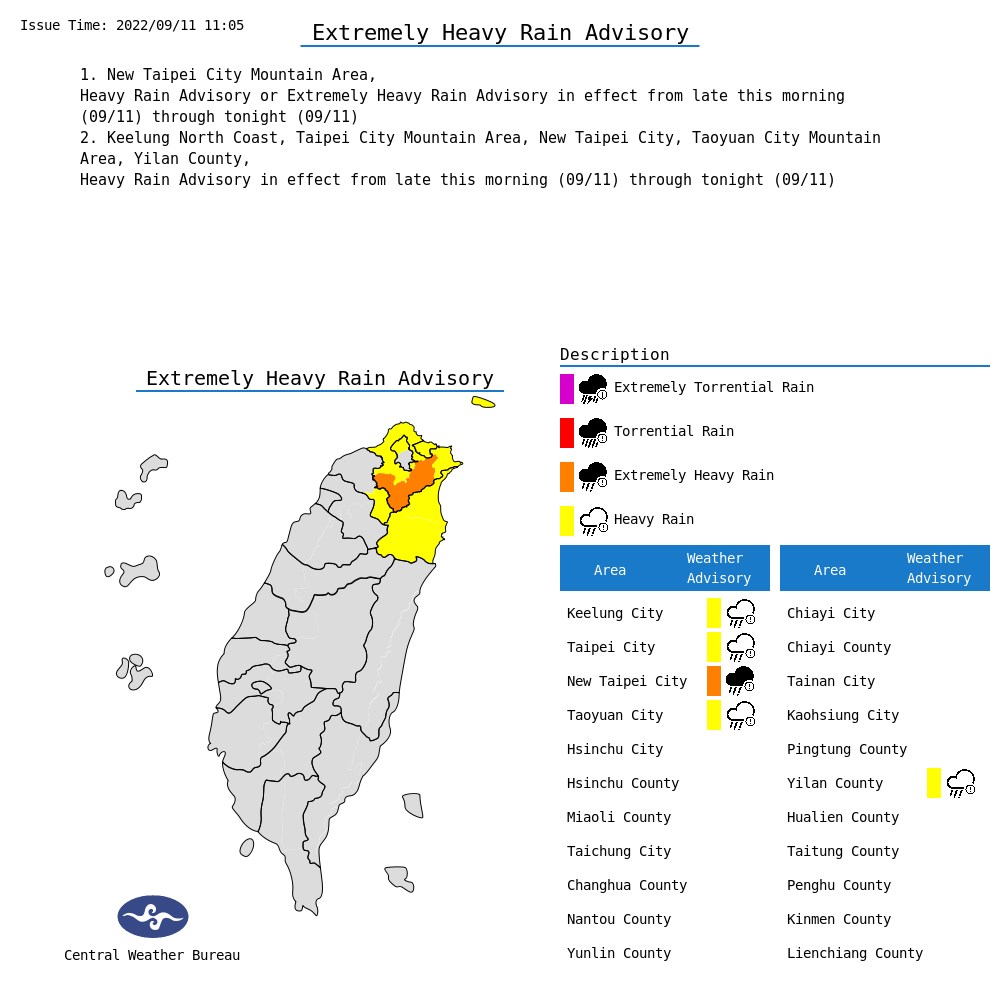 The CWB defines heavy rain as accumulated rainfall of 80 millimeters or more within a 24-hour period or 40 mm or more in an hour, while extremely heavy rain refers to accumulated rainfall of 200 mm or more within 24 hours.
As of 11 a.m. Sunday, New Taipei's Wulai district had the most accumulated rainfall of 108 mm, and the top 10 accumulated rainfall were all located in the city, according to the CWB website.
Update
Sept. 11: Shihmen Reservoir begins discharging water as typhoon approaches
Related News
Sept. 5: Keelung water restrictions eased after typhoon brings rain
Sept. 3: Taiwan issues land warning for Typhoon Hinnamnor
Setp. 2: Taiwan issues 2022's first sea warning as Typhoon Hinnamnor approaches
Aug. 30: Taiwan set for balmy autumn with 1 to 2 typhoons: CWB
Aug. 26: Lack of typhoons leads to 15-year low for rainfall in July