Northern Taiwan to see rain late Wednesday from typhoon periphery
Taipei, Aug. 31 (CNA) Parts of Taiwan will be affected by the periphery of Super Typhoon Hinnamnor from late Wednesday to Saturday, but the storm is unlikely to directly impact the island, according to the Central Weather Bureau (CWB).
Sept. 2: Taiwan issues sea warning for Typhoon Hinnamnor
The storm's periphery will bring showers starting later Wednesday in northern and northeastern parts of Taiwan, particularly in coastal areas of Keelung and mountainous areas in the north, according to the bureau.
Hinnamnor, the 11th tropical storm of the year, picked up strength and was reclassified as a super typhoon Tuesday.
As of 8 a.m. Wednesday, it was located around 910 kilometers east of Taipei, moving in a southwest direction at a speed of 20 kilometers per hour, packing sustained winds of 198 kph and gusts of up to 245 kph, according to CWB data.
The typhoon is expected to continue moving westward toward waters south of Japan's Ryukyu Islands later Wednesday and linger there for a period of time before veering northward toward Japan's main islands and South Korea, according to the CWB.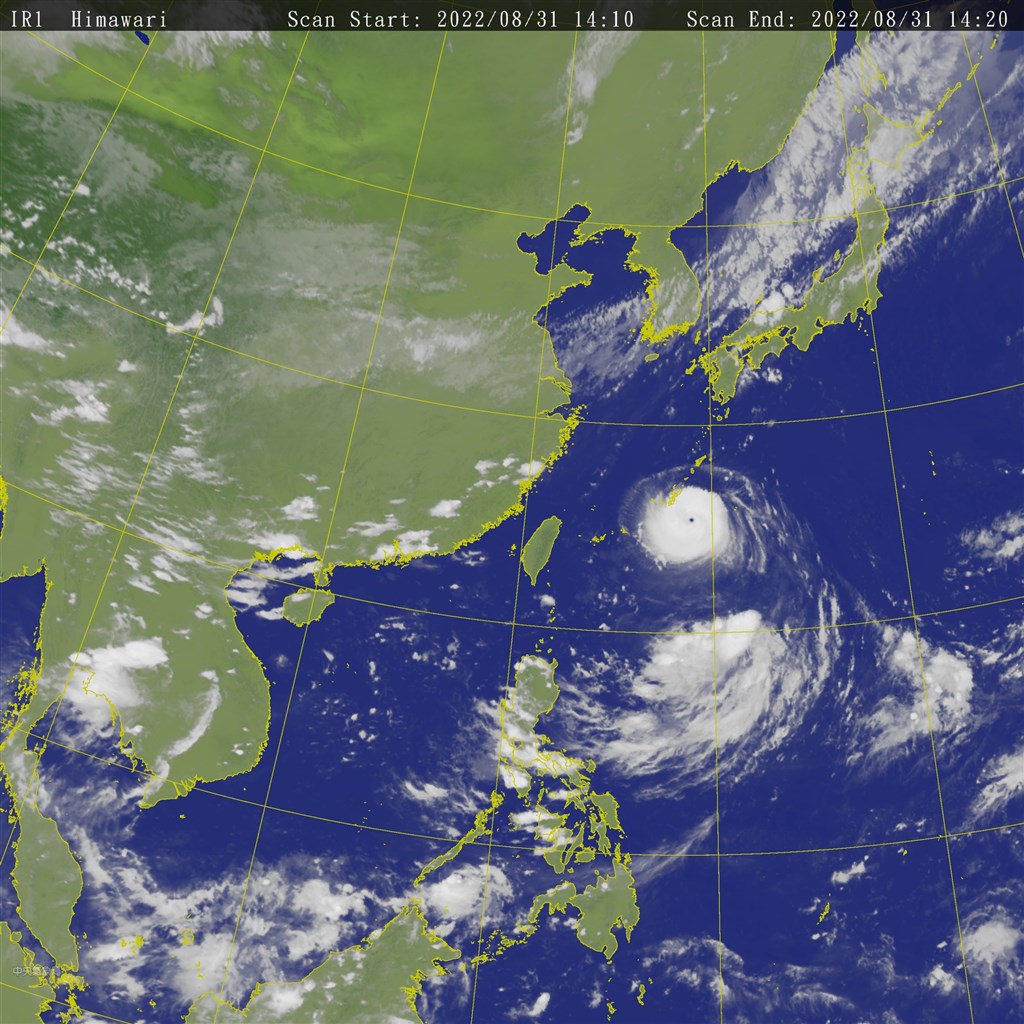 A new tropical depression located south of Hinnamnor, however, is expected to develop into a tropical storm and move toward the typhoon, and the interaction between the two storms could cause Hinnamnor to veer south, it said.
The CWB predicted that the storm will come closest to Taiwan on Friday and Saturday as it lingers near the Ryukyu Islands.
On Wednesday, temperatures ranging from 33-35 degrees Celsius and isolated thunderstorms are forecast for much of Taiwan.
The Hualien valley areas and Taitung could see highs of 38 degrees, while highs of 36 degrees are expected in eastern Taiwan and the Greater Taipei area, the CWB said.
In the afternoon, occasional thundershowers are likely in the western half of Taiwan and mountainous areas of the east, especially in the central and southern parts of the country.
There is also a chance of heavy rain in mountainous areas south of Yunlin County, according to the CWB.
Update
Aug. 31: Sea warning likely for Super Typhoon Hinnamnor on Friday: CWB