CORONAVIRUS
/
Taiwan reports 31,488 new COVID-19 cases, 27 deaths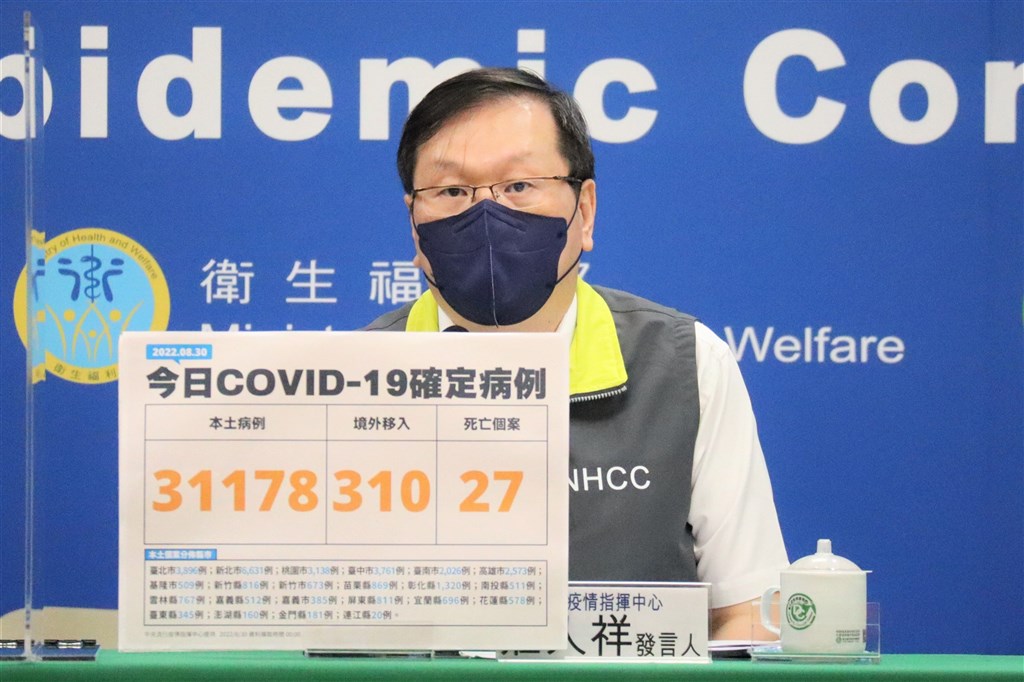 Taipei, Aug. 30 (CNA) Taiwan on Tuesday reported 31,488 new cases of COVID-19 and 27 deaths from the disease, according to the Central Epidemic Command Center (CECC).
The deceased ranged in age from their 30s to their 90s. All but one suffered from chronic illnesses or other severe diseases, and 17 had not been fully vaccinated against COVID-19, the CECC said.
Also on Tuesday, the CECC reported 24 COVID-19 cases newly classified as severe and 32 newly classified as moderate.
Of the 5,200,054 domestically transmitted cases recorded in Taiwan this year, 10,491 have been classified as severe infections and 13,271 as moderate, accounting for 0.20 percent and 0.26 percent of the total, respectively, according to CECC data as of Aug. 29.
Regionally, New Taipei reported the highest number of new cases on Monday, with 6,631, followed by Taipei with 3,896, and Taichung with 3,761.
Taoyuan had 3,138 new cases, Kaohsiung 2,573, Tainan 2,026, Changhua 1,320, Miaoli 869, Hsinchu County 816, Pingtung 811, Yunlin 767 and Yilan 696.
Hsinchu City had 673 cases, Hualien 578, Chiayi County 512, Nantou 511, Keelung 509, Chiayi City 385, Taitung 345, Kinmen 181, Penghu 160 and the Matsu Islands 20, the CECC said.
To date, Taiwan has recorded 5,273,449 COVID-19 cases since the pandemic began in early 2020, including 27,662 cases that were contracted abroad and classified as "imported."
With the 27 deaths reported Tuesday, the number of COVID-19 fatalities in the country rose to 9,893.
View All