CORONAVIRUS
/
Taiwan reports 28,570 new COVID-19 cases, 18 deaths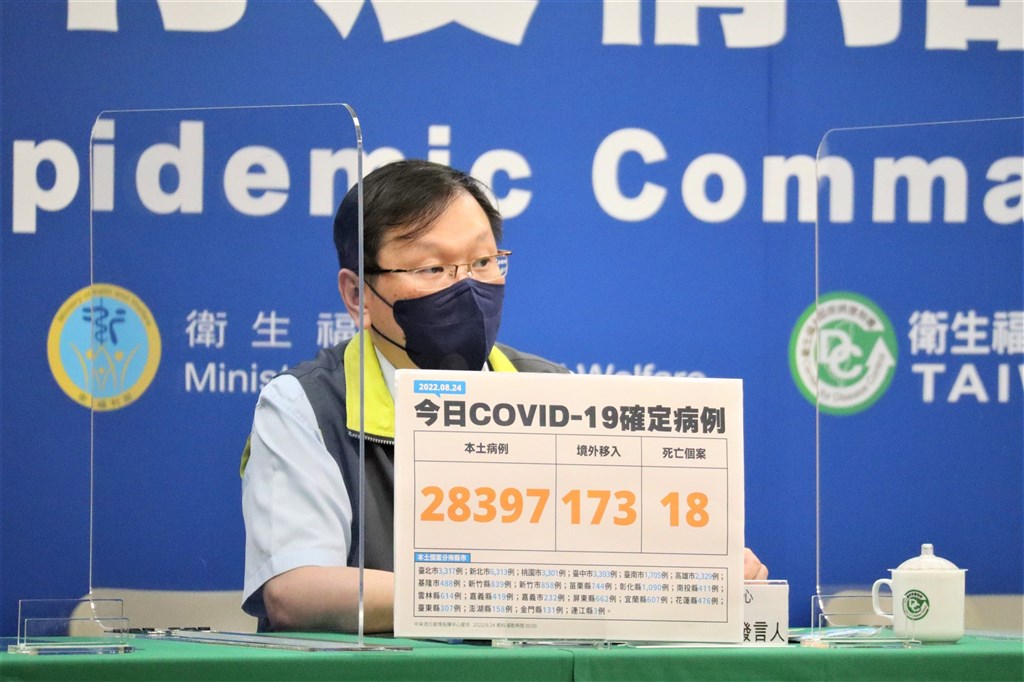 Taipei, Aug. 24 (CNA) Taiwan on Wednesday reported 28,570 new cases of COVID-19 and 18 deaths from the disease, according to the Central Epidemic Command Center (CECC).
The number of cases was 15.1 percent higher than those reported a week ago on Aug. 17, CECC spokesman Chuang Jen-hsiang (莊人祥) said at a press briefing, the latest indication that case numbers may be on the rise again after hitting an 11-week low two weeks ago.
Deaths, severe & moderate cases
The deceased ranged in age from their 30s to their 90s. All but one suffered from chronic illnesses, and eight were unvaccinated against COVID-19, the CECC said.
Among the newly reported deaths was a man in his 30s who passed away in June. At the time, his death was attributed to respiratory failure and a cerebral hemorrhage, but a subsequent review determined that COVID-19 had been one of the direct causes, according to CECC official Lo Yi-chun (羅一鈞).
The other fatality was a woman in her 30s, who had no history of chronic illness and had received three COVID-19 vaccine shots, Lo said.
After testing positive for COVID-19 on Aug. 13, the woman was taken to the hospital with a fever of 41 degrees Celsius on Aug. 15, where she went into shock and died the following day from a seizure and lack of blood and oxygen flow to the brain, Lo said.
Also on Wednesday, the CECC reported 23 COVID-19 cases newly classified as severe and 104 as moderate.
Of the 5,046,271 domestically transmitted cases recorded in Taiwan this year, 10,266 have been classified as severe infections and 12,908 as moderate, accounting for 0.20 percent and 0.26 percent of the total, respectively, according to CECC data as of Aug. 23.
Regional breakdown
Regionally, New Taipei reported the highest number of new cases on Wednesday, with 6,313, followed by Taichung with 3,393 and Taipei with 3,317.
Taoyuan had 3,301 new cases, Kaohsiung 2,329, Tainan 1,705, Changhua 1,090, Hsinchu City 858, Hsinchu County 839, Miaoli 744, Pingtung 662 and Yunlin 614.
Yilan reported 607 cases, Keelung 488, Hualien 476, Chiayi County 419, Nantou 411, Taitung 307, Chiayi City 232, Penghu 158, Kinmen 131, and the Matsu Islands three, the CECC said.
To date, Taiwan has recorded 5,115,052 COVID-19 cases since the pandemic began in early 2020, including 25,821 that were contracted abroad, according to CDC figures.
With the 18 deaths reported Wednesday, the number of COVID-19 fatalities in the country rose to 9,691.
Nothern Taiwan first to see rise in cases
Meanwhile, in an analysis of Taiwan's COVID-19 situation livestreamed on Wednesday morning, public health expert Chen Hsiu-hsi (陳秀熙) said the recent rise in cases was primarily concentrated in the north of the country.
The cases mainly consist of breakthrough infections among people aged 20-49, and are being driven in part by waning protection from vaccines received last year, said Chen, a professor at the National Taiwan University College of Public Health.
While the majority of infections in young people are mild, older people are at risk of developing severe symptoms, and should consider getting a second booster shot to increase their level of protection, Chen said.
Also on Wednesday
Aug. 24: Omicron subvariant-induced outbreak forecast to peak earlier: CECC
Aug. 24: Second-generation Moderna vaccines expected to arrive in October: CECC
Related News
Aug. 22: Taiwan raises weekly arrivals cap
Aug. 21: Taiwan rolls out Moderna second shots for young children
Aug. 19: Taiwan gets 1st delivery of Pfizer-BNT vaccines for young children
Aug. 19: Border opening dependent on BA.5 COVID cases: CECC
Aug. 15: Taiwan to ease rules for last four days of arrival COVID-19 protocol
Aug. 10: Taiwan to lift pre-flight PCR test requirement for all arriving travelers
July 26: Revision of border rules depends on vaccination rate among kids: CECC
Recent cases
Aug. 23: Taiwan reports 26,382 new COVID-19 cases, 16 deaths
Aug. 22: Taiwan reports 16,911 new COVID-19 cases, 23 deaths
Aug. 21: Taiwan reports 22,397 new COVID-19 cases, 26 deaths
Aug. 20: Taiwan reports 22,161 new COVID-19 cases, 36 deaths
Aug. 19: Taiwan reports 22,819 new COVID-19 cases, 32 deaths
View All