CORONAVIRUS
/
Taiwan to ease rules for last four days of arrival COVID-19 protocol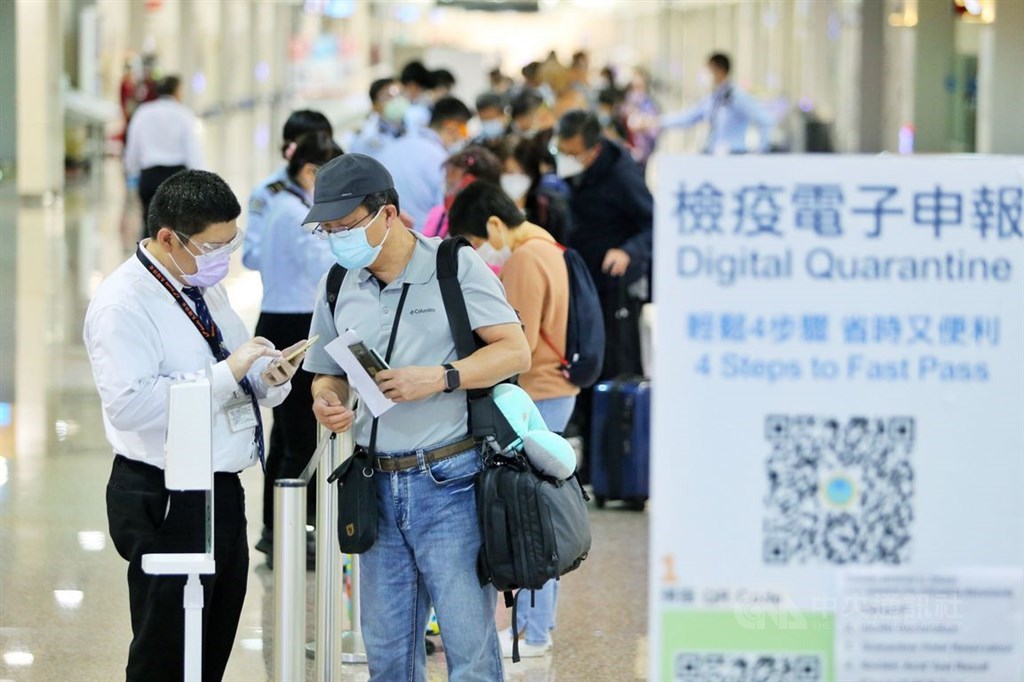 Taipei, Aug. 15 (CNA) Travelers arriving in Taiwan will face slightly less restrictive protocols on where they can stay starting Sept. 1, the Central Epidemic Command Center (CECC) announced Monday.
After entering Taiwan and remaining in quarantine for the standard three days, travelers will be allowed to spend the four-day "self-initiated epidemic prevention" period on a one person to a room basis, and will not need permission to change locations, the CECC said.
At present, arrivals must complete both the three- and four-day periods on a one person per residence basis (if home quarantining) and need to apply for permission from local authorities if they wish to spend the two periods at different locations. (Current quarantine rules)
At a press conference Monday, CECC head Victor Wang (王必勝) said the one person per residence rule during the three-day quarantine period will remain in effect, but travelers will be able to spend the four-day protocol on a one person to a room basis starting Sept. 1.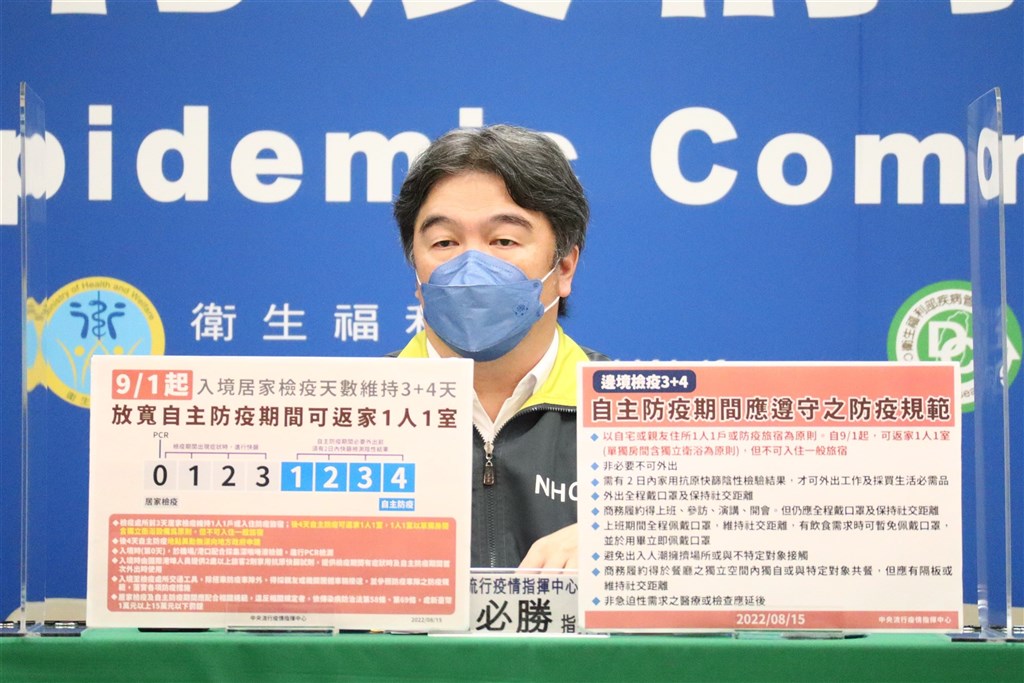 To meet these standards, a person should have one room and one bathroom reserved for their use only, Wang said, adding that booking a non-quarantine hotel room during this period will remain prohibited.
Meanwhile, people who wish to change locations after completing the three-day quarantine -- such as by moving from a quarantine hotel to a private residence -- will no longer need to apply to the local government for permission to do so, he said.
According to the CECC, during the self-initiated epidemic prevention period, people should only go out when necessary and after testing negative using a rapid antigen test the same day or the previous day.
People are permitted to take public transportation and go to work during the four-day period, but may not go to school, the CECC's guidelines state.
When outdoors, they should wear a mask at all times, practice social distancing and avoid visiting crowded places, and should not go to a hospital or clinic unless they have a medical emergency, according to the guidelines.
Related News
Sept. 29: Taiwan's new COVID-19 protocols for arriving passengers taking effect Sept. 29
Aug. 22: Taiwan raises weekly arrivals cap
Aug. 15: Taiwan sees first local BA.4 COVID case; BA.5 cases expected to rise
Aug. 10: Taiwan to lift pre-flight PCR test requirement for all arriving travelers
Aug. 4: CECC to ease two policies before lifting quarantine for arrivals
Aug. 1: Japan tour operators visit Taiwan for the first time in 2 years
Aug. 1: Taiwan grants EUA to Pfizer-BNT COVID-19 vaccine for children under 5
July 26: Revision of border rules depends on vaccination rate among kids: CECC
July 15: Taiwan records first community spread of BA.5: CECC
Taiwan's eased border controls in 2022
● Taiwan to reopen borders to some foreign students on Aug. 1: MOE
★ Taiwan allows entry of 6 groups of foreign nationals on July 25
● Taiwan raises weekly arrivals cap, loosens pre-entry PCR requirement on July 7
★ Taiwan introduces '3+4' quarantine policy for arriving travelers on June 15
● Taiwan further relaxes border restrictions on family visits on April 12
★ Taiwan still plans to open up gradually, despite case spike: Premier (April 1)
● Taiwan shortens quarantine, grant entry to business travelers from March 7
● Taiwan to expand entry permission to professionals from March 7
● Taiwan reopens for foreign national fertility treatment from March 1
● Taiwan opens to non-scholarship language students
★ Taiwan begins March with economy-minded eased COVID-19 protocol
● Ban on migrant workers from Philippines, Vietnam lifted on Feb. 15
View All