Migrant caregivers call for inclusion in labor laws amid news of wage hike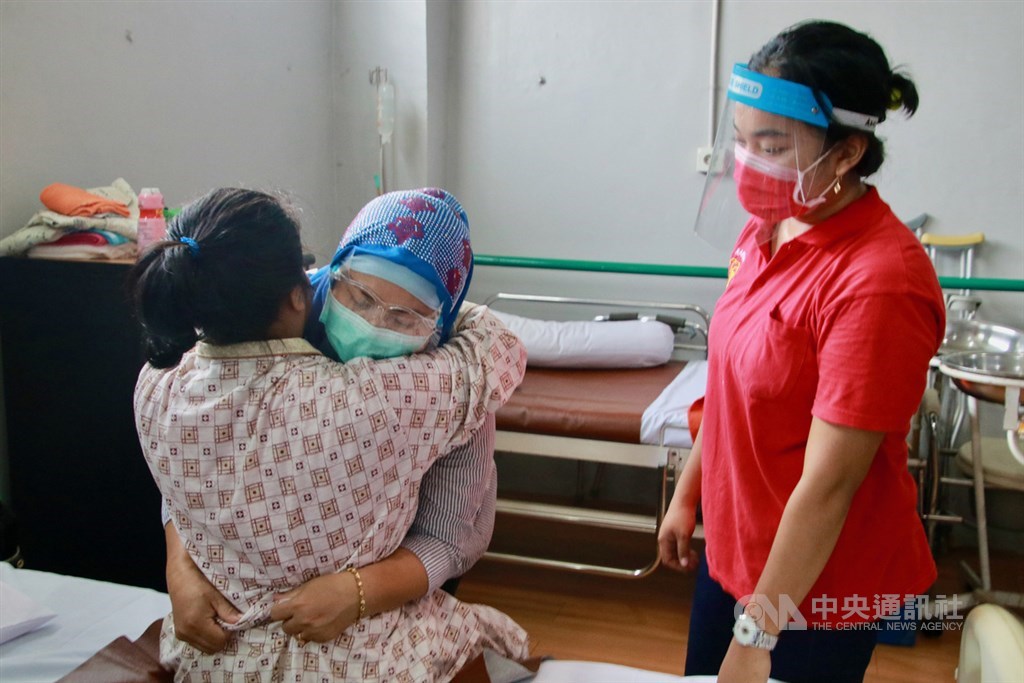 Taipei, July 8 (CNA) Migrant caregivers and domestic helpers in Taiwan said Friday that the government's decision to review their minimum wage does not go far enough, and they called for inclusion in the country's labor laws.
Indonesian caregiver Fajar, who is president of the Indonesian workers solidarity organization Ganas Community, told CNA that the government's proposed increase of the minimum wage for migrant caregivers, from NT$17,000 (US$570.86)to NT$20,000 per month, still does not match the pay of migrant workers in the industrial sector.
"I don't think that's enough, because the salary difference between formal and informal (workers) is still a lot ... almost 25 percent," Fajar said, making a comparison with the minimum wage of NT$25,250 for other categories of migrant workers who are covered by Taiwan's labor laws.
Fajar said that another potential problem is that employers who are opposed to a minimum pay hike for migrant caregivers and domestic helpers might increase the workload or require the workers to buy their own food and other daily necessities.
Domestic migrant workers are already tightly squeezed, as they usually have to pay NT$1,500-NT$1,800 per month to the manpower brokerage agencies that hired them, she said.
It is much more important, therefore, to bring migrant caregivers and domestic helpers under the Labor Standards Act, said Fajar, who works in New Taipei.
"If domestic workers were included in the law, they would have better protection and welfare, not only in terms of salary but also work hours, social security and other areas," she said.
Unlike migrant workers employed in the industrial sector, private home-based migrant caretakers and domestic helpers are not covered by Taiwan's Labor Standards Act, which has left their minimum pay stuck at NT$17,000 for the last seven years.
The Ministry of Labor (MOL) announced Thursday that it would soon introduce a minimum wage increase for private live-in migrant caregivers and domestic helpers, based on the recommendations of its employment security fund management committee.
The committee has recommended an increase from the current minimum monthly wage of NT$17,000 to at least NT$20,000 for migrant caregivers and domestic helpers, according to the MOL.
An Indonesian domestic helper named Ema said the pay hike is needed, because migrant domestic workers sometimes have expenses like food and medical bills, as not all employers are willing to cover those costs.
"Health insurance increases every year, and we are charged for other items, such as ARC and passport fees," said Ema, who has been working in Taiwan for more than seven years and is based in Pingtung County.
Filipina caregiver Nancy Sangalang, who has been working in Taiwan for 12 years, said she would welcome a pay increase in the two years she has left on her contract before she reaches the 14-year limit.
"I am looking forward to the (proposed) salary of NT$20,000," said Sangalang, who is based in Kaohsiung. "The government already gave us occupational accident insurance, so this time I hope they will increase our salary soon."
Marie Yang, a Taiwan-based Filipino Channel News Correspondent and migrant advocate, said that while the Taiwan government's proposed minimum wage hike for domestic migrant workers is belated, she hopes it will extend to migrant caregivers from all countries, not just Indonesia.
"This proposal to increase the salary of domestic migrant workers has been long overdue," and it should be implemented as soon as possible, Yang told CNA.
Yang also said she thinks the inclusion of that category of migrant workers in Taiwan's Labor Standards Act "is close to impossible."
Indonesians make up the bulk of Taiwan's migrant caregivers, and their government has been spearheading the minimum wage negotiations with Taiwan.
In late June, Taiwanese and Indonesian labor officials held a round of meetings, during which the Indonesian side advocated strongly for a wage hike for migrant caregivers and domestic helpers in Taiwan.
Other countries, including the Philippines, have also been in discussions with Taiwan about the disparity in the minimum wages of domestic workers compared to factory workers and have suggested raising the salaries of private home-based migrant caretakers and domestic helpers.
In Taiwan, there are some 202,616 migrant workers employed as private-home-based caretakers, and 1,441 as domestic helpers, according to MOL statistics as of the end of May.
Update
Aug. 10: Minimum wage for live-in migrant workers increased to NT$20,000
July 18: Taiwan to enforce migrant fishermen's pay hike: official
July 16: Permanent residency rules for migrant caregivers could be eased: MOL