CORONAVIRUS
/
Taiwan reports 63,221 new COVID-19 cases, 168 deaths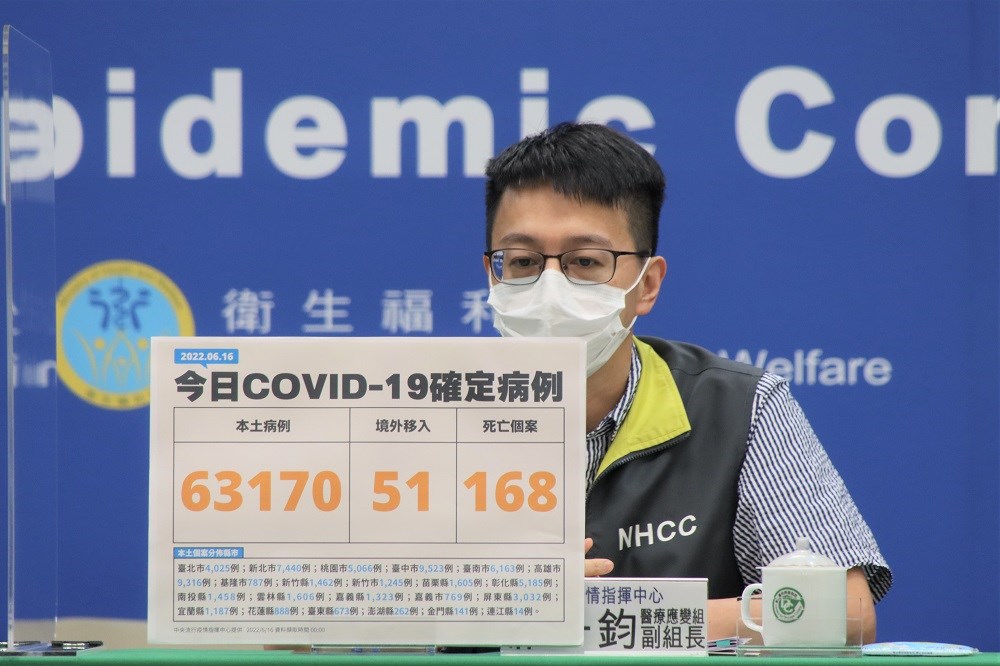 Taipei, June 16 (CNA) Taiwan on Thursday reported 63,221 new COVID-19 infections, including 51 that originated overseas, and 168 deaths from the disease, according to the Central Epidemic Command Center (CECC).
The deceased, ranging in age from 10 to 100, included 159 individuals with chronic illnesses or other severe diseases, and 113 who had not received a booster shot, the CECC said.
Of the 3,044,215 domestic cases reported in Taiwan this year, 4,526 have been classified as severe infections, and 6,966 as moderate, accounting for 0.15 percent and 0.23 percent of the total, respectively, according to CECC data as of June 15.
In all other cases, the patients were either asymptomatic or had mild infections, the CECC said.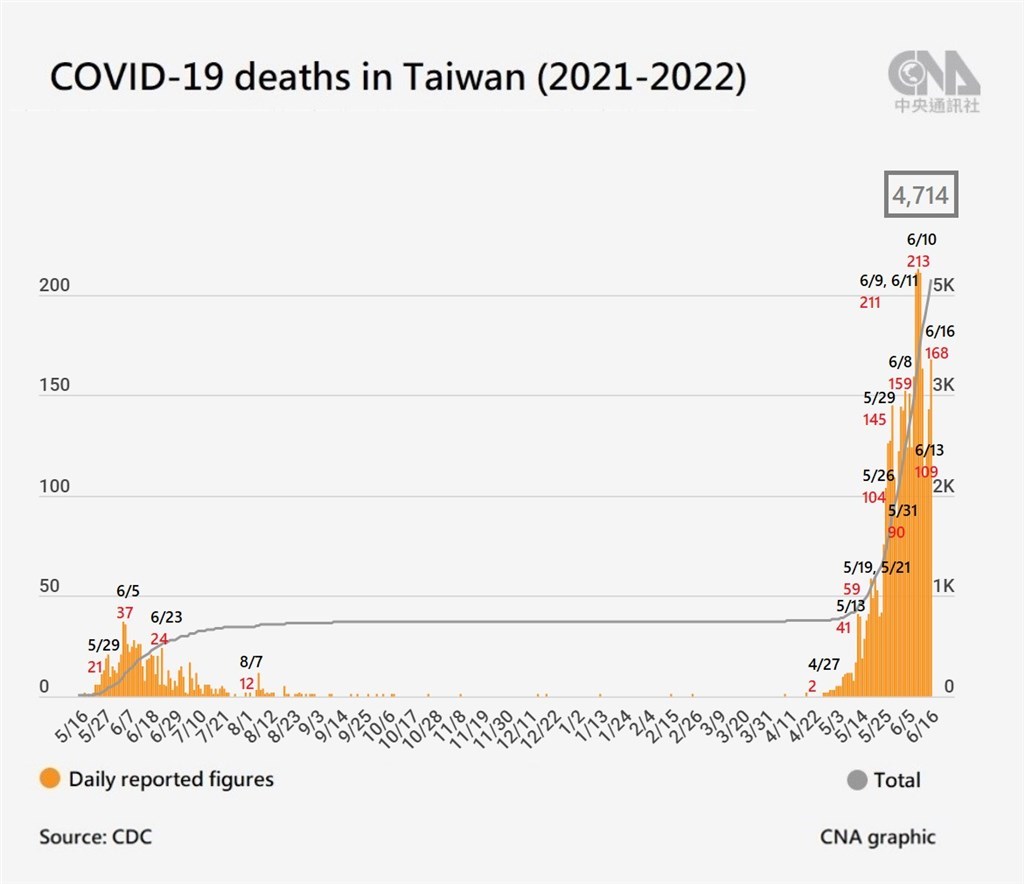 Taichung reported the highest number of domestic cases Thursday, with 9,523, followed by Kaohsiung with 9,316, and New Taipei with 7,440.
Tainan reported 6,163 cases, Changhua County 5,185, Taoyuan 5,066, Taipei 4,025, Pingtung County 3,032, Yunlin County 1,606, Miaoli County 1,605, Hsinchu County 1,462, Nantou County 1,458, and Chiayi County 1,323.
Hsinchu City recorded 1,245 cases, Yilan County 1,187, Hualien County 888, Keelung 787, Chiayi City 769, Taitung County 673, Penghu County 262, Kinmen County 141, and Matsu Islands 14.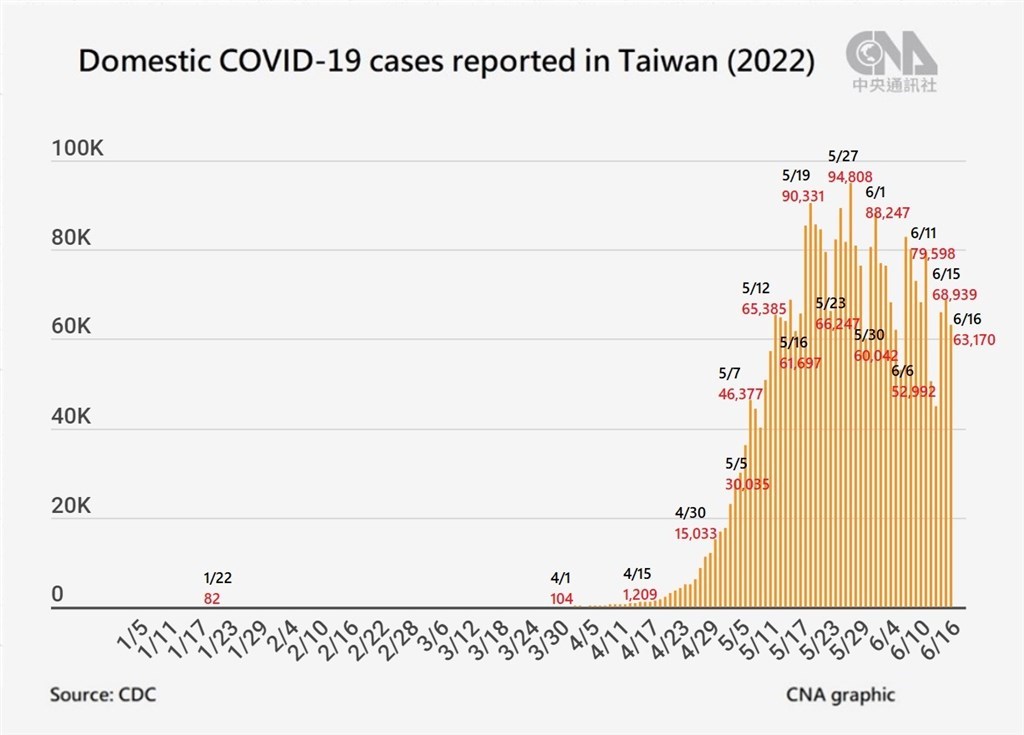 To date, Taiwan has recorded 3,135,565 COVID-19 cases since the pandemic began in early 2020, including 3,121,900 domestic infections.
With 168 deaths reported Thursday, the number of confirmed COVID-19 fatalities in the country rose to 4,714.
Also on Thursday
June 16: 17-year-old dies after contracting COVID-19
June 16: Taiwan to conduct new blood serum COVID-19 antibody survey
June 16: Government to pay out NT$6 million in COVID-19 vaccine death case
Related News
● Q&A/Taiwan's '3+4' quarantine policy for arriving travelers
June 14: Three CECC officials, Taoyuan mayor test positive for COVID-19
June 13: Omicron subvariants BA.4, BA.5 detected in Taiwan for first time
June 12: Health Minister Chen Shih-chung tests positive for COVID-19
June 11: Taiwan to cut COVID-19 quarantine for arrivals to 3 days from June 15
Recent cases
June 15: Taiwan reports 68,965 new COVID-19 cases, 143 deaths
June 14: Taiwan reports 66,189 new COVID-19 cases; total passes 3 million
June 13: Taiwan reports 45,110 new COVID-19 cases, 109 deaths
June 12: Taiwan reports 50,657 new COVID-19 cases, 163 deaths
June 11: Taiwan reports over 200 COVID-19 deaths for third straight day
View All