CORONAVIRUS
/
Taiwan COVID-19 News Briefs: June 5
Taipei, June 5 (CNA) Taiwan on Sunday reported 62,110 new COVID-19 cases -- 62,080 domestically transmitted and 30 imported cases -- and 124 deaths from the disease, according to the Central Epidemic Command Center (CECC).
Here are some of the new developments regarding the COVID-19 situation around Taiwan on Sunday:
"3+4" policy most likely proposal for easing quarantine for travelers
Although the CECC is still discussing the specifics of how the country will relax its border restrictions, Minister of Health and Welfare Chen Shih-chung (陳時中) said Sunday that the "3+4" quarantine formula is the most likely possibility.
The "3+4" formula comprises three days of quarantine followed by four days of self-health management. Currently, arrivals to Taiwan are required to quarantine for seven days, followed by another seven days of self-health management.
The CECC had previously said that eased border rules would be announced in June.
Update: Taiwan to cut COVID-19 quarantine for arrivals to 3 days
First-dose vaccine coverage reaches 90 percent
Also on Sunday, Chen said the percentage of Taiwan's population who has gotten at least one dose of a COVID-19 vaccine had reached 90 percent.
A total of 82.05 percent of the population has received at least two doses, and 66.47 percent have gotten a booster shot, Chen said.
Taiwan could see turning point in COVID-19 cases on June 10: Minister
According to Chen, COVID-19 cases and the number of deaths linked to the disease could begin to fall after June 10, after being at a relative plateau for the past three weeks.
The three-day-long Dragon Boat Festival weekend that concludes Sunday is unlikely to cause a spike in cases due to the low number of people who traveled across the country, Chen said.
However, the number of cases in southern Taiwan, which has been rising as case numbers in the north fall, will likely reach a peak in the coming days, he said.
Kaohsiung reported the highest number of domestic cases on Sunday, the first time the city has taken a top spot during the current wave of infections. Tainan also reported more cases than Taipei.
As the percentage of hospital beds reserved for COVID-19 patients that are still available has fallen to only 28.5 percent in Yunlin County, Chiayi County, Chiayi City, and Tainan, hospitals in these four cities and counties have been ordered to set aside 220 more hospital beds by the end of the day, half of which will be in Tainan, Chen said.
In all other regions, the vacancy rate of hospital beds for COVID-19 patients was over 40 percent, according to Chen.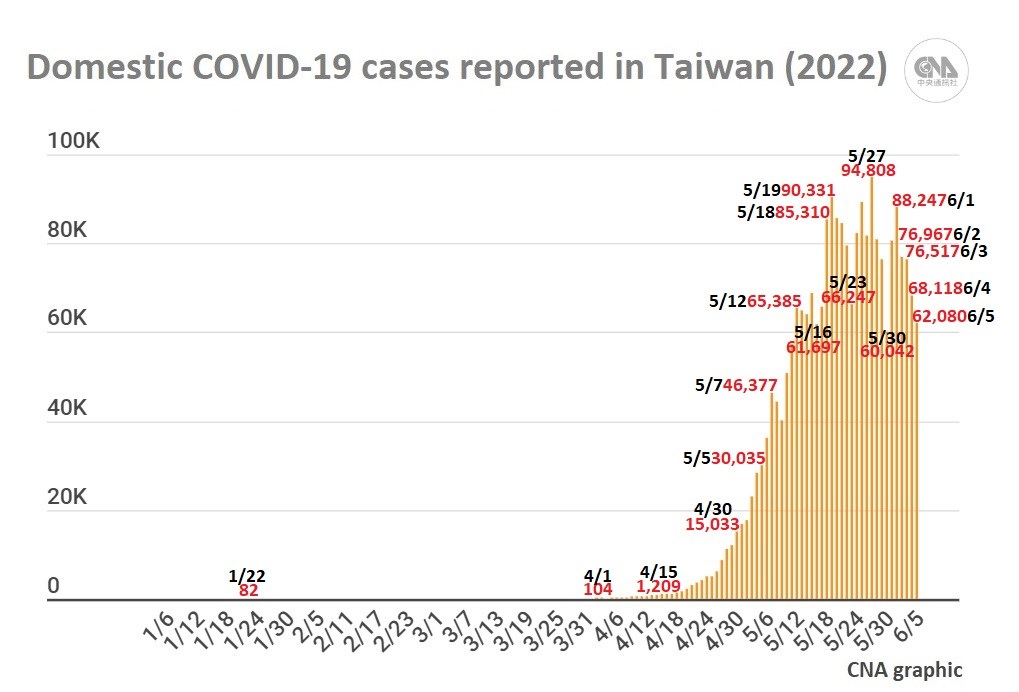 New round of rapid test rationing program to begin Monday
Taiwan will launch a new round of its COVID-19 rapid antigen test rationing scheme on Monday, with packs of five tests being sold at a total of NT$500 (US$17) at selected pharmacies and district health centers around the country.
Anyone with a National Health Insurance (NHI) card or Alien Resident Certificate (ARC) can buy these test kits regardless of age, but they can only buy one pack per round.
The CECC has adopted a staggered system for the sale of test kits, with the last digit of an individual's ID number determining when they can make a purchase.
Individuals whose ID number or ARC ends with an odd number can buy tests on Mondays, Wednesdays, and Fridays, while those whose ID number or ARC ends with an even number can buy tests on Tuesdays, Thursdays, and Saturdays.
Both groups can buy the tests on Sundays, the CECC said.
Also on Monday, a government program that offers free rapid tests to families with children aged 6 or younger will be expanded to include those born on Sept. 2, 2015 or after.
The program, which began on June 1, was initially limited to children born on Jan. 1, 2016 and after.
The free rapid tests can be collected at the same lo cations selling rapid tests under the rationing scheme and follows the same staggered purchasing rules.
Meanwhile, students in Taiwan's elementary and secondary schools, as well as those in the first three years of five-year junior colleges will be able to receive four free rapid tests at their schools starting from Monday.
The distribution of free tests to children and students does not cancel out the tests they can purchase under the rationing scheme, meaning that they or their family members can still use their NHI cards to buy tests under the scheme.
Related News
June 5: Taiwan reports 62,110 new COVID-19 cases, 124 deaths
June 4: Taiwan expands free rapid COVID tests to more children age 6 or below
June 3: Students to be given 4 free COVID rapid tests from June 6
View All