CORONAVIRUS
/
Pfizer-BNT COVID-19 vaccine for children to be rolled out on May 25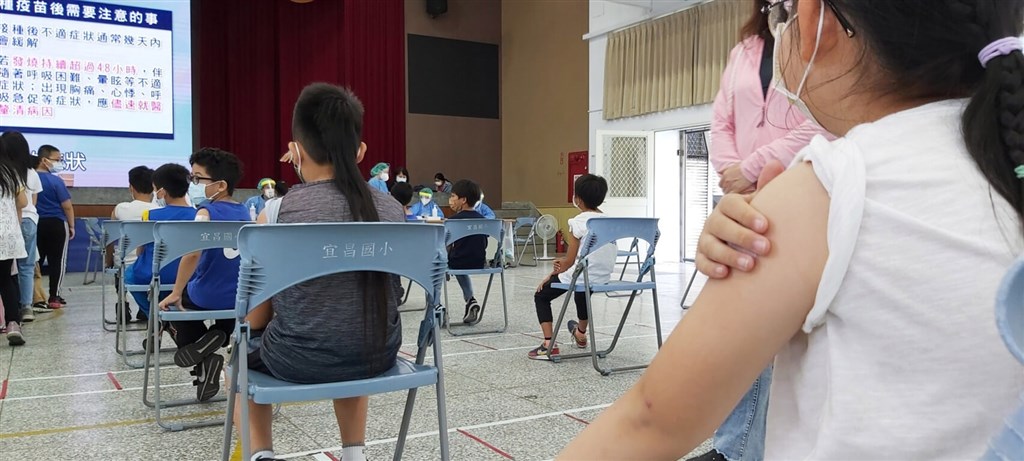 Taipei, May 23 (CNA) Taiwan is expected to start the rollout of the Pfizer-BioNTech (BNT) COVID-19 vaccine for children and adolescents on Wednesday, according to Cabinet spokesperson Lo Ping-cheng (羅秉成).
The Pfizer-BNT vaccine will be offered to children aged 5-11 as their first shot and for adolescents aged 12-17 as their booster shot, Lo said in a statement issued Monday, citing a report by the Central Epidemic Command Center (CECC) at a Cabinet epidemic prevention meeting earlier in the day.
As of May 21, 230,700 children aged 6-11 have received the Moderna vaccine, according to the CECC during the meeting.
The CECC said it had sent a written notice on May 16 to the Ministry of Education and local governments to survey parents' interest in allowing their children to get the Pfizer-BNT vaccine, and the rollout of Pfizer-BNT shots for children would start May 25, according to Lo.
Also on Monday, the Taipei City government announced its COVID-19 vaccination reservation system will open Tuesday for local parents to book the Pfizer-BNT vaccine for their children aged 5-11.
A total of 7,232 doses of the Pfizer-BNT children's vaccine will be made available when the vaccination is given from May 30 to June 5, according to Deputy Mayor Tsai Ping-kun (蔡炳坤).
In addition, Tsai said the planned rollout of the child version of the Pfizer-BNT vaccine on elementary school campuses will start on Thursday as scheduled, Tsai said.
Meanwhile, the local government will begin offering the Pfizer-BNT vaccine to adolescents aged 12-17 on school campuses between May 25 and June 15, Tsai added.
To date, 86.88 percent of Taiwan's population has received at least one dose of a COVID-19 vaccine, while 81.35 percent have gotten at least two doses and 64.25 percent have received a booster shot, according to the CECC.
Taiwan has entered the widespread community transmission stage of COVID-19 as more than 550,000 new cases have been recorded in the past week, although 99.77 percent of these cases involved people who were either asymptomatic or had only mild symptoms, the CECC said.
However, whether the epidemic has passed its peak remains to be seen, the CECC added.
View All