CORONAVIRUS
/
Taiwan's daily COVID-19 cases top 90,000; total number exceeds 1 million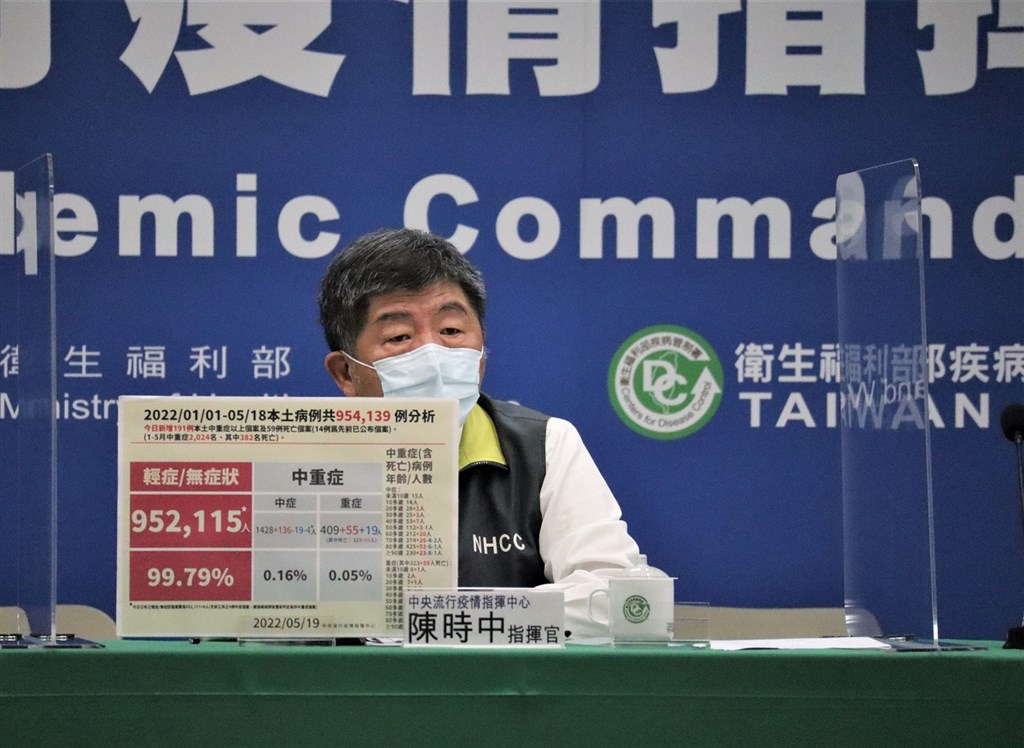 Taipei, May 19 (CNA) Taiwan recorded 90,378 new COVID-19 infections and 59 deaths from the disease on Thursday, topping 90,000 daily cases for the first time and bringing the total number of domestic cases to over 1 million since the start of the pandemic, according to the Central Epidemic Command Center (CECC).
The new cases consisted of 90,331 domestic infections and 47 that were contracted abroad, the CECC said.
The 59 people who died were in their 30s to 90s, the CECC said, adding that 31 of them were unvaccinated. All but one of them had chronic illnesses or suffered from severe diseases such as cancer, it said.
The youngest person who died was a man in his 30s who had a nervous system disease, according to CECC data.
The CECC also said Thursday that another 191 previously recorded COVID-19 infections had developed into severe or moderate cases.
Of the 954,139 domestic cases reported in Taiwan so far this year, 483 have been classified as severe infections, and 1,541 as moderate cases, accounting for 0.05 percent and 0.16 percent of the total, respectively, according to CECC data valid as of May 18.
In all the other cases, the patients were either asymptomatic or had only mild symptoms, the CECC said.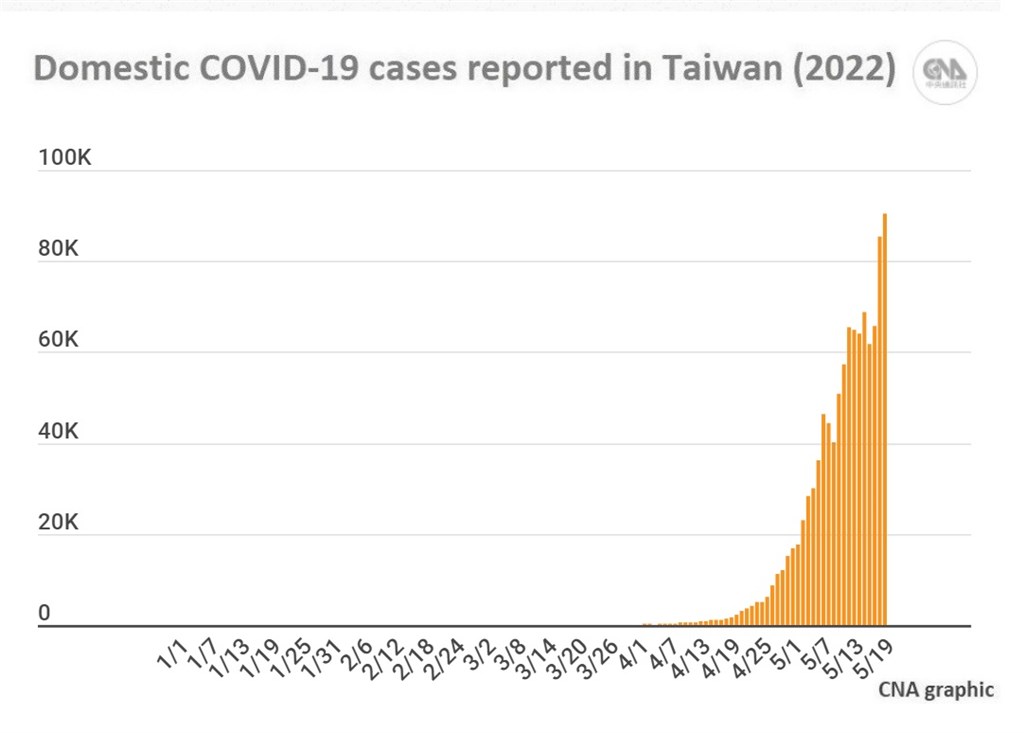 On Thursday, New Taipei reported the highest number of domestic cases -- 24,826 -- followed by Taoyuan with 13,827, Taipei with 12,060, Taichung with 7,444, and Kaohsiung with 6,576.
Tainan reported 4,795 cases, Hsinchu County 2,702, Keelung 2,530, Changhua County 2,313, Yilan County 2,144, Pingtung County 2,142, Hsinchu City 1,877, Miaoli County 1,513, Hualien County 1,345, Yunlin County 1,048, Nantou County 1,026, Taitung County 692, Chiayi County 664, and Chiayi City 462.
Penghu County reported 186, Kinmen County 137, and the Matsu Islands 22.
Meanwhile, of the 47 new imported cases, 41 were travelers who tested positive on arrival in Taiwan, according to the CECC.
To date, Taiwan has confirmed 1,070,561 COVID-19 cases since the pandemic began in early 2020, and the total number of domestic infections has now climbed past 1 million to reach 1,058,115.
With the 59 deaths reported Thursday, the number of confirmed COVID-19 fatalities in the country rose to 1,235, with 341 recorded this year.
Also on Thursday
● Taiwan COVID-19 News Brief: May 19
May 19: COVID-19 saliva rapid tests to go on sale at Watsons, Hi-Life on Friday
May 19: Recovered COVID patients exempt from contact listings for 3 months after infection
May 19: COVID-19 outbreak in 'mass spread' stage, to peak in late May: MOHW
May 19: Father of 2-year-old who died from COVID-19 calls for prioritized care
Recent cases
May 18: Taiwan's daily COVID-19 cases top 80,000 for first time
May 17: Taiwan reports 65,833 new COVID-19 cases, 38 deaths
May 16: Taiwan reports 61,754 new COVID-19 cases, 29 deaths
May 15: Taiwan reports 68,769 new COVID-19 cases, 19 deaths
View All