CORONAVIRUS
/
Some with positive rapid test results to be counted as COVID-19 cases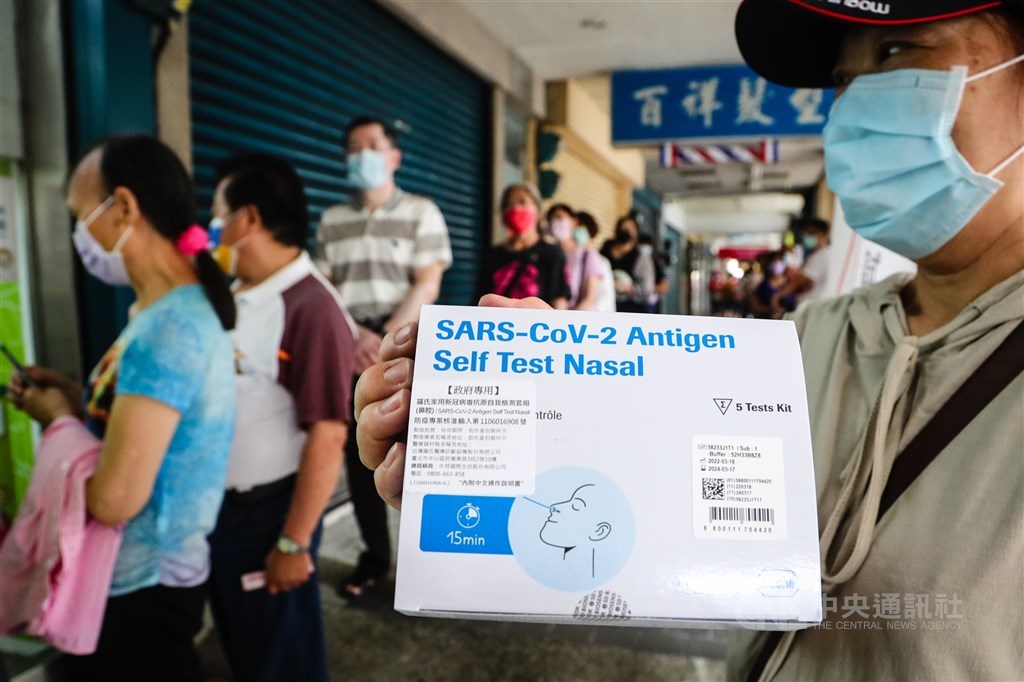 Taipei, May 11 (CNA) The Central Epidemic Command Center (CECC) on Wednesday released more details on a new policy that will allow certain individuals in Taiwan who receive a positive result from a COVID-19 rapid antigen test to be counted as a confirmed case without having to undergo a polymerase chain reaction (PCR) test.
Previously, all individuals in Taiwan were only listed as a COVID-19 case after a positive PCR test result.
The new policy, which will be launched Thursday, applies only to people who are following the "3+4" isolation protocol for close contacts of people who test positive for COVID-19, as well as travelers who are in quarantine after arriving in Taiwan, the CECC said.
Step-by-step
Individuals in these categories who test positive on a rapid antigen test must schedule a virtual doctor's appointment, either via local health authorities or through the EUCARE (健康益友 Google Android / Apple iOS) app, in order to be confirmed as a COVID-19 case.
Individuals have to write their name and the date they took the test on the rapid test itself, take a photo of the test with their National Health Insurance card, and then upload the photo when making their appointment.
During the appointment, a doctor will confirm the positive test result and report the individual as a confirmed COVID-19 case to the CECC if both the doctor and the patient are in agreement on the diagnosis, Minister of Health and Welfare Chen Shih-chung (陳時中) said.
When asked how doctors will determine whether the individual has contracted COVID-19, Chen did not provide specific details, only saying that it was unlikely that individuals would be asked to perform another rapid test during the virtual appointment due to time constraints.
Individuals will have to display the test they initially took during the appointment, however, Chen said.
If the individual and the doctor disagree on the test result, a PCR test will be arranged, he added.
After being confirmed as a COVID-19 case, individuals will have to quarantine for seven days, followed by seven days of self-health management.
Arrangements will be made for such individuals to quarantine at home, or at a government-appointed quarantine center or quarantine hotel, or be admitted to hospital if they meet the CECC's hospitalization guidelines, Chen said.
Lo Yi-chun (羅一鈞), deputy head of the CECC's medical response division, recommended that individuals contact local health authorities to arrange an appointment as there were more medical workers included in that system than in the EUCARE app's.
The new policy comes as Taiwan experiences a surge in COVID-19 cases, which has led to overcrowding at PCR test sites, including at emergency rooms that offer the testing service.
The "3+4" isolation protocol for those listed as close contacts of COVID-19 patients involves three days of isolation at home, followed by four days when people are allowed to leave their homes if they first test negative on a COVID-19 rapid test.
Arrivals to Taiwan, meanwhile, have to quarantine at home or at a government-appointed quarantine hotel for seven days upon arrival.
Related News
● Q&A/What to do if you or your contacts get COVID-19
May 11: Taiwan reports 57,216 new COVID-19 cases, eight deaths
May 7: Quarantine cut to 7 days for mild, asymptomatic COVID-19 cases: CECC
May 7: Taiwan rolls back quarantine rules for contacts of COVID-19 patients
May 4: Taiwan adjusts hospital policy for COVID-19 patients
May 2: Symptomless people to face restrictions in getting PCR test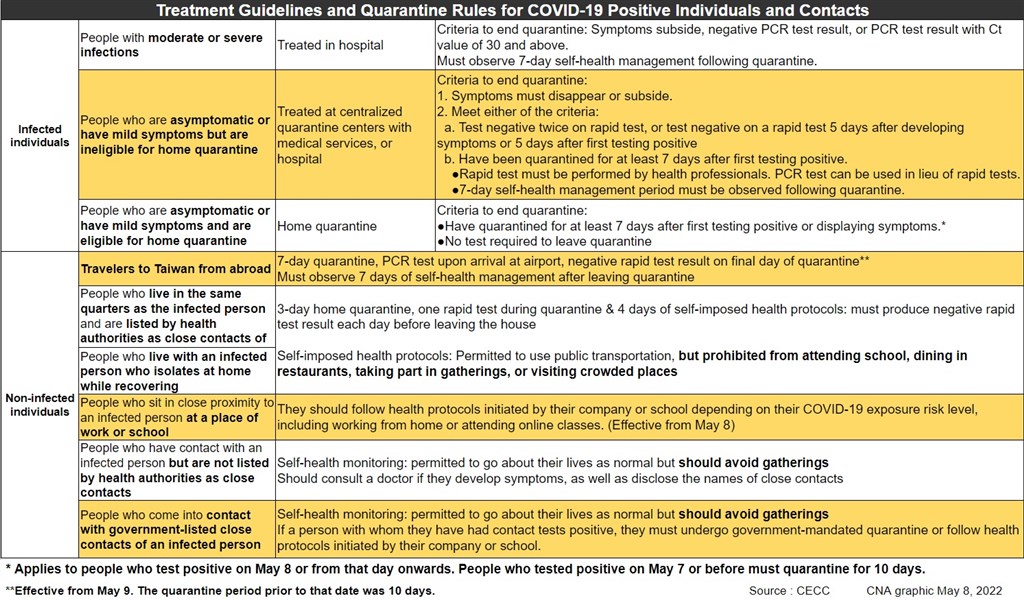 View All