CORONAVIRUS
/
Taiwan reports 8,923 COVID-19 cases, two deaths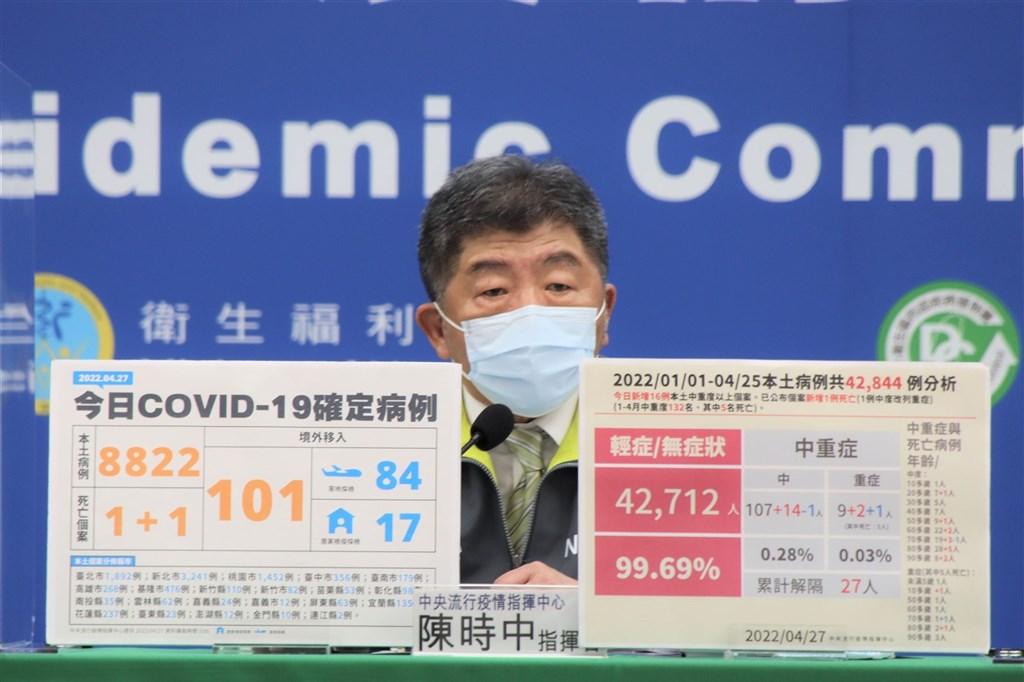 Taipei, April 26 (CNA) Taiwan reported 8,923 new COVID-19 cases, as well as 16 moderate and severe infections, and two deaths from the disease on Wednesday, according to the Central Epidemic Command Center (CECC).
The new daily cases, which marked a single-day high, consisted of 8,822 domestically transmitted infections and 101 cases that were contracted abroad.
The CECC also reported that two Taiwanese nationals, in their 50s and 70s, died from the disease.
Both men -- one classified as a domestic case and the other one imported -- had cancer and had received two doses of COVID-19 vaccine.
Of the 42,844 domestic cases recorded nationwide from Jan. 1 to April 26, 120 have been classified as moderate infections and 12 as severe, accounting for 0.28 percent and 0.03 percent of the total, respectively.
All other cases have displayed either mild symptoms or have been asymptomatic, according to the CECC.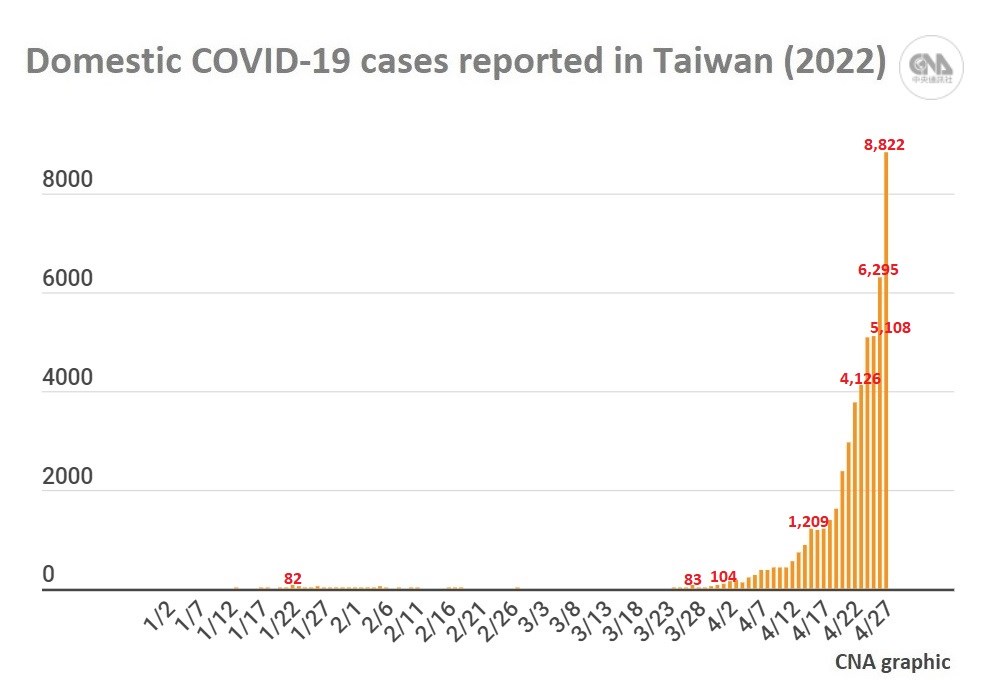 New Taipei reported the highest number of domestic cases on Wednesday with 3,241, followed by Taipei with 1,892, Taoyuan with 1,452, Keelung with 476, and Taichung with 356.
Hualien County reported 237 cases, Kaohsiung 268, Tainan 179, Yilan County 135, Hsinchu County 110, Changhua County 98, Hsinchu City 82, Pingtung County 63, Yunlin County 62, Miaoli County 53, Nantou County 35, Chiayi County 24, and Taitung County 23.
Chiayi City and Penghu County both 12 each, Kinmen County reported 10 cases, and the Matsu Islands two, the CECC said.
Meanwhile, of the 101 new imported cases, 84 were travelers who tested positive on arrival in Taiwan, according to the CECC.
To date, Taiwan has confirmed 76,938 COVID-19 cases since the pandemic began in early 2020, including 66,266 domestically transmitted infections. As of April 27, Taiwan recorded 51,666 domestic cases for 2022.
With two deaths reported Tuesday, the number of confirmed COVID-19 fatalities in the country reached 858.
Also on Wednesday
April 27: Taiwan to start rationing sale of COVID-19 rapid test kits
April 27: Taiwan to maintain current mask mandate through May
April 27: Taiwan's COVID wave to peak at 40-100K cases per day: health minister
April 27: Taiwan relaxes quarantine rules for airline crew members
April 27: Income tax filing deadline extended due COVID-19
Related News
April 26: Taiwan cuts double rapid test requirement for '3+4' quarantine rule
April 26: COVID vaccine rollout for 6-11-year-olds to start May 2: MOE
April 25: Taiwan will retain 10-day quarantine rule for arriving travelers: CECC
April 21: Rapid testing to replace preventive quarantine: health minister
April 15: Taiwan mandates 3 COVID shots for high-risk groups, venues
April 7: Taiwan suspends some COVID contact tracing, adopts new control model
April 1: Taiwan still plans to open up gradually, despite case spike: Premier
Recent cases
April 26: Taiwan reports 6,339 new COVID-19 cases, zero deaths
April 25: Taiwan reports 5,221 new COVID-19 cases, zero deaths
April 24: Taiwan reports 5,172 new COVID-19 cases, zero deaths
April 23: Taiwan reports 4,204 new COVID-19 cases, including 4,126 domestic ones
April 22: Taiwan reports 3,859 new COVID-19 cases, including 3,766 domestic
View All