CORONAVIRUS
/
Taiwan reports 1,727 new COVID-19 cases and two deaths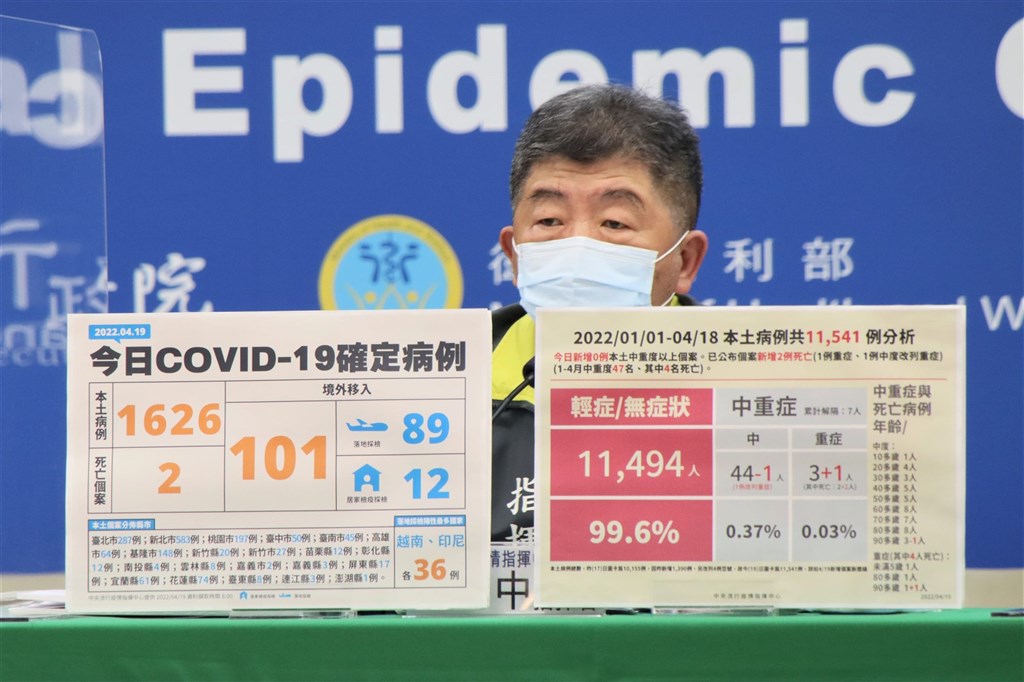 Taipei, April 19 (CNA) Taiwan on Tuesday reported 1,727 new COVID-19 cases as well as one new severe infection and two deaths from the disease, according to the Central Epidemic Command Center (CECC).
The new cases included 1,626 domestically transmitted infections -- another single-day high and the fifth consecutive day on which local cases have topped 1,000 -- as well as 101 cases contracted abroad.
The CECC also reported one new severe COVID-19 infection involving a patient in his 90s.
Of the 11,494 domestic cases recorded nationwide from Jan. 1 to April 18, 43 have been classified as moderate infections and four as severe, accounting for 0.4 percent of the total, while the other cases were either mild or asymptomatic, according to the CECC.
New Taipei reported the highest number of new domestic cases with 583, followed by Taipei with 287, Taoyuan with 197 and Keelung with 148.
Hualien had 74 cases, Kaohsiung 64, Yilan 61, Taichung 50, Tainan 45, Hsinchu City 27, Hsinchu County 20 and Pingtung 17.
Miaoli and Changhua reported 12 cases each, Yunlin and Taitung eight cases each, Nantou four, Chiayi County and Lienchang County three each, Chiayi City two and Penghu one, the CECC said.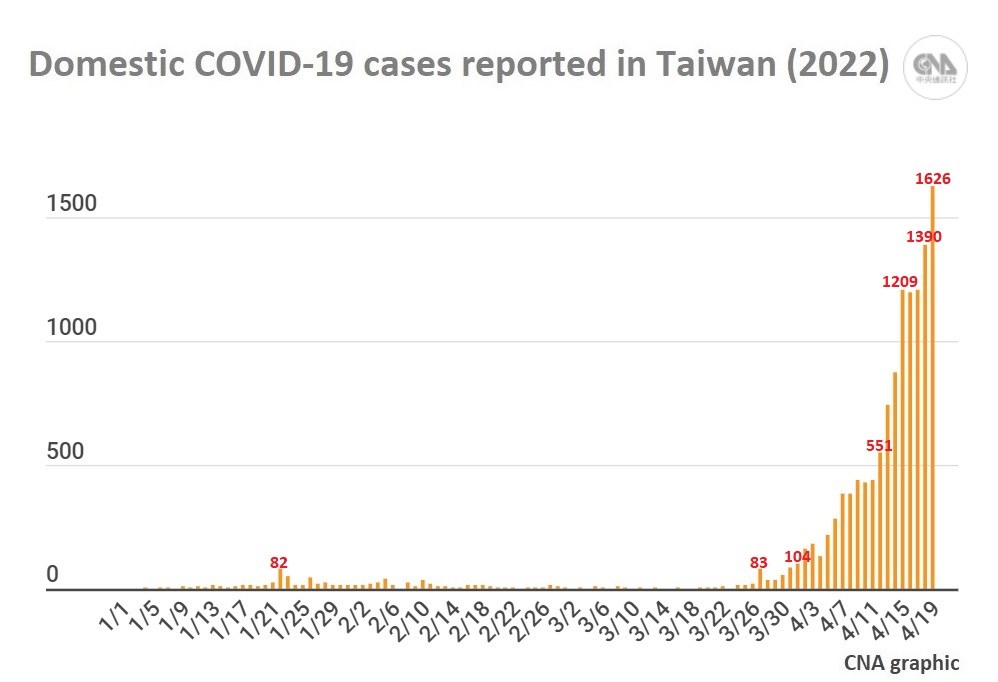 Meanwhile, of the 101 new imported cases, 89 of them were travelers who tested positive on arrival to Taiwan, according to the CECC.
The new fatalities reported Tuesday were a man in his 90s and a two-year-old boy, who was the first child under the age of 18 to die from COVID-19 complications in Taiwan since the pandemic began, the CECC said.
The boy from New Taipei City, who tested positive on Friday, developed brain stem encephalitis caused by septicemia from the COVID-19 infection, before passing away early Tuesday, the CECC said.
Related: Taiwan sees first death of young child due to COVID-19
To date, Taiwan has confirmed 37,710 COVID-19 cases since the pandemic began in early 2020, including 27,767 domestically transmitted infections, CECC data shows.
With the two deaths reported Tuesday, the number of fatalities from COVID-19 in Taiwan rose to 856.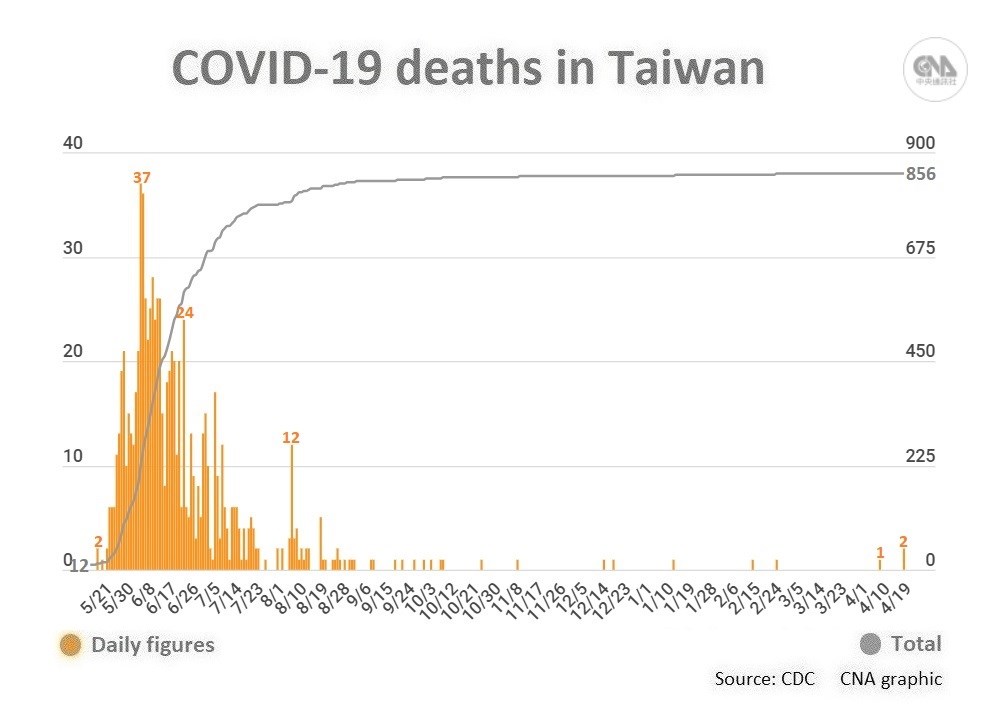 Related News
Q&A / What to do if you or your contacts get COVID-19
Arpil 19: Home isolation for mild COVID-19 cases to launch nationwide
April 18: No tests needed for mild COVID-19 cases to end 10-day quarantine: CECC
April 18: Taiwan planning rationing scheme for at-home COVID-19 tests
April 17: Taiwan FDA approves Moderna COVID-19 vaccine for children aged 6-11
April 17: Taiwan boosts COVID-19 testing in 4 high-risk areas
April 15: Taiwan mandates 3 COVID shots for high-risk groups, venues
April 14: Taiwan adjusts criteria for admitting COVID-19 patients to hospitals
April 12: CECC repeats call to use social distancing app as COVID cases rise
Recent cases
April 18: Taiwan reports 1,390 new domestic COVID-19 cases, 90 imported
April 17: Taiwan reports 1,390 new domestic COVID-19 cases, 90 imported
April 16: Taiwan reports record 1,210 new domestic COVID-19 cases
April 15: Taiwan sets single-day high with 1,209 new domestic COVID-19 cases
April 14: Taiwan breaks record for 2nd day with 874 new domestic COVID-19 cases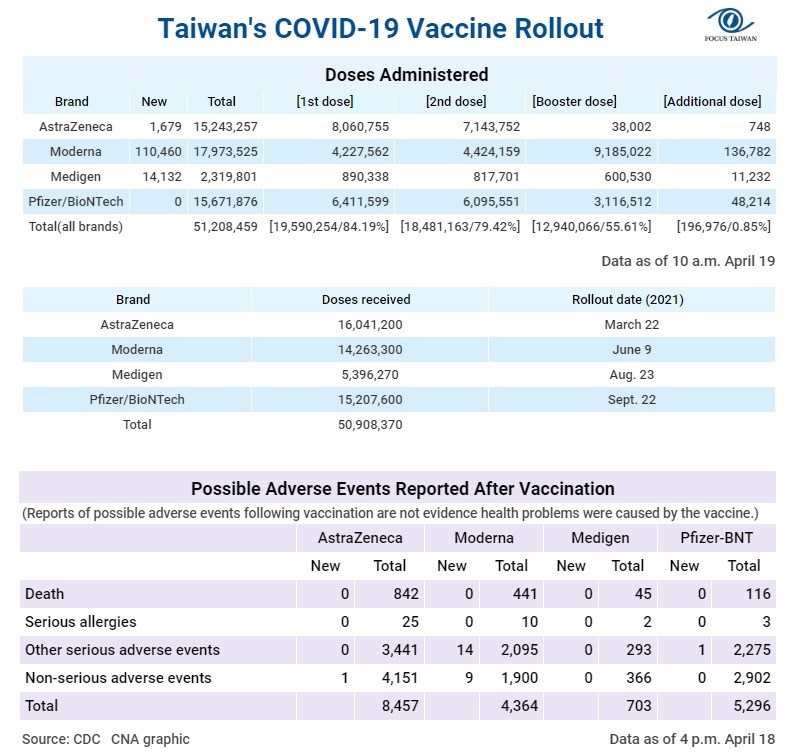 View All