CORONAVIRUS
/
Taiwan planning rationing scheme for at-home COVID-19 tests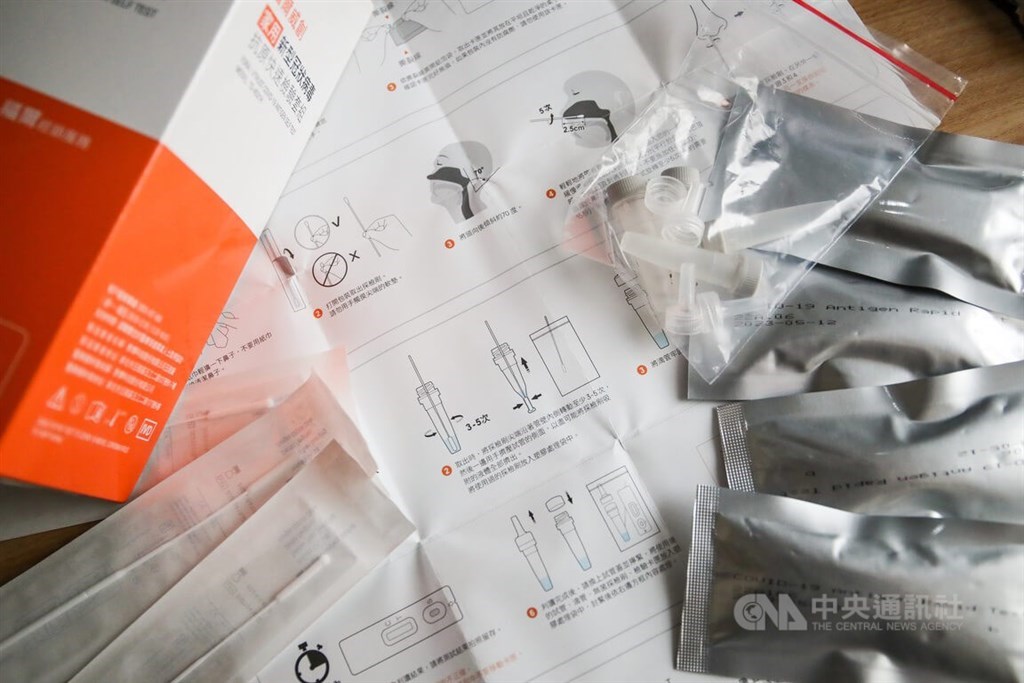 Update: Taiwan to start rationing sale of COVID-19 rapid test kits on April 28 (April 27)
Taipei, April 18 (CNA) Minister of Health and Welfare Chen Shih-chung (陳時中) said Monday that Taiwan was planning a rationing scheme for at-home COVID-19 tests similar to one for surgical masks introduced in February 2020.
Chen told a committee hearing at the Legislative Yuan that under the new rationing system, which is expected to begin in early May, every resident in Taiwan would be given a quota of five at-home test kits.
At a time when Taiwan is faced with an explosion of domestically transmitted COVID-19 cases, Chen, who also heads the Central Epidemic Command Center (CECC), told lawmakers that over the next four months the government would contract local production for around 31 million home test kits for the rationing program.
At the same time the government would also import 100 million test kits, Chen added.
A spike in indigenous COVID-19 cases has created a shortage of at-home test kits among pharmacies and other authorized vendors.
Many residents in Taiwan have complained home test kits are too expensive at nearly NT$300 (US$10.25) each -- around three times the price of other countries -- and Chen said that kits in the rationing program would be priced at around NT$100 per unit.
Chen said the new rationing plan would be similar to an earlier surgical mask rationing program that was started in early 2020.
Under that scheme, locals and resident foreign nationals received a quota of face masks, which could then be purchased using a national health insurance card or another form of ID.
Chen said that similar to the face masks, no subsidies would be provided under the test rationing scheme.
According to a written report submitted by the Ministry of Health and Welfare (MOHW) to the Legislative Yuan, the government has conscripted production from five local home test kit producers -- Taidoc Technology Corp., Panion & BF Biotech Inc., Formosa Biomedical Technology Corp., Excelsior Bio-System Inc., and Enimmune Corp. -- for the new rationing program.
In the report, the MOHW said the five companies currently had a combined production capacity of 4.9 million home test kits a month but that they would work alongside the Ministry of Economic Affairs, and the Ministry of National Defense to boost the production capacity to 12.80 million units by May.
The report added that output was expected to rise to 15.80 million units in the future.
On Sunday, Taiwan reported 1,210 new domestic COVID-19 infections exceeding 1,000 cases for the third day and breaking its daily record, according to the CECC.
As of Sunday, Taiwan had confirmed 34,507 COVID-19 cases since the pandemic began, including 24,758 domestic infections, CECC data showed.
Revised COVID-19 Rules
May 7: Quarantine cut to 7 days for mild, asymptomatic COVID-19 cases: CECC
May 7: Taiwan rolls back quarantine rules for contacts of COVID-19 patients
May 5: Rapid test positives to be counted as confirmed COVID cases from May 12
May 4: Taiwan adjusts hospital policy for COVID-19 patients 
May 3: Taiwan to shorten quarantine for arriving travelers from 10 to 7 days
View All