CORONAVIRUS
/
Keelung to distribute COVID-19 rapid tests citywide from Tuesday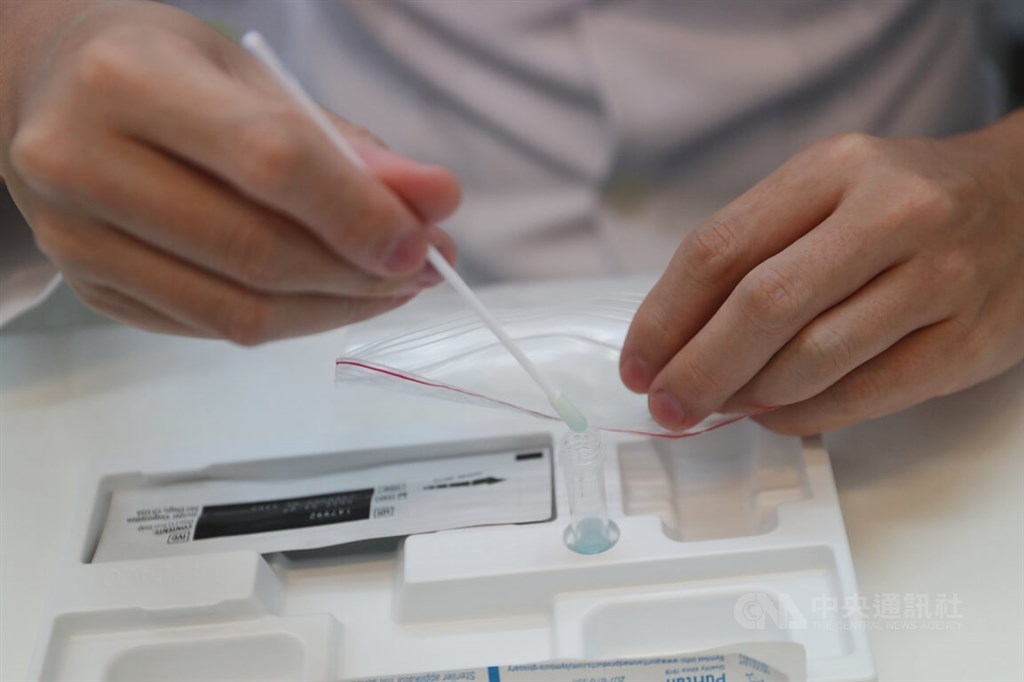 Taipei, April 4 (CNA) Keelung plans to distribute 130,570 rapid COVID-19 tests to key workers, community centers, and health clinics over a five-day period starting Tuesday to identify cases that have gone undetected so far, Mayor Lin Yu-chang (林右昌) announced Monday.
A cluster first identified at a karaoke bar in Keelung has grown to over 200 cases in less than two weeks, becoming Taiwan's largest active domestic cluster, according to data from the Central Epidemic Command Center (CECC).
To better screen the northern city's 360,000 residents, the city government and the CECC have decided to distribute 130,570 rapid tests from Tuesday to Saturday.
The number of tests will be enough to screen approximately 36 percent of the city's population, Lin said at a press briefing.
Tests not mandatory
People will not be forced to take the test, nor will they be required to send in their results if they receive one, though they should notify Keelung health authorities at 02-2456-5861 if they test positive, Lin said.
An estimated 54.49 percent of the tests will be handed out in local community centers to Keelung residents aged 18 and above, and people will be notified by their district offices or village chiefs on where the tests will be available, Lin said.
Tests will be distributed in the city's seven districts on different days, Lin said, with Ren'ai District scheduled for Tuesday, Qidu and Zhongshan for Wednesday, Anle and Nuannuan for Thursday, and Xinyi and Zhongzheng for Friday.
Another 5.13 percent of the tests will be given to clinics, which will be allotting the tests to those who show symptoms of COVID-19, Lin said.
Of the remaining tests, 29.44 percent will be handed out to individuals who maintain key city infrastructure and 10.93 percent will be given to "groups that are harder to monitor in which the disease may spread more easily," Lin said, adding that no further details will be given on the two groups to prevent them from being discriminated against.
Lin added that more tests will be distributed in areas where more cases have been reported, but the city has also decided against making these areas public for the same reason.
Those who receive a positive result from their rapid test will be arranged to take designated taxis to get a polymerase chain reaction (PCR) test at a hospital, and the transportation fee will be covered by the government, Lin said.
Update
April 24: Taiwan producer to cut prices for COVID rapid test kits
Related News
April 4: Taiwan reports 133 new domestic COVID-19 cases; 52 with unclear links
April 4: Taiwan eases isolation rules for mild, asymptomatic COVID-19 cases
April 4: COVID-19 ward escapee handed 50-day jail sentence
April 2: Taiwan to expand medical capacity as daily COVID cases spike
March 27: Domestic COVID-19 cases spike in Taiwan as clusters grow
Recent cases
April 4: Taiwan reports 275 new COVID-19 cases, including 133 domestic
Arpil 3: New domestically transmitted COVID-19 cases on the rise
April 2: Taiwan reports 160 new COVID-19 domestic cases, 244 imported
April 1: Taiwan reports 236 COVID-19 cases, including 104 domestic
March 31: Taiwan reports 239 COVID-19 cases, including 87 domestic
View All