CORONAVIRUS
/
Taiwan reports 56 new COVID-19 cases, including 2 domestic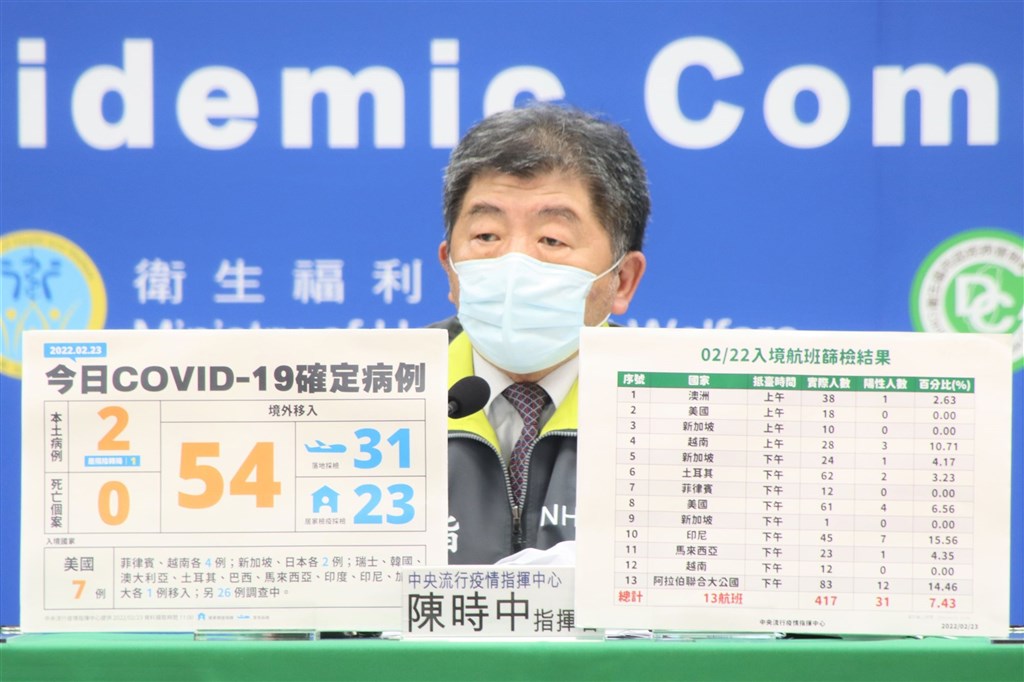 Taipei, Feb. 23 (CNA) Taiwan on Wednesday reported 56 new COVID-19 cases -- two domestically transmitted infections and 54 that originated abroad -- and no new deaths from the disease, according to the Central Epidemic Command Center (CECC).
The two new domestic cases are linked to a cluster in which the first reported case was an interior designer in New Taipei, the CECC said.
One of the two individuals who tested positive had received one vaccine jab, while the other, a boy under 10 years old, was unvaccinated, according to the CECC.
Update: Taiwan reports 2 new domestic COVID cases; Farglory FTZ cluster ends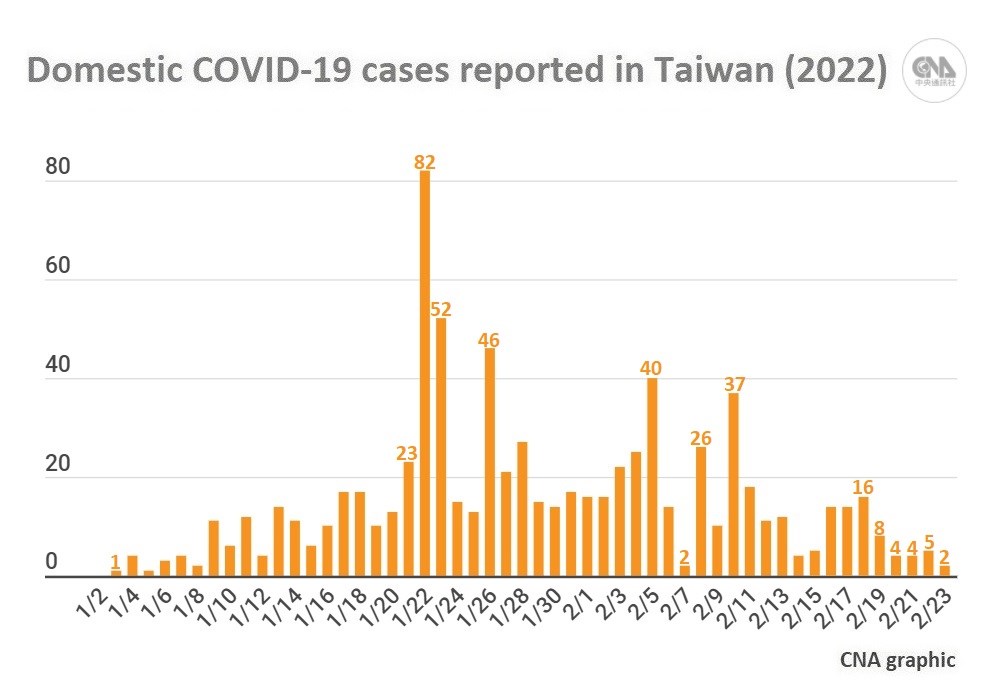 In addition to the domestic cases, Taiwan also reported 54 imported cases on Wednesday, 31 of which involved travelers who tested positive upon arrival in Taiwan. The CECC did not release any information regarding the vaccination status of the imported cases.
To date, Taiwan has confirmed 20,156 COVID-19 cases since the pandemic began in early 2020, including 15,394 domestically transmitted infections.
With no deaths reported Wednesday, the number of confirmed COVID-19 fatalities in the country remained at 852.
Related News
Feb. 22: Bookings for Feb. 28-March 6 COVID booster shots to begin Feb. 22
Feb. 22: Official word on shortened quarantine to come 'these two days'
Recent cases
Feb. 22: Taiwan reports 44 new COVID-19 cases, including 5 domestic
Feb. 21: Taiwan reports 49 new COVID-19 cases, including 4 domestic
Feb. 20: Taiwan reports 70 new COVID-19 cases, including four domestic
Feb. 19: Taiwan reports 73 new COVID-19 cases, including eight domestic infections
Feb. 18: CECC closely monitoring religious group COVID-19 cluster
View All