CORONAVIRUS
/
Taiwan reports 49 new COVID-19 cases, including 4 domestic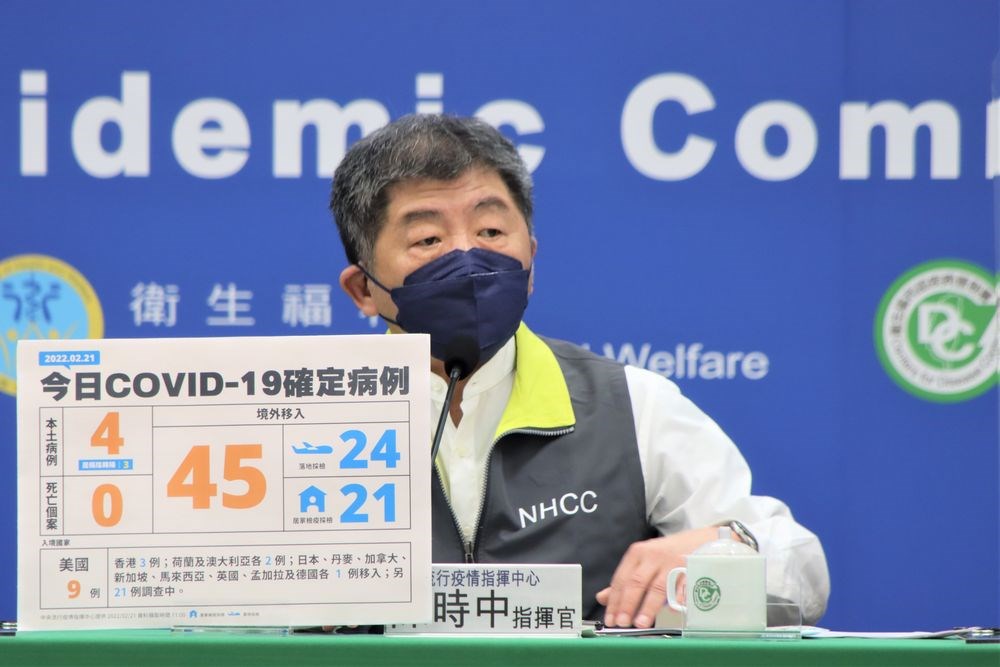 Taipei, Feb. 21 (CNA) Taiwan on Monday confirmed 49 new COVID-19 cases -- four domestically transmitted infections and 45 that originated abroad -- and no new deaths from the disease, according to the Central Epidemic Command Center (CECC).
The new domestic cases are all linked to previously reported clusters in which the first reported cases were a Taoyuan Airport security guard, an interior designer in New Taipei, and a family in Kaohsiung.
In three of the new domestic cases, the patients had received two or three doses of a COVID-19 vaccine, while the fourth, a boy under 10 years old, had not been vaccinated, the CECC said.
In addition to the domestic cases, Taiwan also reported 45 imported cases on Monday, 24 of whom tested positive upon arrival in Taiwan. The CECC did not release any information regarding the vaccination status of the imported cases.
To date, Taiwan has confirmed 20,056 COVID-19 cases since the pandemic began in early 2020, including 15,387 domestically transmitted infections.
With no deaths reported Monday, the number of confirmed COVID-19 fatalities in the country remained at 852.
Update: Taiwan reports 4 new domestic cases, identifies origins of 3 others
Recent cases
Feb. 20: Taiwan reports 70 new COVID-19 cases, including four domestic
Feb. 19: Taiwan reports 73 new COVID-19 cases, including eight domestic infections
Feb. 18: CECC closely monitoring religious group COVID-19 cluster
Feb. 17: Taiwan sees 14 new local COVID-19 cases, 10 tied to real estate cluster
Feb. 16: Taiwan reports 67 new COVID-19 cases, including 14 domestic
View All