CORONAVIRUS
/
Taiwan reports 71 new COVID-19 cases, including 27 domestic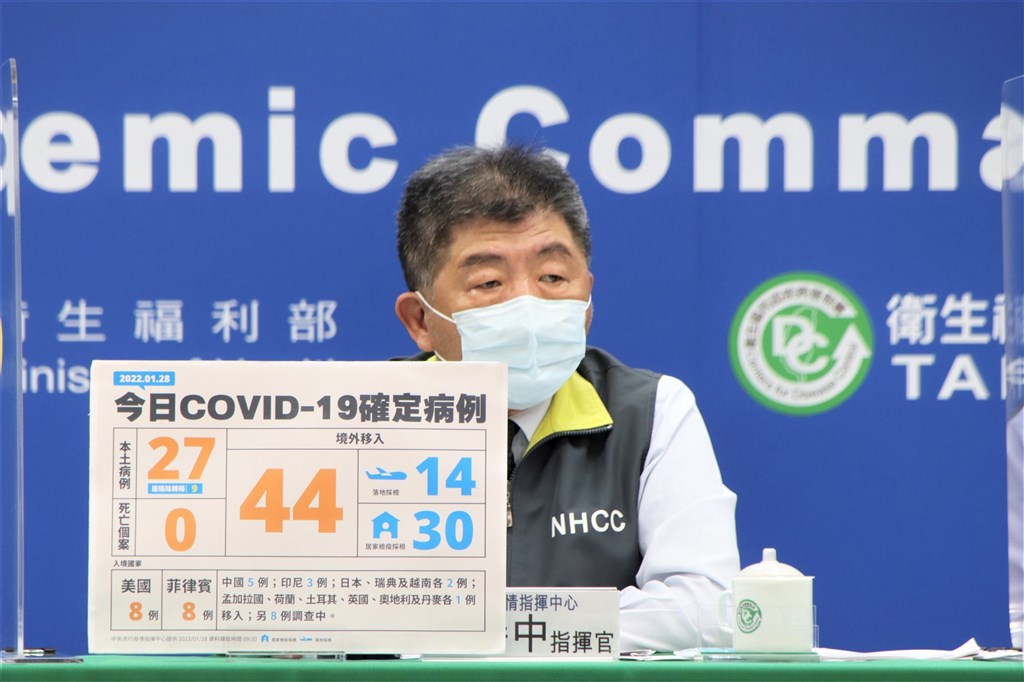 Taipei, Jan. 28 (CNA) Taiwan reported 71 new COVID-19 cases on Friday, consisting of 27 domestic and 44 imported cases, with zero deaths from the disease, according to the Central Epidemic Command Center (CECC).
Of the 27 new domestic cases, nine tested positive for the disease while they were in quarantine as contacts of previously confirmed cases, including four linked to cluster infections in the Port of Kaohsiung, Health Minister Chen Shih-Chung (陳時中) said during the CECC's daily press briefing.
Most of the new locally transmitted cases were linked to known clusters in Taoyuan, Kaohsiung, Yilan, or isolated cases in a New Taipei hospital, Chen said.
However, there are three cases, including two Taoyuan residents in Bade District who went to COVID-19 testing sites in the city and returned a positive result, and an Indian national, who took a test for a trip abroad that came back positive, Chen said.
The sources of those infections are still being investigated, according to the CECC.
Twelve of Friday's 27 new domestic cases are classified as breakthrough infections, while seven are children under 10 years of age, who are not eligible for the COVID-19 vaccine in Taiwan. Two received a dose of the Pfizer BioNTech vaccine, one is unvaccinated, and the vaccination status in the remaining five cases has yet to be determined, the CECC said.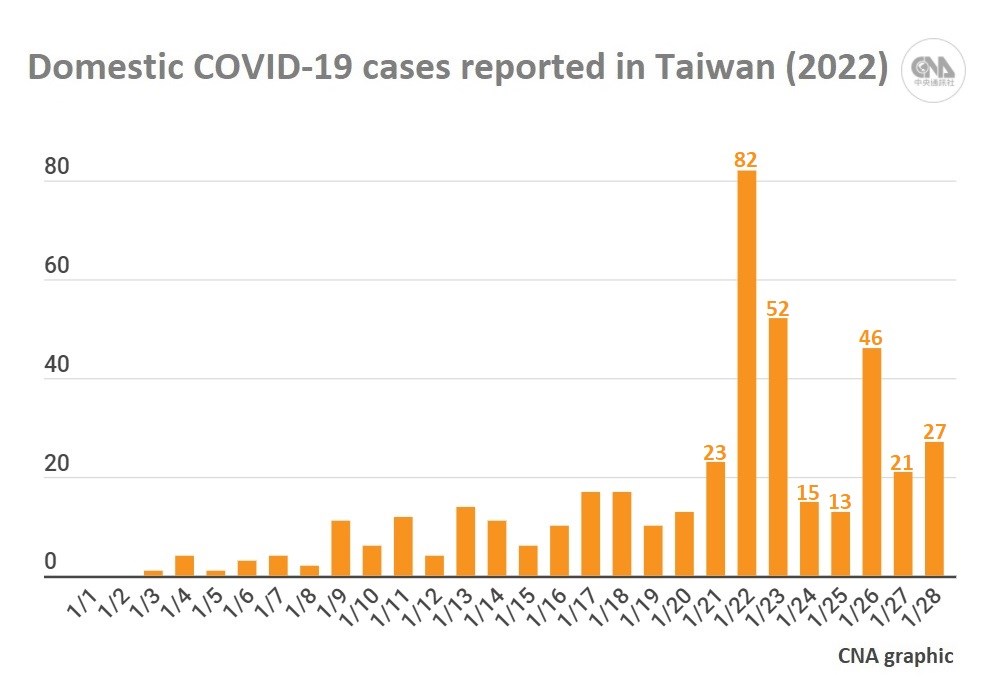 In addition to the domestic cases, Taiwan also reported 44 imported cases on Friday, 14 of which were passengers who tested positive upon arrival in Taiwan on Thursday. The CECC did not release any information regarding the vaccination status of the imported cases.
To date, Taiwan has confirmed 18,634 COVID-19 cases since the pandemic began in early 2020, including 15,019 domestically transmitted infections.
With no deaths reported on Friday, the number of confirmed COVID-19 deaths in the country remained at 851. The most recent fatality linked to the disease was reported on Jan. 13.
Related News
Jan. 28: Most recent domestic COVID-19 cases in Taiwan are mild: CDC
Jan. 28: Taiwan to resume COVID testing of travelers to offshore counties
Jan. 28: Taiwan invents chip able to identify asymptomatic COVID cases rapidly
Recent cases
Jan. 27: Taiwan reports 64 new COVID-19 cases, including 21 domestic
Jan. 26: Taiwan reports 92 COVID-19 cases, including 46 domestic
Jan. 25: Taiwan reports 38 new COVID-19 cases, including 13 domestic
Jan. 24: Level 2 COVID-19 alert extended; 4 more test positive at Yilan hotel
Jan. 23: Taiwan reports 89 new COVID-19 cases, including 52 domestic
View All