CORONAVIRUS
/
Taiwan reports 21 new COVID-19 cases, confirms 2 Omicron infections
Taipei, Jan. 1 (CNA) Taiwan reported 21 new cases of COVID-19 on Saturday, all of whom were Taiwanese nationals who contracted the disease overseas, with two previously recorded imported cases confirmed as Omicron variant infections, according to the Central Epidemic Command Center (CECC).
The 21 individuals -- 15 males and six females who ranged in age from their 20s to their 70s -- tested positive for COVID-19 either upon arrival in Taiwan or before they finished the mandatory quarantine required for all arrivals, according to the CECC.
Two close contacts of these individuals have been placed under quarantine, while the CECC is tracking other possible contacts in order to monitor their health.
The new infections entered Taiwan between Dec. 17 and Dec. 31 from the United States, Vietnam, Egypt, Laos, Guatemala, Romania, Ukraine, and Germany, according to the CECC.
Of the new cases, 17 were classified as breakthrough infections, while the vaccination status of four others was still being looked into, the CECC said.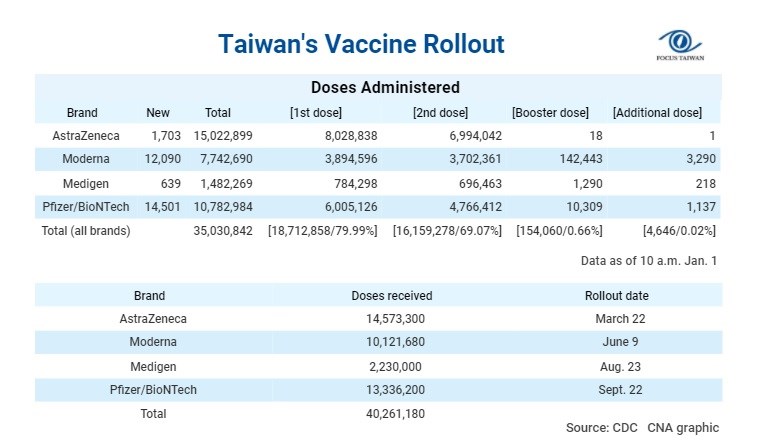 In addition, CECC spokesperson Chuang Jen-hsiang (莊人祥) provided an update on a possible cluster of three infections linked to a quarantine hotel in Taipei's Zhongzheng District.
After confirming the infection of a Taiwanese man in his 40s who stayed at the hotel in late December as the 60th Omicron case Friday, Chuang said genome sequencing results in the two other cases showed that the others infected also contracted the Omicron variant of the virus.
However, the test results showed the viruses they were infected with were not the same Omicron strain, Chuang added.
The CECC is handling these infections as a cluster and the hotel has now been closed.
Whether the three cases are connected as a cluster will be determined after further consultation with experts, Chuang said.
Except for one of the three individuals infected, 74 of the 80 other people listed as close contacts linked to the possible cluster have tested negative.
The CECC is waiting for the test results for three others, while three recent guests have yet to be tested, according to Chuang.
Of the 62 known Omicron cases recorded in Taiwan since the first such cases were reported on Dec. 11, 57 have been classified as breakthrough infections, four are people who received one dose of a COVID-19 vaccine, and one is unvaccinated, according to information provided by the CECC on Saturday.
Since the start of the pandemic in early 2020, Taiwan has confirmed 17,050 COVID-19 cases, of which 14,436 are domestic infections reported since May 15, 2021, when the country first recorded more than 100 cases in a single day.
Daily domestic case numbers have fallen to mostly single digits or zero since Aug. 15, 2021. In December, 10 such cases have been reported, including seven linked to cluster infections at quarantine hotels in Taipei and Taoyuan.
Saturday's 21 new cases brought the total number of imported cases recorded in Taiwan to 2,396 since early 2020, including 418 reported in December, according to the CECC.
As no deaths were reported Saturday, the number of confirmed COVID-19 fatalities in the country remains at 850, all but 12 of which have been recorded since May 15, 2021. Taiwan's last reported COVID-19 death was on Dec. 19.
Recent cases
Dec. 31: Taiwan ends 2021 with record number of daily imported COVID-19 cases
Dec. 30: Taiwan reports 24 new COVID cases, including two in potential cluster
Dec. 29: Taiwan reports 14 new COVID cases, including one pilot
Dec. 28: Taiwan reports 19 new COVID cases; karate team confirmed with Omicron
Dec. 27: Taiwan reports 16 new COVID-19 cases, confirms six Omicron cases
View All