Typhoon Rai expected to bring rain to Taiwan starting Monday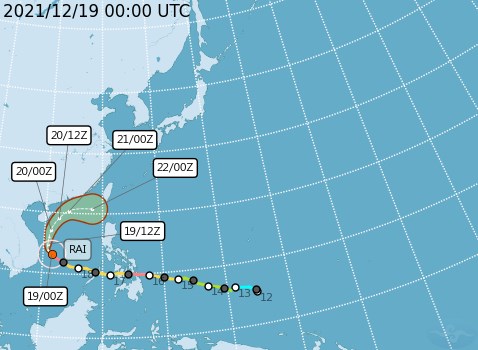 Taipei, Dec. 19 (CNA) As Typhoon Rai moves closer to Taiwan, its periphery is expected to bring rain across the country from Monday to Wednesday, the Central Weather Bureau (CWB) said Sunday.
Although the storm is not expected to have any direct impact on Taiwan, rain is forecast to begin Monday before intensifying on Tuesday when heavy rainfall is predicted islandwide, the CWB said.
The rainfall is forecast to ease on Wednesday with the exception of northern and northeastern areas where sporadic showers may continue to occur, the bureau added.
As of 8 a.m., Rai was located 1,400 kilometers southwest of Taiwan's southernmost tip Eluanbi, moving northbound at a speed of 19km per hour, the CWB said.
The storm was carrying maximum sustained winds of 184kph, with gusts of up to 227kph, according to the CWB.
Meanwhile, Wu Der-rong (吳德榮), a meteorologist and adjunct associate professor of atmospheric sciences at National Central University, said a cold front is forecast to lower temperatures across Taiwan starting Dec. 25 and the mercury could dip below 12 degrees Celsius from Dec. 26-27.
More detailed weather forecasts will be announced over the coming days, he added.