Taiwanese-Singaporean couple wins cross-national same-sex marriage lawsuit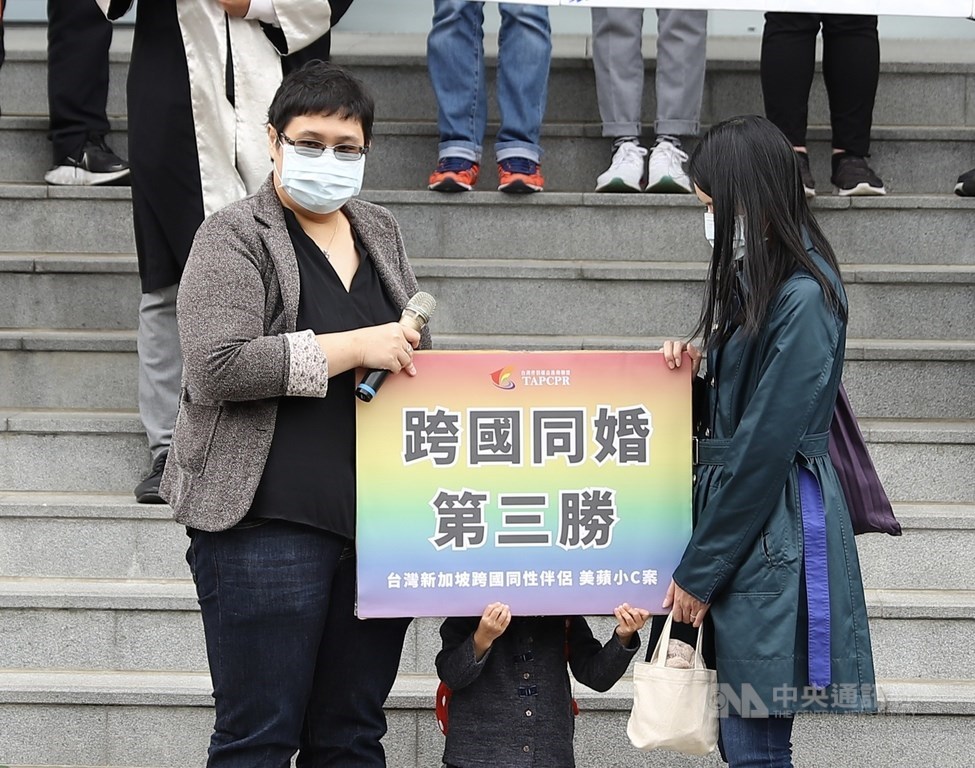 Taipei, Nov. 25 (CNA) A Taiwanese national and her Singaporean partner won their same-sex marriage lawsuit against Taipei's Songshan District Household Registration Office on Thursday, allowing them to officially register their marriage in Taiwan.
The couple, who go by the names Xiao C (小C) and Mei Ping (美蘋), went to the office in October 2019 to register their marriage, but was rejected based on a directive from the Ministry of the Interior that bans same-sex couples in which one of the partners is from a country or jurisdiction where gay marriage is illegal.
Singapore, where Mei Ping is from, does not allow gay marriage.
On Thursday, the Taipei High Administrative Court overturned the office's decision and said that the couple should be allowed to register their marriage.
In a press release explaining the ruling, the court said that marriage registration is "merely an administrative process" and is unaffected by the rules of other countries.
If a couple who wishes to register their marriage meets the requirements for marriage under Taiwanese law and the documents they present are valid, the household registration office in question has an obligation to register their marriage, the court said.
The ruling can be appealed and a representative from the Songshan District Household Registration Office told CNA that they will decide on their next course of action when they receive the official verdict.
During court proceedings, Mei Ping said that she and Xiao C have been together for over 10 years and got married in Australia in 2018. The couple has a daughter, who is nearly three years old, conceived by Xiao C through sperm donation.
By being able to register their marriage in Taiwan, Mei Ping will be able to legally adopt the couple's daughter. Her resolve to guarantee the rights of her marriage and her family is what prompted her to pursue legal action, she said.
Speaking outside of the Taipei High Administrative Court building on Thursday, Mei Ping said, "It has been two years since we started the litigation process. ... My daughter, who I used to hold in my arms, is now so familiar with the court building that she runs around inside it. You can imagine how big of a cost these two years have been for our small family."
She called on the government to allow couples like hers to register their marriage, saying she will stand by them as they continue to fight for their rights.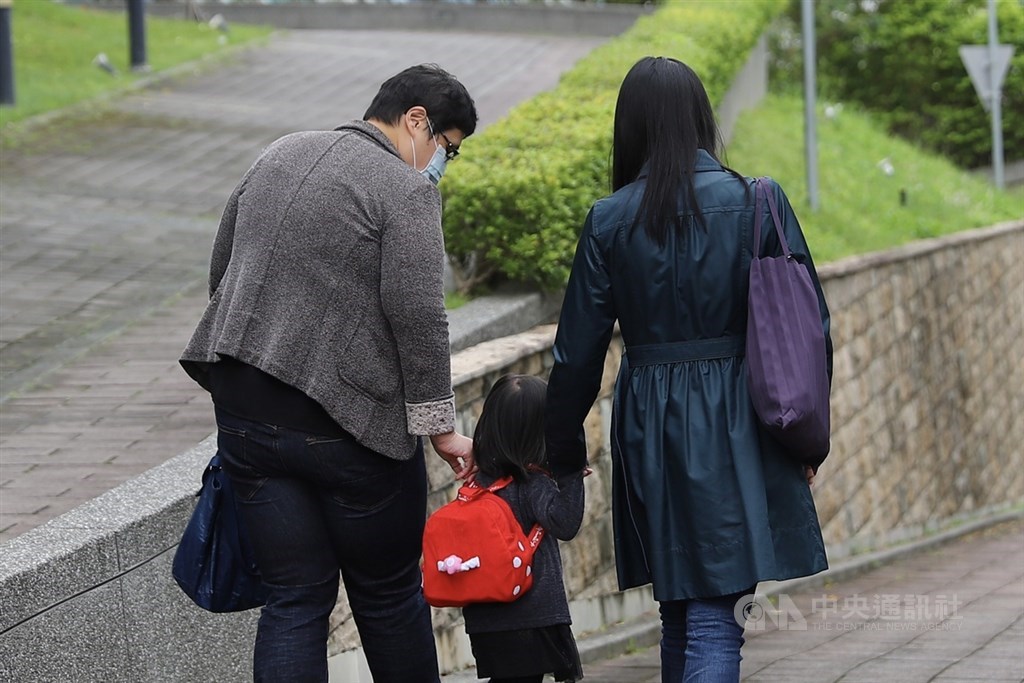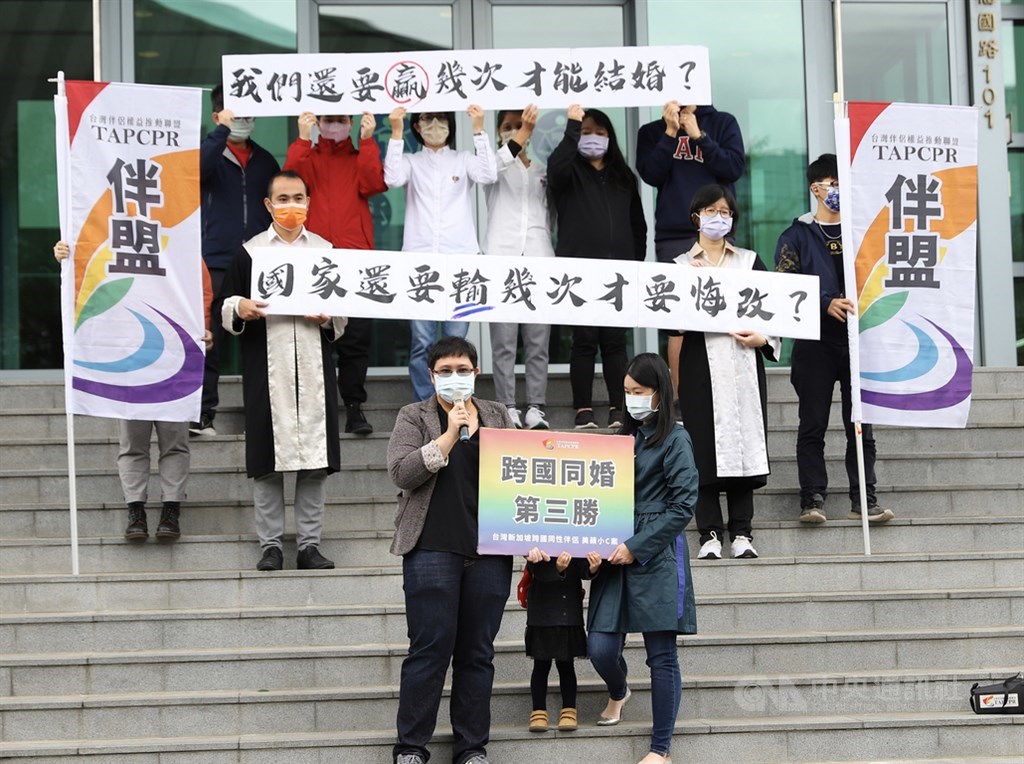 According to the Taiwan Alliance to Promote Civil Partnership Rights, which assisted the couple in their court case, there are over 400 cross-national same-sex couples in Taiwan who are unable to get married due to the Ministry of the Interior's directive.
Prior to Xiao C and Mei Ping's case, two couples in the similar situation had won their court cases, but the respective verdicts only applied to the individual couples.
In January, the Judicial Yuan passed a draft amendment that will allow same-sex couples to get married in Taiwan as long as one person is a Taiwanese citizen, which is now undergoing deliberation at the Executive Yuan before it is sent to legislators.
The directive that was used to reject the couple's marriage in 2019 had been released by the Ministry of the Interior in that same year, which states that according to Taiwanese law, same-sex couples involving a partner from a country or jurisdiction in which gay marriage is illegal are not allowed to marry in Taiwan or have a marriage in a third country legally recognized.
The directive cites Article 46 of the Act Governing the Choice of Law in Civil Matters Involving Foreign Elements as its legal basis.
The article reads: "The formation of a marriage is governed by the national law of each party. However, a marriage is also effective if it satisfies the formal requisites prescribed either by the national law of one of the parties or by the law of the place of ceremony."