CORONAVIRUS
/
Registration for mix-and-match vaccine approach to open Thursday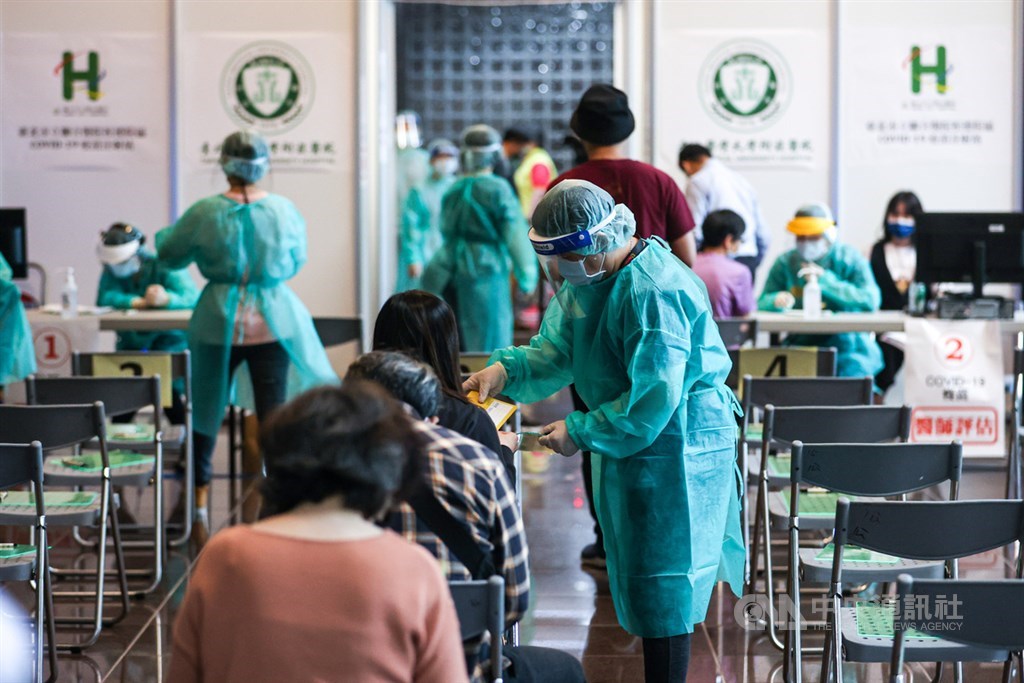 Taipei, Nov. 17 (CNA) People other than medical workers will soon have the option of being vaccinated against COVID-19 using different vaccine brands for the first time since Taiwan's vaccine rollout began in late March.
Registration for the mix-and-match approach will be open on the government's 1922 vaccination website from 10 a.m. to 4 p.m. Thursday, Central Epidemic Command Center (CECC) spokesperson Chuang Jen-hsiang (莊人祥) said at a press briefing Wednesday.
The roughly 2.25 million people who have received one dose of the AstraZeneca vaccine and have not yet gotten a second dose will be able to register their willingness to get a Moderna or Pfizer-BioNTech jab, Chuang said.
Registering a preference does not commit an individual to the mix-and-match approach but will give people that option when the CECC opens slots for appointments in the future, he said.
Asked why the registration period is being limited to six hours, Chuang said the CECC simply wanted to use it to gauge the popularity of the mix-and-match option so that it can make appropriate preparations for future vaccination rounds.
More registration periods will be opened in the future, he said.
Currently, vaccine mixing is only an option for medical workers, who can choose the Moderna vaccine as their second shot if they received their first jab of the AstraZeneca vaccine at least 10 weeks earlier.
Based on research done by National Taiwan University Hospital, mixing the AstraZeneca and Moderna jabs gave a higher level of antibodies but a higher probability of side effects than two jabs of the AstraZeneca vaccine, CECC official Lo Yi-chun (羅一鈞) said.
The research team also found that results improved with longer waits between the two shots, Lo said while promising more details on the study on Thursday.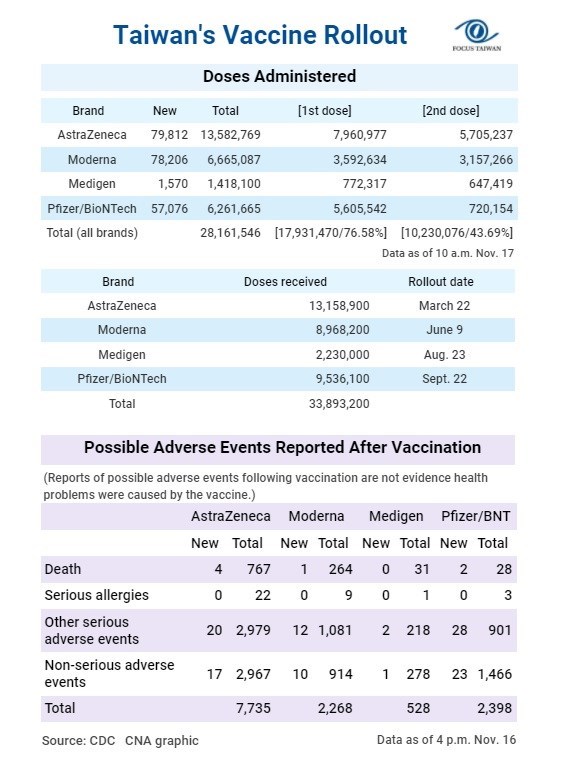 To date, 17.93 million of Taiwan's 23.41 million population, or 76.58 percent, has received at least one dose of a COVID-19 vaccine, while 10.23 million people, or 43.69 percent, have received the two doses needed to be fully vaccinated, CECC data shows.
Chuang on Wednesday encouraged people to get their second vaccine jab when they meet the recommended interval between shots.
As the supply of vaccines has stabilized, people can either choose to use the 1922 platform to make appointments to get vaccinated, or they can reserve a slot directly with hospitals and clinics offering the vaccine, Chuang said.
Getting fully vaccinated will better protect people against COVID-19 and make international travel easier as more and more countries are using proof of vaccination as a condition for entry, he said.
The CECC will also consider easing COVID-19-related restrictions if Taiwan reaches a 2nd-dose vaccination rate of 60 percent, he said.
Update
Nov. 18: Appointments for mix-and-match vaccine approach available Friday
View All