Earthquakes shake Pingtung, Taitung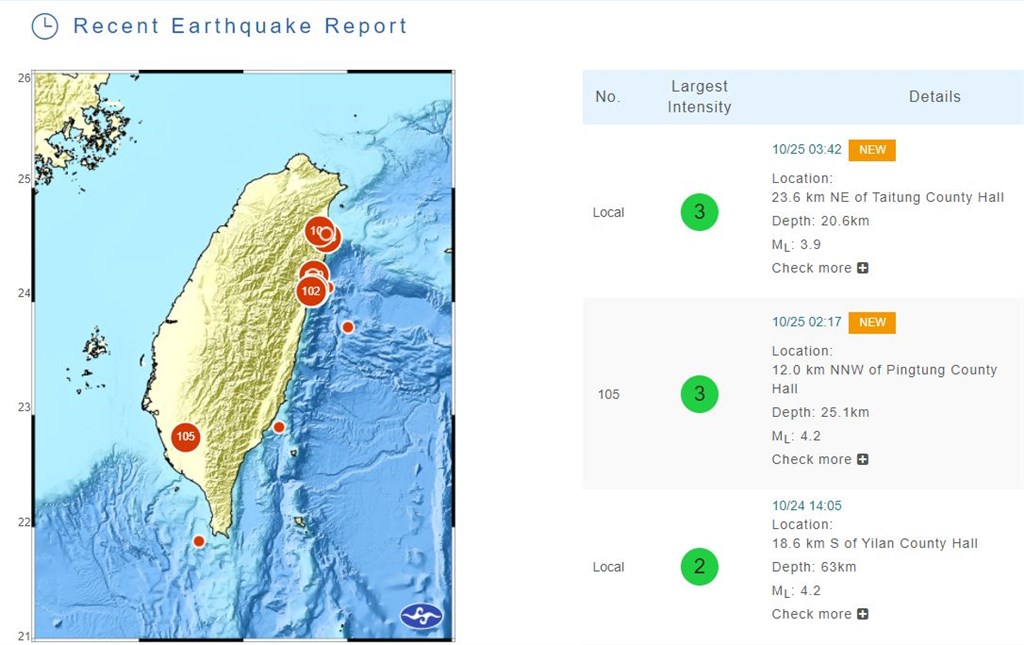 Taipei, Oct. 25 (CNA) Two separate earthquakes jolted the southern part of Taiwan in the early hours of Monday, following a series of quakes that struck the island a day earlier, according to the Central Weather Bureau (CWB).
A magnitude 4.2 earthquake struck Pingtung County at 2:17 a.m., with its epicenter located in Ligang Township, 12 kilometers north-northwest of Pingtung County Hall at a depth of 25.1 km, the CWB's Seismology Center said.
The earthquake's intensity, which gauges the actual effect of a temblor, was highest in Kaohsiung, where it measured 3 on Taiwan's 7-tier scale.
At 3:42 a.m., a magnitude 3.9 quake occurred in waters off Taitung County in southeastern Taiwan, with its epicenter situated 23.6 km northeast of Taitung County Hall at a depth of 20.6 km.
The quake's intensity was highest in Taitung County, where it measured 3, CWB data showed.
The tremors came after four earthquakes jolted northeastern and eastern Taiwan Sunday, including one measuring 6.5 on the Richter scale, the largest quake that has hit Taiwan this year.