CORONAVIRUS
/
Taiwan to open mix-and-match COVID-19 vaccine approach to public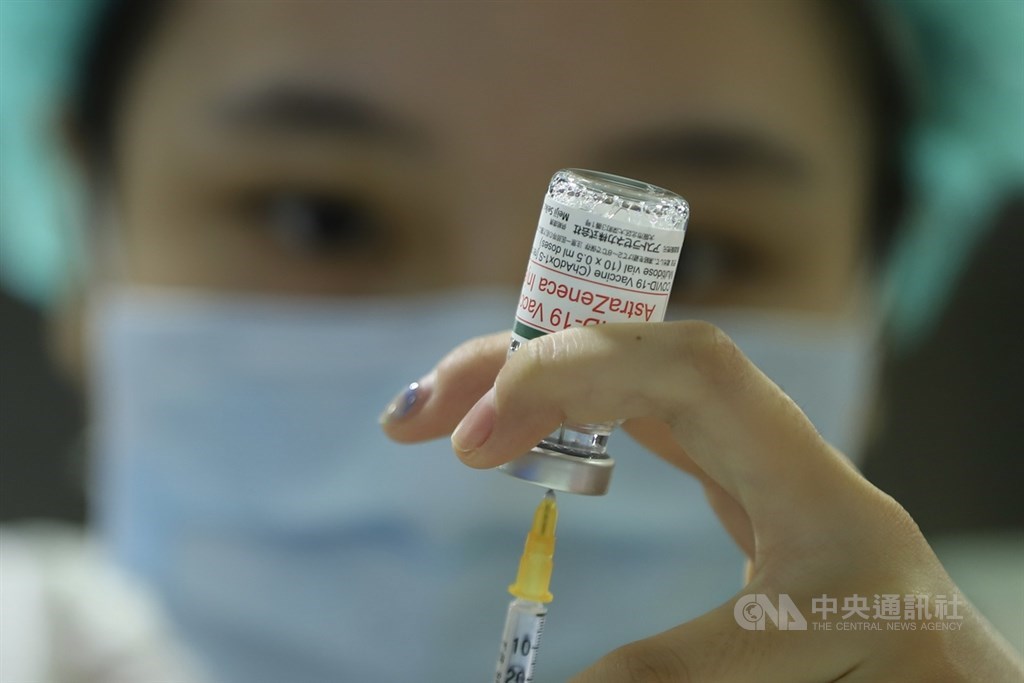 Taipei, Oct. 22 (CNA) Taiwan will soon allow the general public to mix-and-match COVID-19 vaccines for the first time, starting as early as the first half of November, the Central Epidemic Command Center (CECC) said Friday.
The new policy will enable an estimated 550,000 people who received an AstraZeneca COVID-19 vaccine jab at least 10 weeks earlier to get a Pfizer-BioNTech (BNT) shot as a second dose, said CECC spokesperson Chuang Jen-hsiang (莊人祥) at a press conference Friday.
Health Minister Chen Shih-chung (陳時中) said there should be enough BNT vaccines available in November according to current estimates to allow for the mix-and-match option for that number of people.
More vaccines could also be available when factoring in leftover doses from people who fail to show up for their vaccine appointments, Chuang said, but the actual amount and availability of the shots will also depend on the size and timing of future vaccine shipments.
Currently in Taiwan, only medical workers and non-medical personnel working in medical facilities who received an AstraZeneca (AZ) COVID-19 vaccine jab more than 10 weeks earlier have been allowed to get a Moderna brand vaccine as their second shot.
To accommodate the new option, the online vaccination registration platform will be adjusted, Chen said, with details to be announced in the coming days.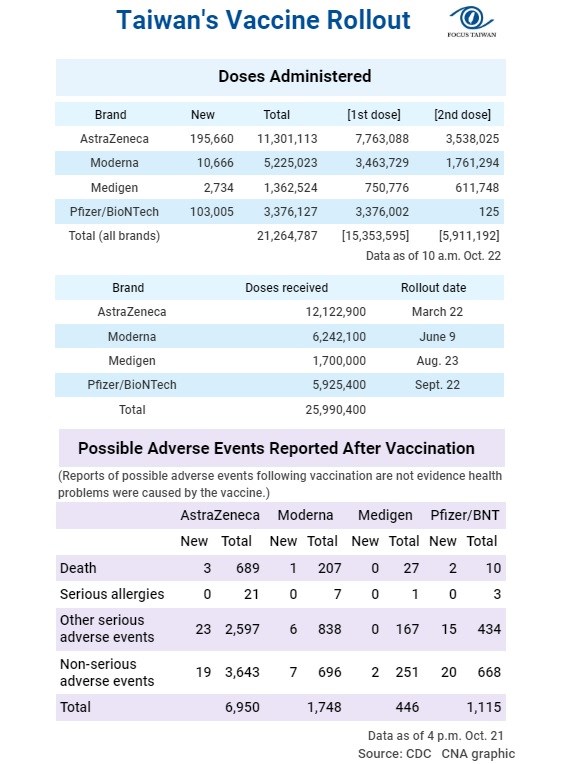 Despite announcing the new policy, Chen also cautioned against mixing and matching vaccines.
He acknowledged reports of studies in international publications showing that a second dose of an mRNA vaccine such as BNT or Moderna after a first dose of the AZ vaccine would trigger more antibodies than would a second AZ jab.
He said, however, that a number of experts have warned that mixing vaccines could set off different kinds of antibody responses, which could increase the risk of experiencing negative reactions, even if the odds of that happening are low.
The general lack of data on mix-and-match policies has also made it hard to establish the pros and cons of getting doses of two different vaccines, Chen said.
He recommended that only those people who suffered severe adverse reactions after their first AZ shot opt for a BNT jab as their second dose, but said the CECC would provide enough doses of different vaccines to allow people to decide for themselves.
As for mixing Moderna and BNT vaccines, Chen said that while the possibility was considered, the government had no reasons to initiate such a plan at the moment.
Chen said that due to a lack of studies available on mixing mRNA vaccines, and the fact that the odds of Moderna vaccine recipients getting a second Moderna dose now seem higher than before, the government is not preparing to offer a mixed mRNA vaccine option.
View All